Estimated reading time: 3 minutes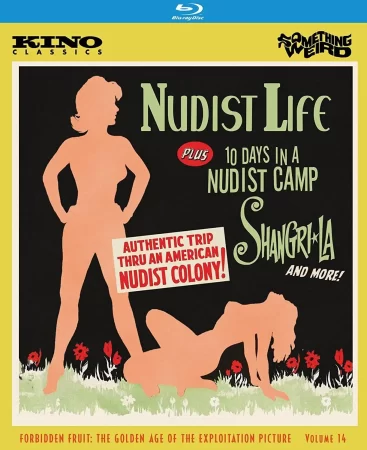 This collection brings together a group of oddball nudist "documentaries" that gave audiences in the 1950s and 1960s one of the only legitimate means of seeing naked bodies on the screen. These so-called educational documentaries often combined older nudist films, newly filmed footage of obviously nude models frolicking in nudist campgrounds, and some highly racialized ethnographic footage, backed by stock musical soundtracks. The low budget filming and processing budgets leaves much to be desired in the way of aural and visual quality, but imagine being someone in 1957 catching a glimpse of one of these buxom beauties on a movie screen in a dark, maybe dubiously legal movie theater, and those concerns likely would not be at top of mind.
The three features on this collection are Nudist Life (1961), follows a group of gorgeous nude models as they a Florida nudist colony. 10 Days in a Nudist Camp (1957) takes some footage from the 1932 nudist film This Nude World and reworks and expands it, while Shangri-La (1961) is a comedy of sorts in which Sammy Petrillo relates his story to a friend of his vacation stalking two nudist beauties along the East Coast. Yes, stalking.
There are a number of short films included in the bonus features as well that follow along the same lines. Most of the material included here barely rises to the level of "erotica" and will likely only be labeled as "adult entertainment" by some due to the quantity of exposed female breasts and male and female bottoms. Otherwise, this holds more interest as a historical record than anything prurient.
The Video
Nudist Life was mastered in UK from the original 35mm negative with portions taken from a standard definition master where the original negative was too degraded. Shangri-La was shot in color, but only black-and-white prints remain. All three main features are presented in 1.33:1 AVC 1080p encodements that look natural but are obviously hindered by the degradation of their original sources. There are plenty of instances of scratches and tramlines, film softness, and some instability in the image contrast.
The Audio
Each film in this collection has its original mono mix supplied in LPCM 2.0. The quality varies from film to film, but none of them sounds particularly great given the quality of the original productions, the provenance of this very niche, often controversial films, and the vintage. There is some noise and clipping in the voiceovers which makes it sometimes difficult to understand.
The Supplements
This release comes with another four nudist-themed short films from the 1930s-1960s, including the very offensive (by today's standards) Nudes, Nudists, and Nudism Around the World from the 1930s which looks at humanity's history with nudism through indigenous people around the world and the connection to the rise of nudist groups in America.
Back to Nature (1080p; color; 00:09:24)
The Expose of the Nudist Racket (1080p; 00:09:46)
Nature Girls (1080p; 00:08:43)
Nudes, Nudists, and Nudism (1080p; 00:13:40)
Nudist Memories (1080p; 00:17:45)
The Final Assessment
A very strange mixture of nudist documentaries from the 1930s-1960s, Nudist Life, etc. are an interesting look at the history of erotica in America.
---
Nudist Life plus 10 Days in a Nudist Camp, and Shangri-La are out on Blu-ray February 28, 2023, from Kino Classics.
---
Rating Certificate: Not Rated
Studios & Distributors: Something Weird | Kino Classics | Kino Lorber
Directors: Maurice H. Zouary (Nudist Life) | Samuel Cummins (10 Days in a Nudist Camp)

Run Time: 72 Mins. (Nudist Life) | 61 Mins. (10 Days in a Nudist Camp) | 63 Mins. (Shangri-La)
Street Date: 28 February 2023
Aspect Ratio: 1.33:1
Video Format: AVC 1080p
Primary Audio: English LPCM 2.0 Mono
Subtitles: English SDH