–
The Film
[Rating:3.5/5]
Jacques Offenbach was far better known during his lifetime for his frothy operettas than for his opera, Les Contes d'Hoffmann (The Tales of Hoffmann), left unfinished at the time of his death in 1880.  Now recognized as Offenbach's masterpiece, this opera uses three short stories by writer/poet E.T.A. Hoffmann who becomes its protagonist.  This BelAir Classiques disc is a Blu-ray premiere that presents a 2014 performance from the Teatro Real Madrid, directed by Christoph Marthaler whose film credits include Wagner's Tristan und Isolde.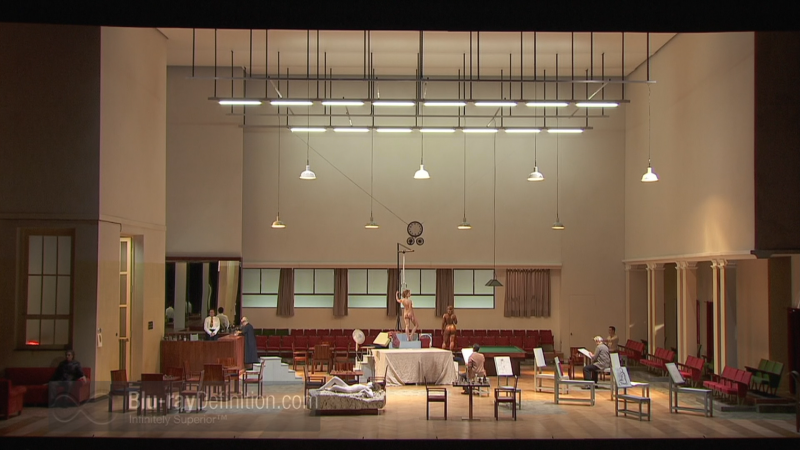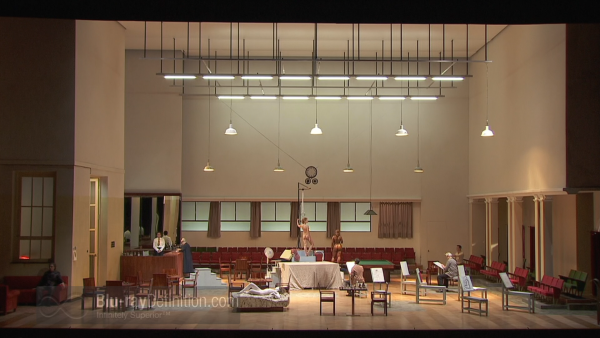 The Prologue opens with Hoffmann's Muse (Anne Sophie von Otter) frustrated by her lack of attention as the writer is in love with the diva, Stella (Altea Garrido). The Muse transforms herself into Nicklausse who will accompany Hoffmann (Eric Cutler) for the remainder of the opera. Councilor Lindorf (Vito Priante), also in love with Stella, enters Luther's café shortly before Hoffmann who begins to tell the story of his three loves each sharing a personality trait in common with Stella.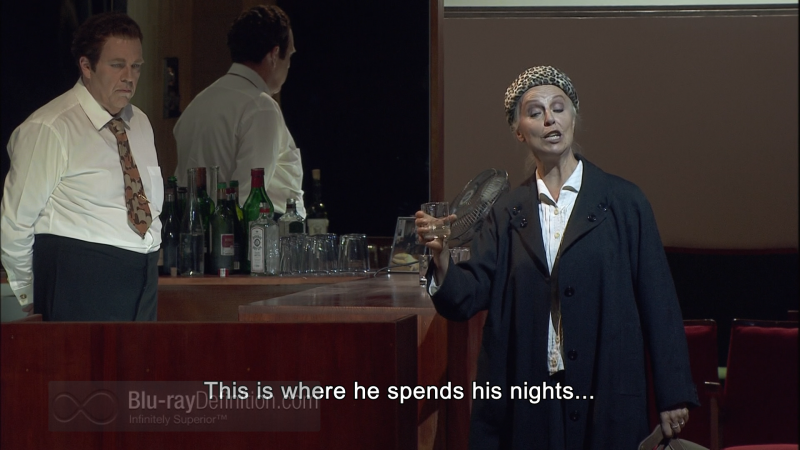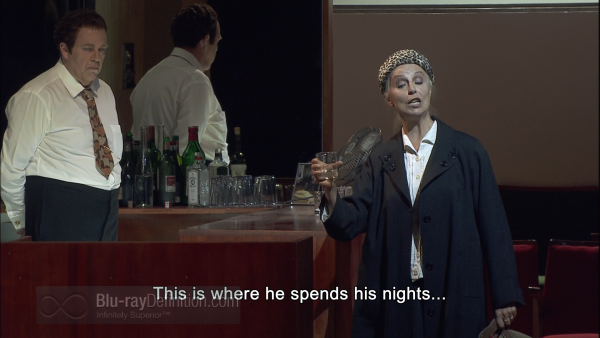 Inventor Spalanzani (Graham Valentine) has created a mechanical doll, Olympia (Ana Durlovski) who has completely captivated Hoffmann.  Spalanzani owes money to Coppelius (Priante) for the doll's eyes and pays him with a bank draft. Guests arrive and are serenaded by Olympia who then becomes overwrought. Coppelius finds out that Spalanzani's draft is worthless and disables Olympia, leaving Hoffmann deceived and distraught.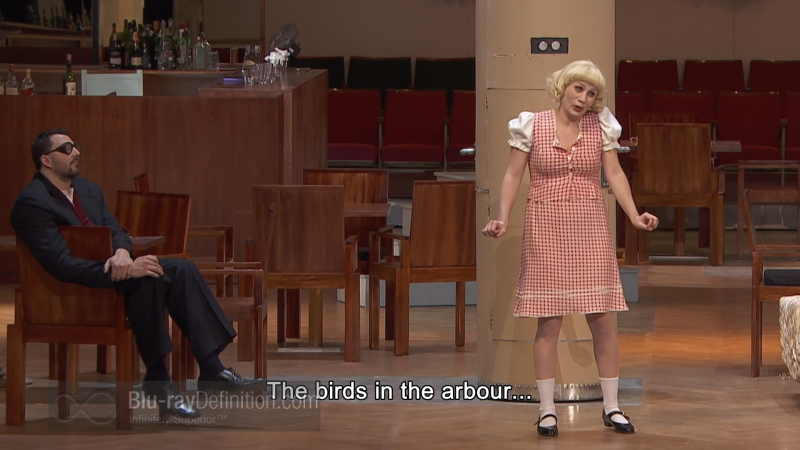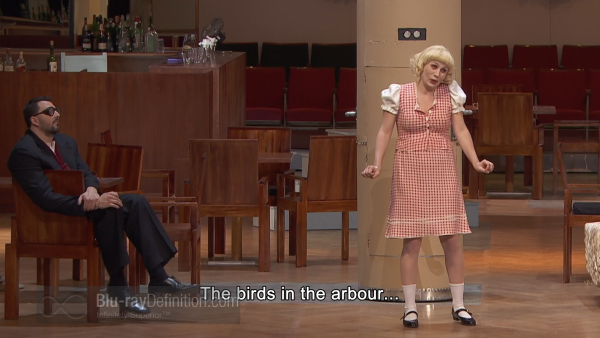 Hoffmann has hooked up with Antonia (Measha Brueggergosman) but there is a snag. Her father Crespel (Jean Philippe Lafont) has made her promise not to sing, believing that singing will cause her to die as did her mother, also a singer. The evil Dr. Miracle (Priante) offers to "cure" Antonia of her mysterious illness. Hoffmann entreats Antonia not to sing but she is urged on by a vision of her mother, but, in this performance, she is still alive as the curtain falls.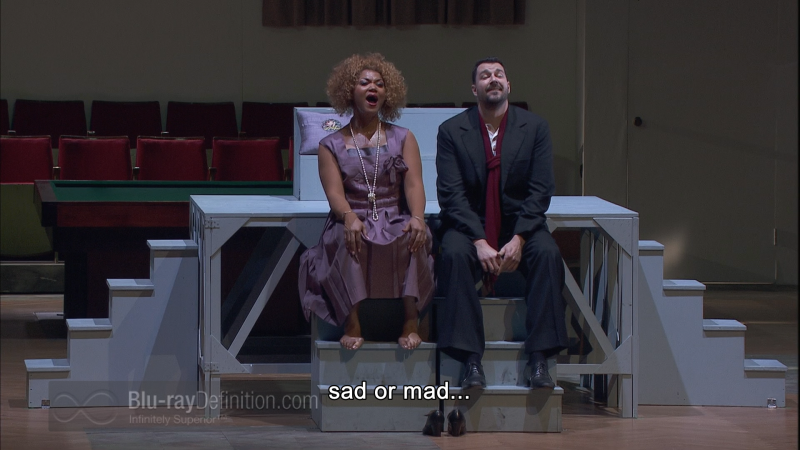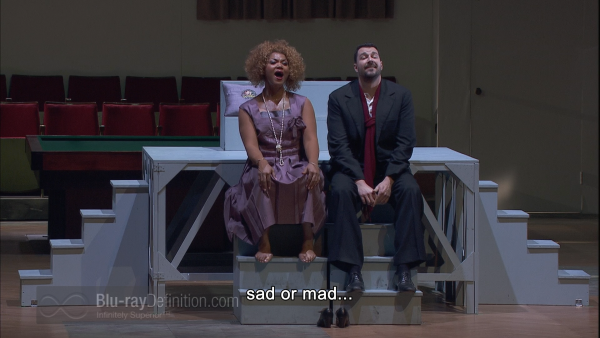 The scene shifts back to the café/pool hall where the courtesan Giuletta (Brueggergosman) is enticed by Dappertutto (Priante) to seduce Hoffmann and steal his reflection. Hoffmann must contend with Schlemil (Isaac Galan) whose shadow Giuletta had previously stolen. Now besotted with the courtesan, Hoffmann demands that Schlemil give him the key to Giuletta's chambers. When Schemil refuses, Hoffmann kills him. and surrenders his reflection to Giuletta who leaves with Dapertutto.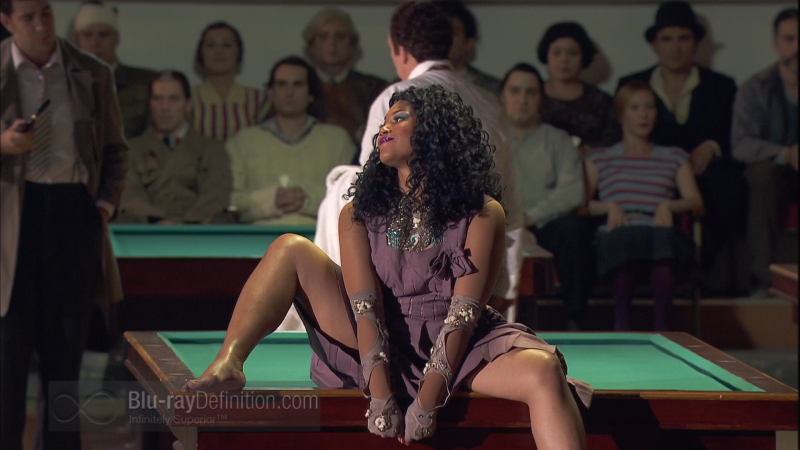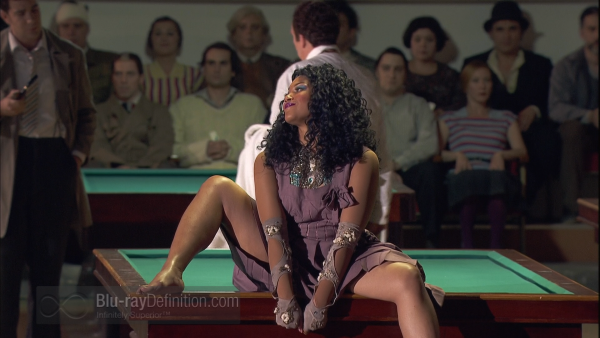 In the Epilogue, the café crowd eagerly awaits Hoffmann's reaction when Stella arrives. However, he has had too much to drink and when the diva enters, he confuses her with the women of three previous acts before passing out.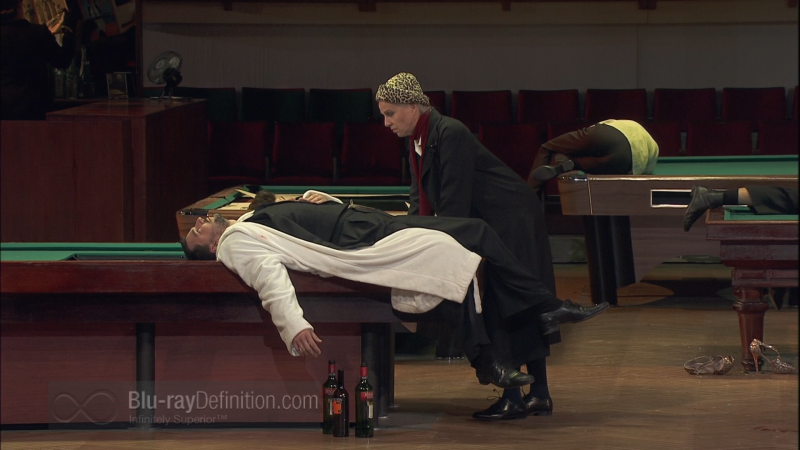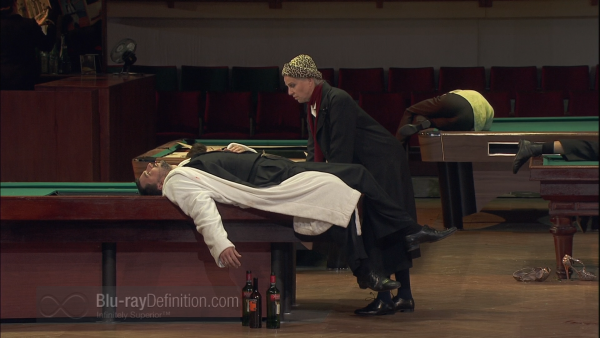 Marthaler's production opens on a set adorned with naked women who are supposedly "posing" for an art class and this is as "exciting" as things get. Anne Sophie von Otter is so visually past her "sell-by" date that her essential character is mostly relegated to the sidelines. Conversely, Vito Priante does a nice job with the four "villains," presenting a much younger character than is customary and more likely to be a real romantic rival to Hoffmann. Eric Cutler provides an excellent rendition of the opera's hero but is undone at every step of the way by the perverse nature of the opera's staging. A major find in this production is soprano Brueggergosman who quite convincingly establishes the contrasts between the innocent Antonia and the worldly Giuletta.  Soprano Durlovski delivers Olympia's showstopper aria with aplomb while conductor Cambreling displays a knowing hand with this tuneful score.

Video Quality
[Rating:4/5]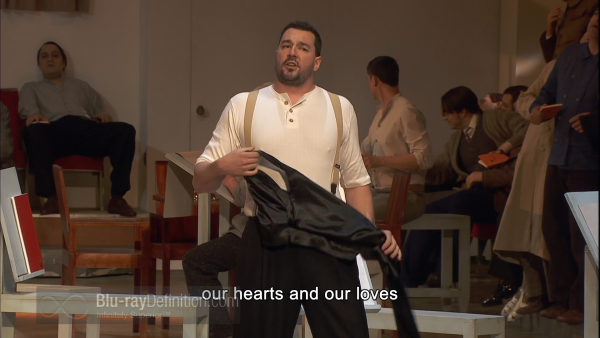 The hi-def video is, as the French would put it, sans reproche. The details and colors are outstanding and Jeremie Cuvillier's camera crew deliver the essence of this live performance. Unfortunately, the cameras also expose the vacuousness and often nonsensical nature of the staging.

Audio Quality
[Rating:4/5]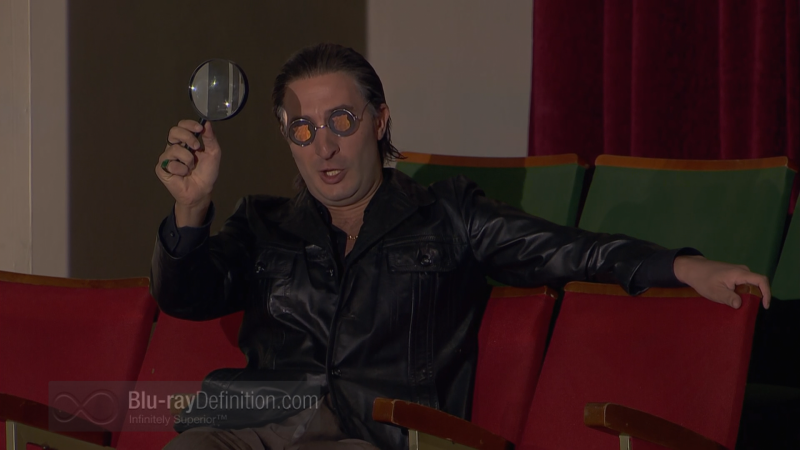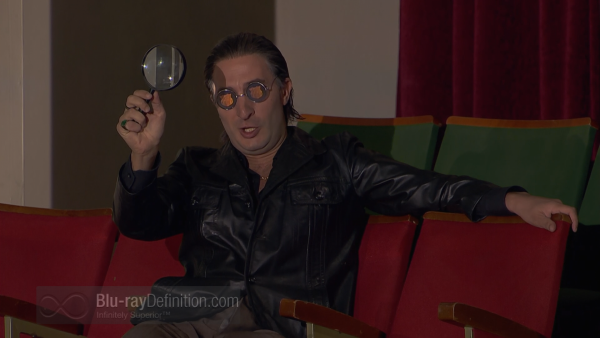 There is good balance between voices and orchestra. The surround version supplies an appropriate modicum of audience noise and hall ambience.

Supplemental Materials
[Rating:0.5/5]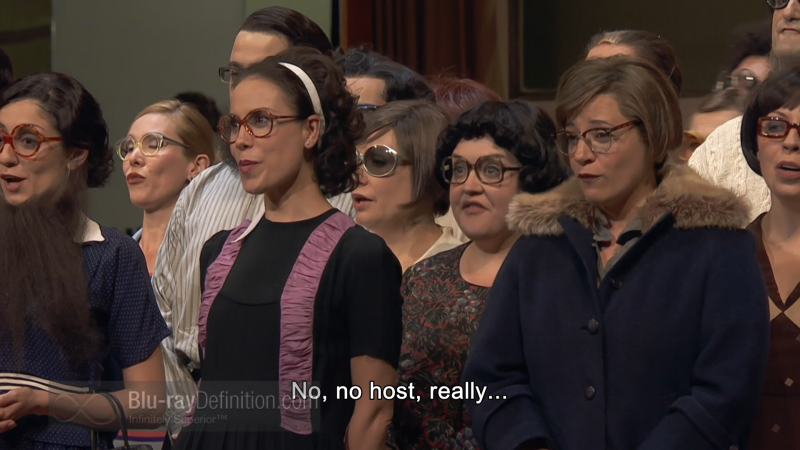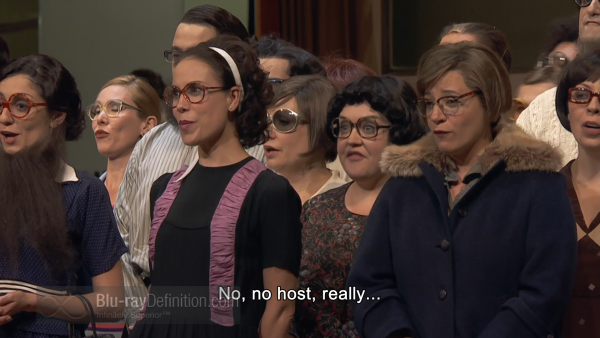 There is the usual BelAir Classiques program booklet with some cast photos, credits, track listings, and a plot synopsis.

The Definitive Word
Overall:
[Rating:3/5]
Opera fans seeking a traditional Les Contes d'Hoffmann must look elsewhere. Those willing to take a fresh look at this time-honored work may be occasionally pleased by director Marthaler's novel approach, but are more likely to be dismayed by the overall waywardness of his reconceptualization.  For me, Marthaler's take on Offenbach's chef d'oeuvre resembles Splanzani's doll Olympia, falling flat in the end.   Hopefully, the Metropolitan Opera's Bartlett Sher-directed Hoffmann will find its way to a Blu-ray release as it is visually and vocally a stunner.

Additional Screen Captures