Olive 03HD Music Server
While it has never been easier to get digital music into your audio system, the increasing number of music servers with varying prices and features can make buying decisions quite challenging! So what should prospective first-time purchasers be looking for and what do they really need from a music server?  Olive Media, a relative newcomer on the music server scene, think that they have the answer for many listeners in their newest product, the Olive 03HD.
Would you like an Olive in your Martini?
The 03HD is Olive's "entry" level music server which follows its top of the line server, the 04HD.  It resembles a conventional CD player, but appearances, in this case, are deceiving.  On its left side, the 03HD's simple façade sports a 4.3" color (480 x 272 resolution) touch screen flanked by 5 function buttons. On its right hand side is a stand-by button, and a slot loader for importing, playing, or burning CDs. The standard play/pause, track forward or reverse and eject buttons lie below the slot.  The Spartan rear panel features an inlet for a detachable power cord (either that  supplied or one of your choice), Ethernet and USB ports and two analog outputs.  The Olive communicates with your home network via wired connection only. For some the absence of a wireless option can be a major drawback, particularly if your unit will be hooked up far away from your internet router. While the 03HD lacks a digital output for an outboard DAC, it uses a high quality internal Cirrus Logic 192 kHz/24-bit DAC. A substantially built aluminum remote control duplicates the front panel control buttons and has shortcut buttons for commonly used functions like Library, Music Sources or Radio.  There is a gentle slope to the front façade that makes for easier reading of the small touch screen when placed on a component shelf.  Finally, the top panel contains silk-screen "artwork" listing the music genres that the Olive usually plays.

The Olive is versatile
As delivered, the 03HD 's 500 gigabyte hard drive  will store about 1500 standard CDs or 5000 individual tracks. It will accept the following file formats: uncompressed HD (176.4 kHz/24-bit), lossless WAV and FLAC (88.2 or 96 kHz/24-bit), and lossy AAC and MP3 (128 and 320 kbps). The 03HD can also theoretically accept FLAC (or WAV) files at 24-bit and up to 200kHz sampling rate, although this is a highly uncommon format that you are not likely to come across any time soon. CDs will import through the slot drive in about 8 minutes. This translates into 13 hours to load each 100 CDs. The good news is that, as a buyer incentive, if you ship your first 100 CDs to Olive Media, they will be loaded at no charge. The 03HD also has some other neat features. The touch screen displays cover art, albeit very small covers, as well as larger font presentation of the current track. If your fingers are large or clumsy, the front-panel navigation buttons eliminate any touch screen issues since they duplicate the necessary commands as does the solidly built remote control with its good-sized olive green buttons.  But, there's more, a free app for iPhone and iPad owners, the iMaestro (soon to be renamed Olive App),  makes the touch screen and remote unnecessary.  A PC and Mac import command enables efficient transfer of stored files in all of the above recognized formats. You can also burn CD copies of your stored files or play lists.  If this were not enough, the Olive will play your stored music library files after communicating with your PC. Finally, the 03HD offers access to internet radio stations. My review sample had a number of pre-loaded stations but if you don't see your favorite, you can add it on the touch screen keyboard by entering and saving its URL.
Ready to bite into the Olive?
The Olive 03HD set up is extremely easy and straight forward, even for music server neophytes. After powering up, you go to the network set up page and follow the steps to communicate with your wired or wireless home network. Once done, you can  customize sleep and power saving states, if so desired.  Accessing music with the touch screen may be a little confusing at first when selecting complete albums or individual tracks.  Olive to the rescue, there is a Web-based app which needs the IP address of your 03HD  followed by "maestro.php." This opens up a menu that allows easy creation of play lists, editing of metadata cover art, track listings, artists, and assigning tags to albums or tracks.
The  digital age has created an understandable paranoia regarding redundancy or back up. Alas, the 03HD only has a single hard drive so back up of archived music must be done through an external storage device hooked up to the USB port. The only requirements are that the USB device has at least the capacity of the the 03HD hard drive (500 gigabytes).  Although today's internal hard drives are usually quite reliable, I would strongly recommend this advice from Olive. As loading over 1000  CDs may represent a number of days' worth of work, you don't want to do this twice.  Fortunately, the cost of a redundant outboard drive at the 500 gig level is less than one hundred dollars. Heck, you might even get two of them for the ultimate in redundancy.
Do you want Olives with your order?
Although my review sample came loaded with some nice high and standard resolution albums, I also tested the import function of the Olive. The slot-loader is silky smooth and dead-quiet indicating an effective level of sound-dampening inside.  This may not seem an important feature but when you spend hours loading discs, the whirring sound of typical slot loaders can be somewhat irritating.   All CDs loaded flawlessly although the Olive did not recognize all of their metadata.  Enter the Maestro Web app which allows easy editing of the title and tracks and addition or correction of cover art.  This came in handy with a Glenn Gould recording of Bach's Goldberg Variations that I really wanted to hear (and see).
The Olive makes such sweet Music
My listening sessions included both high-resolution WAV (96kHz and 176 kHz/24-bit) and FLAC imports of favorite CDs as well as some of the internet radio stations.  Beginning with the venerable hi-res "Jazz at the Pawnshop," it was clear that the 03HD was an excellent playback unit.  The depth of image and extremely well balanced sound was what I would expect from a high end player.  The  excellent quality listening experience continued with all of the other high resolution files that I sampled including Dick Hyman's "From the Age of Swing"  (Reference Recordings), Keith Jarrett's "Jasmine" (ECM), and  Malcolm Arnold's Overtures (Reference Recordings). Capping the playback of high-res files was Joel Fan's bravura "West of the Sun"  and Eiji Oue/Minnesota Orchestra's "Exotic Dances from the Operas," both 176 kHz/24-bit HD Reference Recordings. The CDs that I imported also sounded equally good on the Olive. In going one step further, I played a CD on the Olive and then A/B'd it with the same tracks from the Olive hard drive.  I was hard pressed to detect any difference between the original and imported sources – a testimonial for lossless compression in the mass storage of CDs.
I concluded formal listening with internet radio stations already loaded on the Olive.  Chicago's WFMT is streamed over the internet in mp3 quality format (128 kbps). While the playback on the Olive was acceptable, the higher bit-rate classical stations from the Netherlands were audibly better as might be expected. While I did not add other higher bit-rate internet stations, the ability to do so is a nice feature and would be easily done through the QWERTY keyboard on the screen or even more easily with the Olive Maestro app on my iPad.
The Last Olives in the Jar
Do you really need a music server?  If  you own at least few hundred CDs and high resolution FLAC or WAV files, and have an internet connection, then you are a definite candidate for such a device.  So what should you look for in your first music server? It should  feature ease of set up and operation. It should possess a reliable and redundant storage system. It should provide rapid access to moderately large collections of digital music sources. Finally, the server should yield  sound quality worthy of any good audio system.  The 03HD scores well in most of these areas with two salient exceptions: the limitation of its small touch screen presentation and the need for an external data storage device.  The screen size would not be an issue if you were always near the unit as it is highly legible up close. However, it only displays a few covers or titles at a time which makes surfing your collection or creating playlists somewhat challenging.  But if you are an armchair remote jockey like me, you will  probably use apps like the iMaestro/Olive App on your computer to create playlists and to investigate your albums.  The iPad app is also handy for playing individual albums, tracks or previously created playlists. The issue of redundant storage is easily solved by adding compact storage drives which increases the purchase price by less than $100.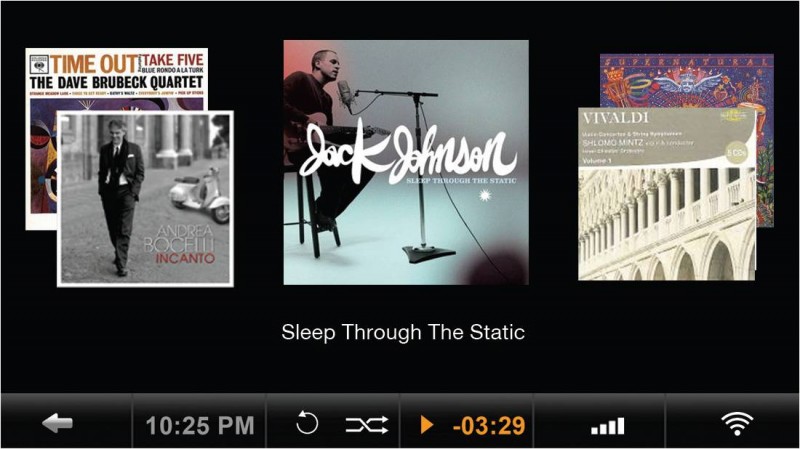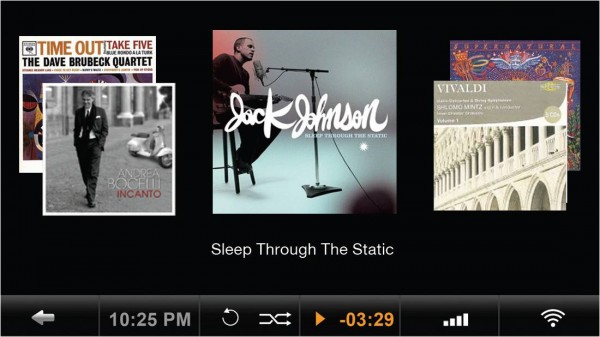 The Good
Easy of set up and installation.
Access to a wide variety of music choices
Plays all high-resolution music files
Responsive touch screen
Stable network connectivity
CD-burning capability
Superb build quality and function
Solid remote with useful function buttons
Excellent audio performance
Dead quiet operation
The Bad
Lack of built-in Wi-Fi
Screen is difficult to read at typical seating distances
Scrolling through entire collection is time-consuming and really requires PC or iPad apps
Creating playlists is difficult from the touchscreen and better served with the PC app.
The genre selection mode allows for selecting only one album at time
Lack of internal back up requires additional purchase of storage device
No digital output for external DAC
The Scorecard:
Design:
[Rating:4/5]
Performance:
[Rating:4.5/5]
Value:
[Rating:4.5/5]
Overall:
[Rating:4.5/5]
The Definitive Word
The Olive 03HD is a reasonably priced component that can function as a CD player, digital storage unit,  internet radio,  bridge to PC music files and CD burner.  Its 1500 CD capacity would more than suffice for most home libraries.  The major limitations are its small touch screen and requirement for external back up storage.  The former issue can be overcome with the PC iMaestro and iPad apps;  the latter  can be resolved by adding an outboard drive for less than $100.  If you factor in the time and effort value of having your first 100 CDs loaded for free, this probably makes the cost of the outboard drive a wash.  The build quality of the unit and its remote control is first rate.  For those seeking their first serious music server, the Olive 03HD could well be  the keys to their digital kingdoms.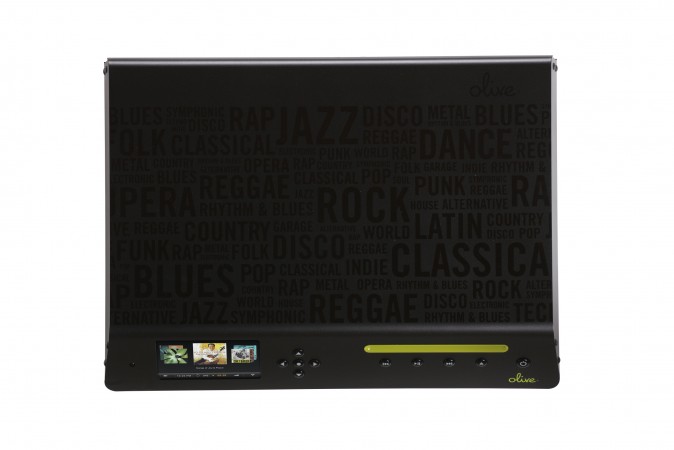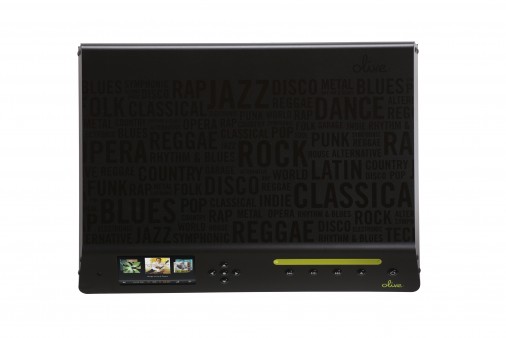 Specifications:
High-resolution Cirrus Logic DAC (192khz/24-bit)
Hard Drive
500GB AV hard drive cushioned in 4 layers of noise cancelling padding
Holds 5,000 HD tracks or 1,500 CDs in original quality
CDRW
TEAC CDRW mechanism
Import: Audio CDs
Burn: Audio CDs, MP3 CDs, Data CDs
Audio Connectors
Analog Output: 1 set of RCA connections
Supported Audio Formats
Bit rate: 16-bit, 20-bit, 24-bit
Sampling Frequency: 10kHz up to 200kHz
WAV, FLAC, MP3 (128 and 320 kbit/s), AAC (128 kbit/s)
Networking
Other Ports
Color touch-screen
4.3″ wide-aspect ratio
480 x 272 pixels
Measurements
Width 17.38″
Height 2.63″
Depth 12.25″
Weight 10.7 lb
Color
Mineral Silver or Mocha Black
Box also includes
User manual, Olive remote control
with battery, Power cord.
More Information:
Olive Media 03HD Media Server (SRP $999) — On Sale Now