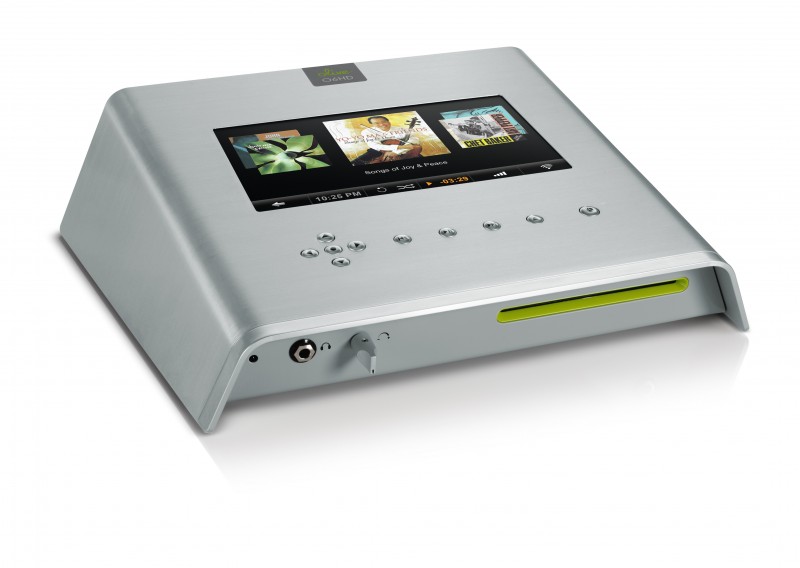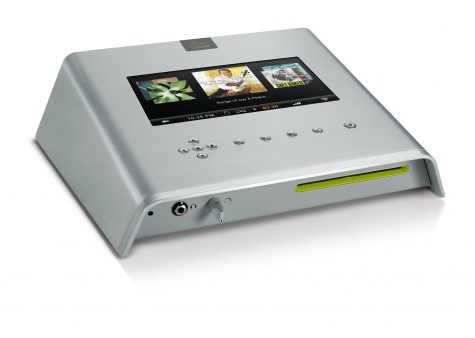 Olive 06HD Music Server
The music servers just keep on coming! While silver discs are still being pressed, the survival of these physical media is being challenged by the increasing number of  digital downloads.  Even hard-core disc spinners are now considering the convenience of ripping their collections to hard drives and putting the plastic cases in storage.  Olive Media has already taken the initiative with their 04HD Music Server, capable of storing 6000 CDs, followed by its "entry level" 03HD Music Server that can only store 1500 CDs. What next?  At this year's CES, I visited the Olive Media suite and saw the new kid on the block, the mighty O6HD.  After spending a couple of hours with CEO Oliver Bergmann, I knew that I had to get my hands on this baby.  Not only was its façade drop-dead gorgeous, but the O6HD had raised the performance bar significantly over its older siblings.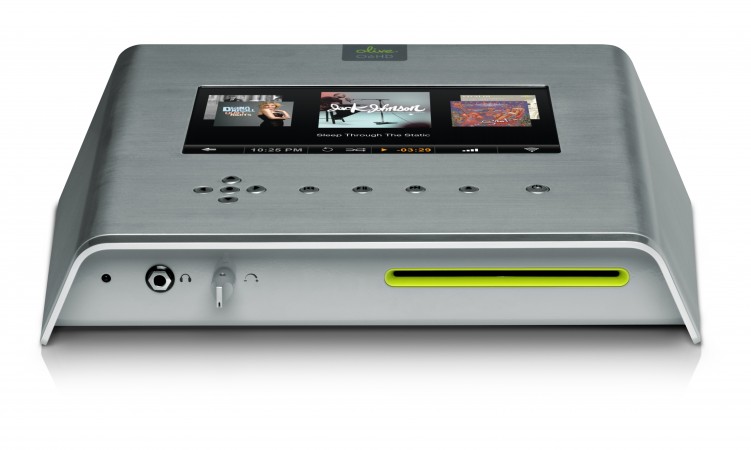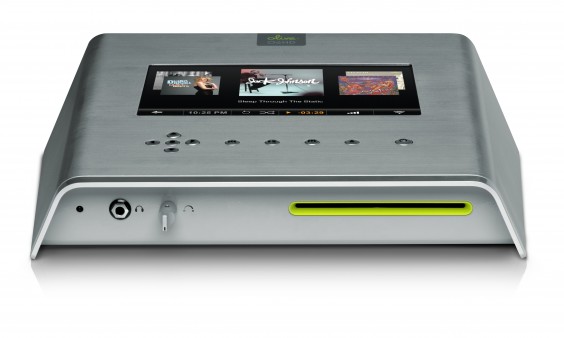 Olives are on today's menu
To begin, the O6HD has a 10.1" (diagonal) glass touch screen with an 800 x 400 pixel resolution sitting on top of a chassis with a slightly rakish angle. Below the touch screen is a bank of file navigation controls flanked on the right by file or disc play controls. The front panel has a slot for disc loading and…a headphone output with its separate volume control. The rear panel has a power cord input/power button with an array of SPDIF, AES/EBU, XLR, Toslink, and HDMI digital outputs. Finally, there is a choice of balanced or RCA signal outputs, a USB port, two inputs for WiFi antennas, and an Ethernet input. The O6HD differs from its predecessors with its dual mono design, featuring  two state-of-the-art Texas Instruments 192kHz/24-bit Burr-Brown PCM1792A DACs running in mono mode, an ultra-low jitter master clock (10 picoseconds after re-clocking), a Texas Instruments SRC4194 Asynchronous Sample Rate Converter (up-sampling to 24-bit/384 kHz),  ultra-fast op amps (< 20V/us slew-rate), and an analog filter: 2nd-order Bessel reconstruction filter.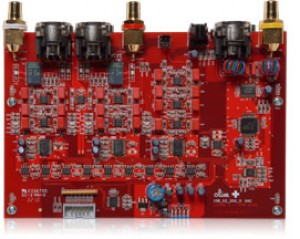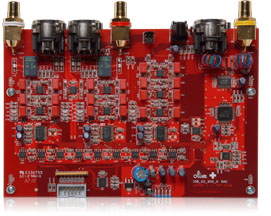 The O6HD shares the same chunky remote control with its other stable mates and its shortcuts enable rapid access to your library, music sources or radio.  In addition, there is an i-device app (Olive Media) that facilitates remote control of this unit. A PC/Mac program, Maestro, permits importing of files, metadata and content editing. Since the touch screen can only display 3 titles at a time vertically, the availability of these software applications makes life much easier.  The HDMI output ports the O6HD display to your HD display as long as you can adjust its scale to 480p.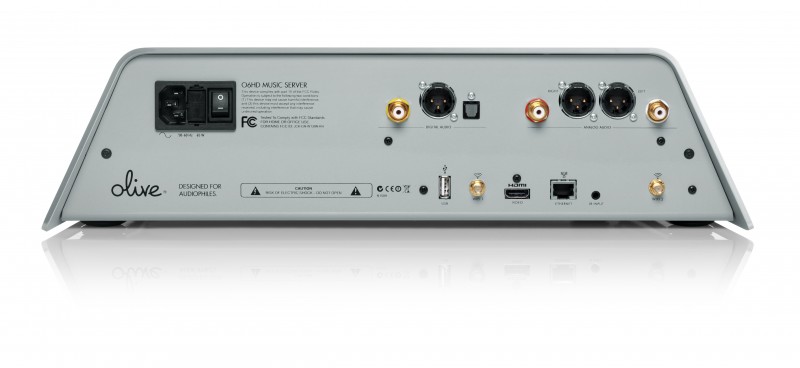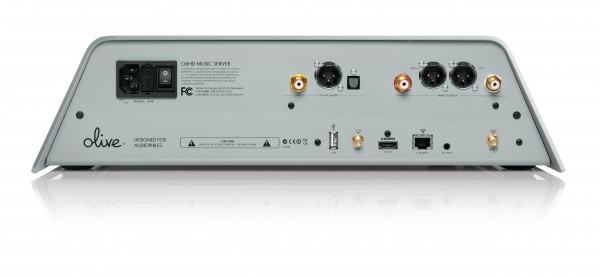 Make mine with Olives
The O6HD has a 2 terabyte drive which will store 6000 standard CDs or about 20000 high resolution files.  A wide array of audio files can be archived on the inboard drive: uncompressed HD (176.4 kHz/24-bit), lossless WAV and FLAC (up to 192kHz/24-bit), and lossy AAC and MP3 (128 and 320 mps) formats. Loading CDs is a literal piece of cake. Open the plastic case, take out the disc and put it in the front panel slot drive, select storage format, and push import. Load times for CDs average 8 minutes. The large touch screen is friendly to those of us with larger fingers and definitely easier to use than those on the other Olive servers. If you are not into touch screens then you have the option of the navigation keys, the remote control, i-device apps, or the Maestro computer program.  And there's more.  The O6HD can function as a CD player or disc burner for your favorite play lists. Not enough for you? How about internet radio stations? The O6HD comes with a goodly menu of preloaded stations which can be augmented by adding your new favorites via their URLs.
I'll take my Olives on the side
Setting up the O6HD was very easy. There is an onscreen map to get the wired (preferred) or wireless network connection established.  There are other options for file storage mode, sleep and power saving states. I found that, in spite of the larger touch screen, it was easiest to play music through the Olive Media app on my iPad. All listening sessions used a Pass XP-20/XA100.5 amp/preamp combination feeding Martin Logan CLX electrostatic panels. While both balanced and unbalanced inputs are available, Robert Altmann at Olive Media suggested that I choose balanced connections, which I did for all critical listening sessions.
Potential buyers should take note that there is no redundant hard drive on the O6HD. This requires the purchase of an external hard drive to ensure the viability of the digital library. You can purchase an off-the-shelf  2-terabyte hard drive for about $100 so this does not add significant cost to ownership.  I would strongly encourage this move, since loading thousands of CDs and other digital files can take up many hours of your life. You really only want to do this task once.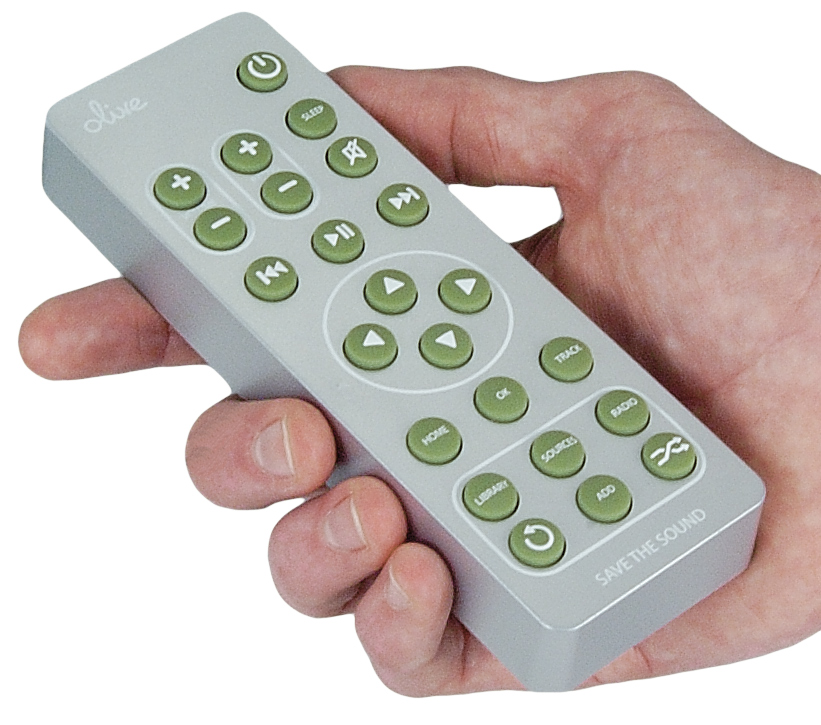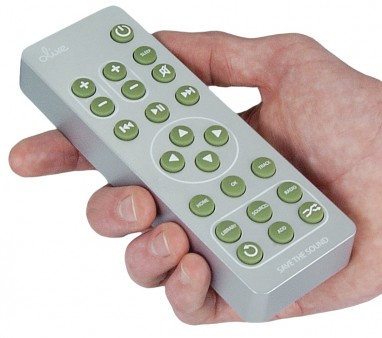 An Olive a day
The O6HD came with a small collection of high resolution files already loaded on its hard drive. I imported additional files varying from standard CD (44.1 kHz/16-bit) to higher resolutions, from 88.2/24-bit to 192/24-bit. Loading additional files via the  Maestro software on my PC worked smoothly. The direct loading and ripping of CDs was a flawless and deadly quiet operation. In fact, the O6HD has the best sound dampening that I have ever not heard in a digital drive.
Listening started with a number of high-res files, which the O6HD automatically upsamples to 384kHz/24-bit, among the highest rates in the industry.  Christy Baron's 96/24 version of the Bill Withers' number, "Ain't No Sunshine" (Chesky) features her sultry voice backed up by a solo bass. The amazing presence of this cut was admirably portrayed by the Olive and these two musicians magically came to life in my music room.   I moved on to Jan Gabarek and the Hilliard Ensemble's Novum Officium (ECM), another 96/24 recording of ethereal vocal music intertwined with saxophone improvisations. The reproduction of space, bloom and warmth of the voices and solo instrument was beyond reproach. Matthew Halls's uncut version of the Bach Goldberg Variations is a highly acclaimed recording. This Linn 44.1/24 FLAC download recreated the unique sound of this plucked string soundboard as well as I have ever heard it. Another excellent 44.1/24 recording is the Keith Jarrett/Charlie Haden Jasmine (ECM). The interplay between these two veteran jazz artists is remarkable to behold and the Olive beautifully conveyed the natural timbres of piano and bass on the lead cut "For All We Know."   Eije Oue and the Minnesota Orchestra have issued several outstanding symphonic recordings on the Reference Recordings label in 176.2/24-bit resolution. For this review, I sampled the Rachmaninoff Symphonic Dances, a piece with huge dynamics. The O6HD got the orchestral soundwave and low bass tsunami in the opening movement just right. The air being moved was a sensation akin to what a listener in a prime orchestra row seat would experience.
Of course, listeners with sizable CD collections will want to know how standard resolution FLAC downloaded files sounded on the 06HD. I downloaded several, including Neil Young's Live at Massey Hall (Reprise Records),  Little Feat Waiting for Columbus (Mobile Fidelity), and Janos Starker's Mercury version of the Bach Suites for Solo Cello. I compared the physical discs as played back on my PS Audio PerfectWave Transport/DAC combo. Both units were adjusted for similar volume and, in short, going rapidly back and forth, it was difficult to consistently determine whether I was listening to the physical disc or its stored image. As the PW digital player puts the CD info into a huge buffer file, you are technically not listening to a physical disc here either.
Of course, I had to listen to physical CDs on the Olive as well and I can state that, as a standard CD player, it sounded excellent without digital fatigue or harshness, even though most buyers would probably use this function very infrequently.  I also sampled some of the internet radio stations already programmed into the Olive's memory.  While the higher streaming rate stations (128kbps or higher) provide a pleasant background listening experience, such as Chicago's premier classical station,WFMT, the audible signal compression would not satisfy the discerning audiophile for very long.
Finally, while not a headphone "head," I did put my Beyer Dynamic DT660 'phones into the listening equation. Although the DAC driving the headphone output is only a single Texas Instruments 192khz/24-bit Burr- Brown PCM1792A, this is a no-compromise means of getting high quality digital playback into the 'phones. Put simply, this is a killer feature for apartment or dorm dwellers who need to listen in private after hours. The sound provided by this function is sensational!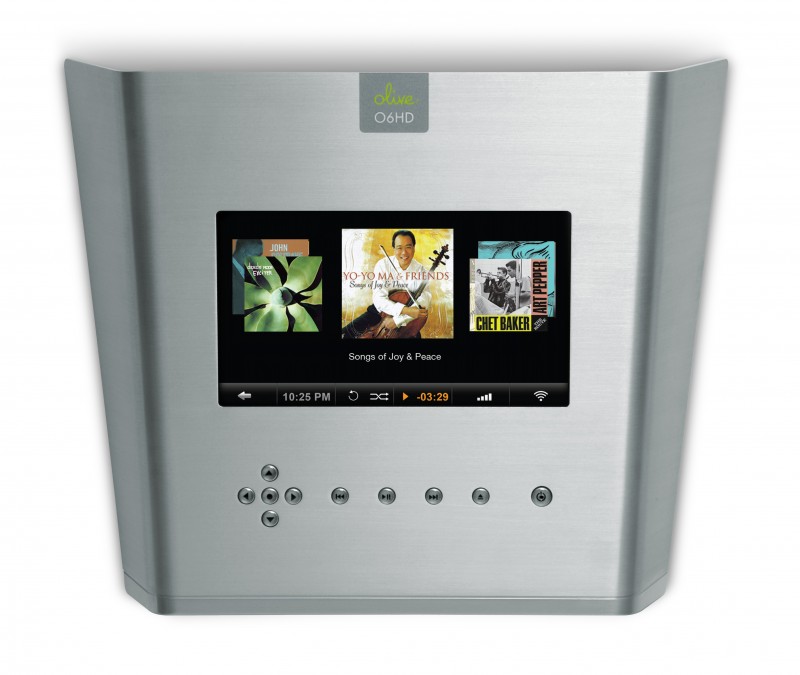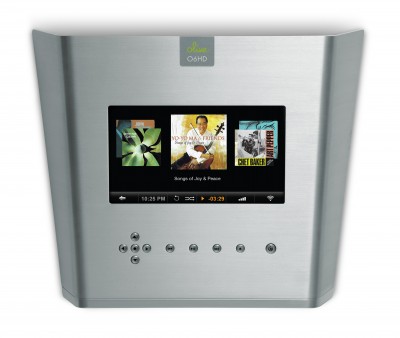 The Good
Simple to set up and operate
Plays high-resolution music files
Large and responsive touch screen
Stable network connectivity
Top-notch headphone stage
CD-burning capability
CD-playing capability
Outstanding build quality
Solid remote with shortcut function buttons
Dead quiet operation
The Bad
Screen is difficult to read at typical seating distances
Scrolling through entire collection is time-consuming and requires PC- or iPad app
Lack of internal back up requiring additional purchase of storage device
No digital input for other devices
The Scorecard:
Design:
[Rating:4.5/5]
Performance:
[Rating:4.5/5]
Value:
[Rating:4/5]
Overall:
[Rating:4.5/5]
The Definitive Word
The proverbial bar in the music server game continues to be raised. There are a growing number of these devices on the market ranging from inexpensive (Logitech Squeezebox Touch) to pricey (Meridian Sooloos Control 10/15).  The Olive O6HD at $4999 is not cheap but offers a number of desirable features for someone considering a move into true high-end media players. Besides being able to handle comfortably most folks' entire CD libraries, it can store and play back the highest resolution files currently available. The O6HD can also function as an upsampling CD player, CD burner, internet radio portal, and headphone digital preamp, a sort of a music server version of the "Swiss Army knife."  The only missing feature is a digital input for other devices, but considering the versatility of the O6HD, you probably wouldn't use it, even if it were available.
In short, the O6HD could function as a centerpiece for a digital-based audio system, save tons of space and provide hours of enjoyment.   It has all of the virtues that a good music server should possess: (1) Ease of set up and operation; (2) reliable storage and playback; (3) access to high resolution digital sources; (4) terrific sound.   The only downside which was also true of its predecessors is that the touchscreen, while much larger, is still not legible from typical sitting distances. Setting up playlists on the touchscreen is also a challenge. In this regard, the Olive is not as user-friendly as the Meridian Sooloos (the playlist champ, in my opinion). However, this function can be facilitated with either the iPad or Maestro programs.  That reservation aside, the O6HD improves in all respects on its Olive predecessors. While twice the cost of the next in line server, O4HD, its no-compromise design offers clearly better sonics. Were there any doubt, serious audiophile music are now moving along the tracks and the Olive 06HD is a great way to get on board!
Specifications:
Hard Drive
Ultra-quiet 2 Terabyte AV hard drive
Holds 20,000 HD tracks or 6000 CDs in original quality
Cushioned in 4 layers of noise cancelling padding
Headphone Output:
Texas instruments TPA6120A2 High Performance Audio Amplifier
CDRW
High fidelity TEAC CDRW mechanism
Import: Audio CDs
Burn: Audio CDs, MP3 CDs, Data CDs
Audio Connectors
Analog Output: 1x RCA
Analog Output: 1x XLR Neutrik
Headphone Output: 1x 6.4 mm stereo
Digital Output:
– 1x AES/EBU (balanced), made by Neutrik
– 1x S/P DIF optical Toslink,
– 1x S/P DIF coaxial cinch,
Supported Audio Formats
Bit rate: 16-bit, 20-bit, 24-bit
Sampling Frequency: 10kHz up to
200kHz
WAV, FLAC, MP3 (128 and 320kbit/s),
AAC (128 kbit/s)
Networking
Wireless, 802.11n (54 Mbit/s),
Encryption:WEP, WPA, WPA2, 64- and 128-bit
1x Wired Gigabit Ethernet
Other Ports
1 x HDMI (480p, 60Hz)
1 x USB 1.1/2.0
Infrared Receiver Input
Color touch-screen
10.1″ wide-aspect ratio
High-resolution (800 x 400 pixels)
Glass-on-glass touch-screen technology
Measurements
Width 17.125″
Height 4.5″ (at highest point)
Depth 14″
Weight 16.5 lb
Color
Box also includes
User manual, Remote control with battery
w/ battery, WiFi-antenna, Power cord.
Audio Performance
Measure                     Line           Headphone   Comment
Ouput         Output
THD + N
0.0007%
0.0007%
20Hz-22kHz
Signal/Noise Ratio
124dB
116dB
20Hz-22kHz
Dynamic range
121dB
113dB
24bits/96kHz
Linearity
>110dB
>110dB
Channel separation
>120dB
>110dB
Ouput level
2V RMS
4V RMS
Unbalanced
4V RMS
–
Balanced
Residual output noise
1.8uV RMS
6.0uV RMS
Unbalanced,
A-weighted
2.5uV RMS
–
Balanced,
A-weighted
Frequency response
+0 / -0.5dB
+0 / -0.5dB
20Hz-20kHz
More Information:
Olive O6HD Music Server (SRP $4999)
Related Articles: