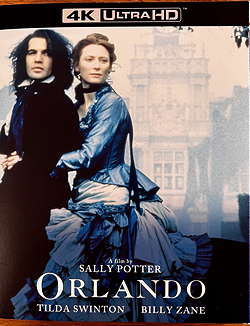 Orlando is independent filmmaker Sally Potter's gender-defying epic told in ninety-four minutes. Based on the 1922 Virginia Woolf novel, the story begins in 1600 near the end of the aged Queen Elizabeth I's (Quentin Cris) reign. Taking a liking to the young and attractive Orlando (Tilda Swinton), the Queen seeks him out for sexual favors. Orlando is pretty much forced to oblige, and he does so with much aplomb, which, when the Queen passes, earns him a Lordship and a large estate. Before she dies, Queen Elizabeth commands Orlando to "Do not fade, do not wither, do not grow old." This command might as well have been a miracle, because Orlando does not age, he instead maintains his youth. He falls in love with Sasha (Charlotte Valandrey), the daughter of a Russian diplomat, who rebuffs his advances. Distraught, he takes an ambassadorship in Constantinople where the shock of witnessing the death of a man in battle sends him into one of his very lengthy sleeps, and this time he emerges a woman. Returning to 18th century England, Orlando now finds himself subject to the misogyny of the culture whilst also spending time in parlors with the geniuses of the time like Jonathan Swift and Alexander Pope. She eventually finds herself stripped of her property and titles since it violates the law for her to own them, and she runs through a garden maze to emerge in the 19th century where she meets and falls in love with a dashing American (Billy Zane), has his child in the modern world.
While the film never explains why or how Orlando can simply become immortal and shift from a male into a female over four-hundred years, it is still an interesting visual exploration of European history and gender politics filmed luxuriantly by Potter and cinematographer Aleksey Rodionov helped greatly by the work of production designers Ben van Os and Jan Roelfs. The film belies its meager four-million-dollar budget and feels much larger than it is.
Orlando does begin to lose its moment after a while since there is no strong story arc in the screenplay. Potter and Walter Donohue, who edited the Virginia Woolf story for the screen, leave a lot of empty space in the narrative. It does play well as an interesting and lightly comedic period costume drama that also gives a look at gender politics and identity over the centuries.
The Video
Orlando was shot spherically on 35mm film stock with Arriflex cameras and Cooke lenses. It comes to 4K Ultra HD in the Sony Pictures Classics 30th Anniversary 4K Box set in a 1.85:1 HEVC 2160p (4K UHD) Dolby Vision encodement with a MaxLL of 378 nits and a MaxFALL of 153 nits. While the film comes across on disc with the warmth and sort of soft yet detailed granularity one would expect from this sort of production, the Dolby Vision color coding and dynamic range brings a very minimal amount of extra "oomph" to the table for this release. Admittedly, I do not have this title on Blu-ray to compare a previous edition, but I don't see much specular highlight 'pop' in flames or sunlight, or even on the reflections off of Orlando's jewels. Is great as the film looks overall as far as its organic film grain, nuanced shadow detail, and deep depth of field, it could very well be SDR.
The Audio
Orlando comes to 4K Ultra HD with a lossless DTS-HD Master Audio 2.0 surround mix. The stereo soundfield is quite wide and the 'surround' works to open up the soundscape, even if it is not the sort of discrete 5.1 and more that we have become used to today. It sounds lush and dynamic especially when the score swells.
The Supplements
The Sony Pictures Classics 30th Anniversary 4K box set this disc is from contains a 24-page booklet, featuring an all-new essay from renowned film critic David Thomson about the history of Sony Pictures Classics, along with information about each of the included films and an introduction from SPC co-presidents Tom Bernard and Michael Barker. Additionally, the disc contains archival bonus features that have all been ported over and upscaled for this release:
Orlando Goes to Russia (1080p/60; 00:32:58)
Orlando Goes to Uzbekistan (1080p/60; 00:51:55)
Jimmy Was an Angel (1080p/60; 00:08:03)
Commentary with Director Sally Potter and Actress Tilda Swinton
Venice Film Festival Press Conference (1080p/60; 00:23:21)
An Interview with Sally Potter (1080p/60; 00:13:21)
Select Scenes Commentary with Director Sally Potter (1080p/60; 00:10:17)
Theatrical Trailer (1080p)
The Final Assessment
Tilda Swinton's quiet, elegant performance in Orlando helps carry this interesting, visually stunning, if somewhat shallow take on the Virginia Woolf novel. This is still a beautiful film to watch, especially in this very satisfying 4K transfer from Sony despite the weak Dolby Vision coding.
Orlando is out on 4K Ultra HD in the Sony Pictures Classics 30th Anniversary 4K Box Set on November 22, 2022, from Sony Pictures Home Entertainment
---
Rating Certificate: PG-13 (for some sensuality)
Studios & Distributors: Adventure Pictures | Lenfilm Studio | Mikado Film | Rio | Sigma Film Productions | British Screen Productions | Sony Pictures Home Entertainment | Sony Pictures Classics
Director: Sally Potter
Written By: Virginia Woolf (based on the book by) | Walter Donohue (story editor) | Sally Potter
Run Time: 94 Mins.
Street Date: 22 November 2022
Aspect Ratio: 1.85:1
Video Format: HEVC 2160p (4K UHD)
HDR Format: Dolby Vision (HDR10 Compatible)
HDR10 Metadata:

MaxLL: 378 nits
MaxFALL: 153 nits

Primary Audio: English DTS-HD MA 2.0 Surround
Secondary Audio: Spanish DD 2.0 Mono
Subtitles: English | English SDH