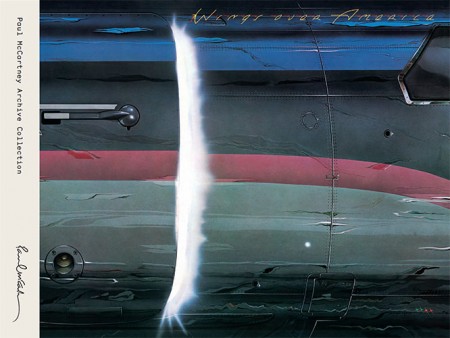 –
Overall
[Rating:4/5]
The Album
[Rating:4.5/5]
Audio Quality
[Rating:4/5]
Supplemental Materials
[Rating:1.5/5]
The Album
[Rating:4.5/5]
Originally released as a triple album and clocking in at nearly two-hours, Wings Over America has become one of the quintessential titles in the Paul McCartney catalogue. These live recordings culled from the best performances of five shows from the American wing of the massive 1975/1976 Wings Over the World tour for Paul McCartney and Wings contains some of the ensemble's now greatest hits, like "Silly Love Songs", "Live and Let Die", and "Maybe I'm Amazed". Furthermore, the tour and performances contained herein (and on the accompanying concert film, Rockshow) include hits from The Beatles, some that, at the time, were never before performed live in front of an audience, songs like "The Long and Winding Road", "Blackbird", and "Lady Madonna". McCartney was on top of his creative, post-Beatles game here, one of his most vital periods, and this document is a virtual greatest hits of the period that any fan or newcomer should count among their catalogue.
Track listing:
"Venus and Mars/Rock Show/Jet" – 9:56
"Let Me Roll It" – 3:51
"Spirits of Ancient Egypt" – 4:04
"Medicine Jar" (Jimmy McCulloch/Colin Allen) – 4:02
"Maybe I'm Amazed" (Paul McCartney) – 5:10
"Call Me Back Again" – 5:04
"Lady Madonna"  – 2:19
"The Long and Winding Road" (McCartney–Lennon) – 4:13
"Live and Let Die" – 3:07
"Picasso's Last Words (Drink to Me)" – 1:55
"Richard Cory" (Paul Simon) – 2:50
"Bluebird" – 3:37
"I've Just Seen a Face" (McCartney–Lennon) – 1:49
"Blackbird" (McCartney–Lennon) – 2:23
"Yesterday" (McCartney–Lennon) – 1:43
"You Gave Me the Answer" – 1:47
"Magneto and Titanium Man" – 3:11
"Go Now" (Larry Banks/Milton Bennett) – 3:27
"My Love" – 4:07
"Listen to What the Man Said" – 3:18
"Let 'Em In" – 4:02
"Time to Hide" (Denny Laine) – 4:46
"Silly Love Songs" – 5:46
"Beware My Love" – 4:49
"Letting Go" – 4:25
"Band on the Run" – 5:03
"Hi, Hi, Hi" – 2:57
"Soily" – 5:10
Audio Quality
[Rating:4/5]
Live rock shows aren't usually the best candidates for reference audiophile material; there's too much amplification, too much bleed through, too much moving around and too much crowd noise. That being said, this 96kHz/24-bit remaster of Wings Over America sounds about as warm and punchy as it can and has a good mount of dynamics and instrumental separation. It is close-mic'd and dry by today's standards, with judiciously applied reverberation and crowd noise is subtle. I've heard some modern live concert recordings that are absolutely swarming in artificial reverberation, this one isn't like that at all. It sounds a bit more intimate, and the high frequencies aren't tweaked to the max. I like it.
Supplemental Materials
[Rating:1.5/5]
We get a PDF with album art, liner notes, and additional photos.
The Definitive Word
Overall:
[Rating:4/5]
This classic live album, a whopping two hour "triple LP" gets a new high-res remaster that, here in this stereo edition, sounds vital and energetic, warm, and intimate. This is McCartney at his post-Beatles best. A must-own work.
Paul McCartney & Wings: Wings Over America (Remastered) High-Resolution Lossless Download (HDtracks)