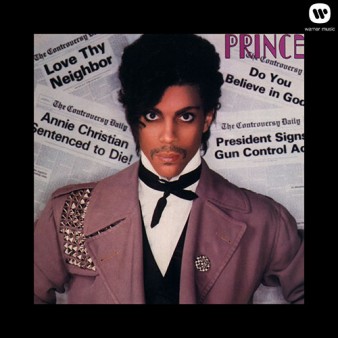 –
Overall
[Rating:4/5]
The Album
[Rating:4/5]
Audio Quality
[Rating:4/5]
Supplemental Materials
[Rating:0/5]
The Album
[Rating:4/5]
At at his creative heights, Prince was always able to looks backwards and forwards simultaneously, straddling multiple musical genres whilst forging ahead with his own unique style, stirring controversy, rousing butts from seats, and perplexing anyone looking to put a label on it all.
Controversy, the 1981 follow-up to his new wave/funk breakthrough of the previous year Dirty Mind exemplified these things best musically and thematically. It owed a musical allegiance to its predecessor in the funky jam such as "Let's Work", which recalled the previous album's funk jams ("Do it All Night," "Uptown","Partyup"), and it also kept some of the sexually-charged themes alive in lyrics like "If you're tired of masturbating/little girl we're gonna date/if you like, I'll jack u off" or "am I straight or gay".
But Controversy is also the album where Prince broke out of the mold of just being the funk guy in the bikini briefs. The album is a raw and ambitious project that, like its title, tackles everything from race ("am I black or white"), to war in songs like "Ronnie talk to Russia" ("Ronnie talk to Russia before its too late, before they blow up the world"). In "Annie Christian", a techno song with driving synth drums and a underlined by distorted, Hendrix-ian guitars that would not appear again on a Prince album until 1985's Around the World in A Day, Prince runs the gamut of social topics of the day, from the serial killing of black children in Atlanta, the assassination of John Lennon, Abscam, and gun control.
The overriding musical styles and themes also hint at things to come. It's an ambitious recording in which Prince was definitely eying a larger audience, the larger audience that was soon to come only a year later with 1999. The catchy synth-pop rockabilly of "Jack U Off" looks forward to 1999's sexually-tame "Delirious". "Do Me Baby" is a marathon slow-jam session, interrupted by a simulated masturbatory session by the Purple One. Even this sexy number predicts the equally sexy, but less explicit "International Lover" from 1999.
Controversy is, then, sometimes viewed as a cacophony of styles, rather a cohesive statement, but it is this reaching while still holding on to a solid foundation that makes it such a vital and visceral musical statement that has more than stood up to the test of time.
Track listing:
"Controversy" – 7:15
"Sexuality" – 4:21
"Do Me, Baby" – 7:43
"Private Joy" – 4:29
"Ronnie, Talk to Russia" – 1:58
"Let's Work" – 3:54
"Annie Christian" – 4:22
"Jack U Off" – 3:09
Audio Quality
[Rating:4/5]
Prince's albums have never been known for their astounding sound quality and throughout the years, it has been hit or miss with many of his recordings. Controversy, hailing from 1981, was never one of his better sounding releases, and in the CD era, it may be one of the worst of the catalogue. Thankfully, Warner and HDtracks have finally begun to rectify the longstanding mistreatment of this superb music. Prince's albums have never been remastered, until now, starting with HDTrack's fantastic high-resolution download of 1999. Controversy, in this 192kHz/24-bit lossless download (also available in 96kHz/24-bit) has finally shed the "digititis" of its CD release. It has never sounded as clean and dynamic as it does here, from the pulsating beat of the opening title track, to the bottom-heavy slow groove of "Do Me Baby" or the clear electronic synths on "Private Joy" and "Jack U Off," detail shines through in way that the CD release just could not present. There's also a certain amount of analogue warmth and hiss that can be heard here, making it have more in common with my old vinyl copy, sans the crackle and pop, than anything digital.
Supplemental Materials
[Rating:0/5]
As is typical thus far with downloads from HDtracks, this comes with nothing but the album cover in PDF form. It would be great if HDtracks would start offering some liner notes and, for those of us who would prefer not to have to do it ourselves, cue files, considering they are providing lossless (FLAC, ALAC) and uncompressed (WAV, AIFF) formats.
The Definitive Word
Overall:
[Rating:4/5]
This style of always being in transition worked out well for Prince for a decade and a half, but it is the stretch from 1980 to roughly 1989 that defined him as an artist. Controversy, one of earliest and edgiest statements may not be as consistently catchy as either of the albums it is wedged in between in the Prince catalogue, but it shows an artist unexpectedly blasting through the perceived limits of his genre and on the precipice of greatness.
Download Controversy in lossless high-resolution from HDtracks
Overall
[Rating:4/5]
The Album
[Rating:4/5]
Audio Quality
[Rating:4/5]
Supplemental Materials
[Rating:0/5]