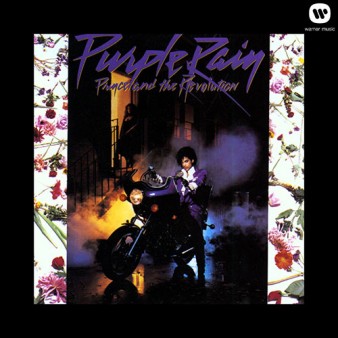 –
Overall
[Rating:4/5]
The Album
[Rating:5/5]
Audio Quality
[Rating:3.5/5]
Supplemental Materials
[Rating:0/5]
The Album
[Rating:5/5]
It was the summer of 1984. I was 12 years old, had been a Prince fan for only two years, since the release of 1982's 1999, and was recently, ahem, devirginized (quite happily, I might add) to "When Doves Cry" on the radio. Too young, maybe, but all I remember is it was the summer when I came of age, and Purple Rain was the soundtrack. My 16-year-old cousin and her then boyfriend took me to see the movie, and I was a confirmed Prince fan for life from then on. The neuroses, the MTV-style graphics, the angst – and most of all, the badass soundtrack. Prince was a genius.
His glossiest, most ambitious album to date, Purple Rain, the original motion picture soundtrack, was the first album to officially credit his backup band The Revolution, though real Prince fans will know that the first appearance of The Revolution in name on an album cover was on the preceding album, 1999, in fine print, spelled backwards.
Purple Rain, Prince's sixth album, was the culmination of all the styles and subject matters he had been experimenting with up to that point, ever since he opened his second studio album, the self-titled Prince, with the unlikely trio of songs, the dance hit "I Wanna Be Your Lover," the blazing guitar rock number "Why You Wanna to Treat Me So Bad?," and the sparse and funky stop-and-go disco of "Sexy Dancer." Making a bold foray into the world of pop, more rock oriented arrangements, and band-driven dynamics, Purple Rain combined his new wave, r&b, rock, and dance styles into a palatable sheen of sugary, and catchy tunes, while also staying true to his edgier, more experimental side. "Computer Blue", for example, is a two-part, techno epic that begins with Wendy and Lisa bantering in an almost lesbian seduction. "Darling Nikki," a track that Dave Grohl would go on to cover with his band Foo Fighters, would be responsible for getting then Senator Al Gore's wife Tipper on a crusade against the recording industry because of lyrics like "I met her in a hotel lobby masturbating with a magazine".
However, like the best of the great pop successes, they are just dangerous enough for the youth to cling to, but also tame enough to cross over a wide array of boundaries, and the easy blend of styles that Prince, aided by The Revolution pulled off on Purple Rain, helped make it one of the greatest soundtracks and albums of the 80s and of all time. Whether it be the title track's soft rock riff that has a gospel overtone, or the hypnotic rhythm of "When Doves Cry," (one of the few bass-less #1 songs) that captures the frustration of youth ("maybe you're just like my mother/she's never satisfied/why do we scream at each other/this is what it sounds like/when doves cry"). "Baby I'm a Star" is a triumphant, get up and dance, pop/funk tune that smooths out the roughness of James Brown with the psychedelic orchestrations of The Beatles, not unlike the even more melodic "Take Me With U", originally written for Apollonia 6, a mid-tempo duet with Apollonia. With its lush strings and tom-tom hits it looks forward, as Prince was always doing during that period, to the more experimental and psychedelic period he would enter with his very next album, Around the World in a Day, and a track like "Raspberry Beret".
Audio Quality
[Rating:3.5/5]
Purple Rain, like many of Prince's recordings, was laid down not to capture perfect sound, but to capture a feel and a moment in time. One of his glossiest sounding recordings, Purple Rain is nevertheless somewhat thin, lingering in the midrange and higher frequencies, with only occasional forays into the upper low range. There haven't been any audible efforts taken to rectify this, insofar as I can hear, in the form of digital EQ'ing, but the 192kHz/24-bit transfer here does remove some of the digital shrillness o f the original CD release that has been available since the 80s. Tracks like the powerhouse hit "When Doves Cry", even without a baseline, has a good bit of depth and punch in its percussive drive, while "Let's Go Crazy" has definite crunch in its driving metal guitars. "Baby I'm A Star" has the most depth in the low end. Even with its high end sheen sounding a little grungy still, Purple Rain doesn't have the brittleness it has always had in the digital realm here and is a bit less fatiguing to sit through at louder volumes, though it still doesn't qualify as audiophile material.
Supplemental Materials
[Rating:0/5]
As is the case with HDtracks releases, this download of Purple Rain comes only with the cover art in PDF form.
The Definitive Word
Overall:
[Rating:4.5/5]
Perhaps more than any other album outside of, arguably, Michael Jackson's Thriller, Purple Rain best sums up the pure artistic genius of the1980s pop music landscape. It touches on nearly every popular musical genre of the decade, from dance, to metal, to funk, to pure pop, and, with its companion feature film, even reminds us that it was rooted in the slick visual style of the MTV generation. Prince's genius was peeking here, and despite the power of this music, and massive sales (Purple Rain has gone on to sell over 20 million copies worldwide), his genius still hadn't peeked, despite what some might argue, which is remarkable. This is an album for the ages, served up in high-resolution, and one every music fan should own.
Download Purple Rain in High-Resolution Lossless from HDtracks
Overall
[Rating:4/5]
The Album
[Rating:5/5]
Audio Quality
[Rating:3.5/5]
Supplemental Materials
[Rating:0/5]