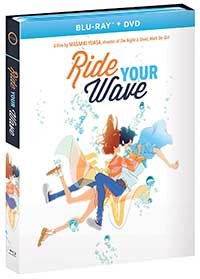 Ride Your Wave (Kimi to, Nami ni Noretara) is a 2019 Japanese animated film produced by Science Saru and directed by Yuasa Masaaki.
A romance-drama set on the Japanese seaside, the film follows the 19-year-old female protagonist Mukaimizu Hinako moves to an oceanside town to attend college and practice her favorite, lifelong hobby of surfing. When a fire catches at her new apartment complex from illegal fireworks set off by a group of rowdy revelers, Hinako is saved from the building's rooftop by a heroic and idealistic firefighter, the 21-year-old Hinageshi Minato.
The two find themselves spending a lot of time together, becoming very close friends and soon becoming romantically involved and they fall in love. Hinako teaches Minato how to surf and one day after a storm Minato goes out surfing on his own and drowns while trying to rescue a jet skier. Hinako is distraught and can't seem to move on with her life even as she is being comforted and encouraged by her newfound friends, Yoko, Minato's younger sister, and Kawamura Wasabi, Minato's junior at work. But Hinako discovers that Minato's spirit can appear to her – and even talk to her – in bodies of water whenever she sings their favorite song, fulfilling his promise to her to always be by her side. No one around her believes that she can talk to and see Minato, but she continues to speak with and rely on him, and when she continues to try to investigate how he died by getting into his cellphone, she uncovers connections to him from both of their pasts that she didn't realize were there.
Director Yuasa brings a fantastic, heartfelt anime feature film together here with Ride Your Wave that gathers together themes of determination, strength, love, loss, and the uncertainty of entering adulthood. Hinako is a powerful female character as most anime characters tend to be in the great tradition set forth by that powerhouse of all anime studios Studio Ghibli. This film, like many anime feature films, shows a long legacy of anime films delicately balancing the mundane with the fantastical but never losing sight of what makes us relate to the characters on a human level.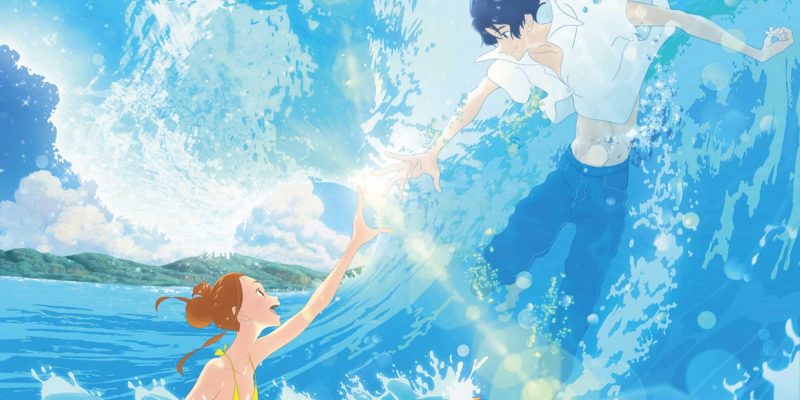 The animation, character designs, and artwork are all exceptional as well. Water is always something difficult to animate, and here there is an abundance of it, especially during the film's exciting denouement. There is never a time watching Ride Your Wave that we don't feel like we are on a sunny seaside with a refreshing ocean breeze blowing over us, even during the saddest moments.
The film is an empowering, heartfelt film that is visually stunning and excellent family viewing although some elements may be a bit too much for the very smallest members of the family.
Ride Your Wave is out on Blu-ray, DVD, & Digital August 4, 2020 from Shout! Factory & GKIDS. The Blu-ray features the bonus featurette "Interview with Producer Eunyoung Choi" (08:43).
---
The Story: 4.0/5
The Animation: 4.5/5
The Dub: 3.5/5
Animation Studio: Science Saru
Distributors: Shout! Factory | GKIDS
Director: Yuasa Masaaki
Writer: Yoshida Reiko
Aspect Ratio: 1.78:1
Run Time: 96 mins.