Rotel is a family owned manufacturer of Hi-Fi components that has been around for over 40 years. Their design philosophy is to strive to make home entertainment electronics that compare favorably with products costing many times their retail value. I have always been enamored by their handsomely crafted high performance gear, but haven't had the opportunity to personally audition them. When I was offered the chance to evaluate their latest and brand new flagship 15 series components I jumped at it. The subject of this review is the RSP-1570 surround sound audio/video processor and RMB-1575 five channel amplifier combo.

The RSP-1570 features HDMI 1.3a connectivity with 1080p / 24 Hertz compliance, a dual 32 bit DSP processor and 24 bit/192kHz digital-to-analog converters. It supports the new "Deep Color," xvYCC video options and features rear panel bi-directional RS-232 ports, assignable 12-volt triggers and multiple IR connections. The RMB-1575 is a 5 channel class D design rated at 250 watts per channel (8 ohms) and 500 watts per channel (4 ohms) with all channels driven.
The units arrived from Rotel double-boxed and securely packaged. I must admit that I always get a little giddy when unpacking new audio gear. The RSP-1570 and RMB-1575 come in silver (which I received) or matte black finishes. The silver's brushed-aluminum finish is bright with an understated elegance that exudes class.
The 1570's front panel has smooth lines and a symmetrical layout that features two rows of buttons for input selection/control functions, bass/treble adjustments, a large centrally located volume knob, standby/power button, remote sensor, and a large multi-line fluorescent display. The back panel is bristling with audio and video inputs. There's unbalanced RCA preamp outputs for 8 channels which includes an additional center channel output, dual subwoofer outputs labeled sub 1 and sub 2, and 7.1 channel (plus an additional center channel) audio input for connecting an analog multi-channel source such as a Super Audio CD/ DVD Audio player or High Definition Disc player.
For those still needing them, digital SPDIF (four optical/three coaxial) inputs and 2 corresponding outputs are present, as are analog audio/video inputs with corresponding video monitor output in both S video and composite video flavors. Three sets of high definition wide band component video inputs and a corresponding output, along with 4 HDMI 1.3a inputs and a corresponding output round out the audio/video package. There's an input for an outboard tuner (the RSP-1570 doesn't include one), an RJ-45 interface for connection to a PC/RS232 control (using the supplied RJ-45 to serial cable), six 12vdc triggers, infrared ports, a master power switch, audio/video for 3 additional zones and the AC power cord input.
The RMB-1575's face plate is an aesthetic match with the 1570 with its smooth brushed-aluminum face and low profile design. The Rotel logo sits atop a row of vents/slots that occupy the center with the soft touch power button mounted on the upper left. Around back the amplifier is well laid out and features high quality gold plated unbalanced RCA connectors grouped by channel above corresponding high quality gold plated speaker binding posts that accept bare wire, banana plugs or spade connectors. There is a 12vdc trigger in/out along with a toggle switch to enable/disable its operation and a grounded IEC power input. In handling the Rotels it is obvious that they are solidly built and have a sturdy design that exudes high quality.
The RR-1061 remote control which comes with the RSP-1570 is a learning, universal type that includes backlighting. Button layout is logical with primary functions located just beneath a small LCD screen and secondary functions located beneath a flip open door in the lower third of the remote. Full system control as well as control over most other components in any system is possible.


System Setup:
I connected the following components in my system to the RSP-1570 via HDMI unless otherwise specified:
JVC DLA-RS20u 1080p front projector
Oppo BDP-83 Blu-ray player
Scientific Atlanta 8300HD DVR/high definition cable box
Marantz DV7001 Universal SACD/CD/DVD Audio/Video player – HDMI, analog multi-channel 5.1
Sony CX995v 400 Disc DVD/CD jukebox – Component video, coaxial digital
I connected the RMB-1575 to my suite of Canton Ergo speakers using bi-wired banana plug terminations to the 611 DC mains and standard terminations for the 605 CM center channel speaker, wall mounted 601's and Axiom QS8 surrounds. I connected my SVS PB13 Ultra and Canton AS650 SC subs using the two subwoofer line outputs. Rotel includes a 12vdc mono cable with 3.5 mm connectors on each end which simplifies connection of the trigger output on the RSP-1570 to the input on the RMB-1575. Once all connections were in place I powered up the 1570 and accessed the setup menu. It should be noted that the only way to access the setup menu is via the onscreen display available using one of the unit's monitor outputs (digital or analog), there is no option for this via the front panel display. One minor annoyance is that initiating the setup menu requires first pressing the menu button on the remote followed by the enter button. The first press brings up a system status screen only. Not a big deal except that the menu is only available in 480p which causes a temporary interruption in the output at resolutions other than 480p. Pressing the enter button is essentially done hoping that when the picture returns the setup menu is visible (and it was).
The interface is straight forward and allows configuration of each input/source with options for audio (digital/analog), video output setup, 12 volt trigger assignment, surround mode preference etc. The speaker setup menu has basic and advanced configuration options with the latter allowing access to more specific settings. It should be noted that setup of the subwoofer in the menu doesn't allow independent settings for each subwoofer input but applies to both. There is plenty of flexibility for those who are familiar with the characteristics of their speakers and want to dial them in. In most cases the basic speaker setup should more than suffice.
I set the system up for a seven channel configuration (using a B&K Reference amp for the additional rear channels).The Rotel doesn't include an automatic setup/room correction solution which is something offered on many products at its price point (and below in some cases). Be that as it may, I had no trouble calibrating it to 75db using my trusty Radio Shack sound level meter. Dialing in the subs using their gain controls required minimal adjustment as they were already right at 75db in my theater room. The RSP-1570 utilizes video processing by Faroudja which is a popular solution incorporated in various products. I set the video output for all sources to HDMI/1080p. The Rotel will output resolutions up to 1080p for HDMI and 1080i for component video. It will convert and scale analog video signals to HDMI up to the maximum output, but will not covert HDMI video signals to analog. All HDMI video signals are passed through with no processing applied. The same is true of a component video to component video configuration.
The unit's Amp Mode internally processes all incoming audio signals while the TV Mode passes them through for use with an audio capable display device. Exploring the other menu's there are options for selection of default power on volume, record source settings, power up options and more. The unit includes a Contour settings menu that allows the digital adjustment of the bass/treble response of each group of speakers in the system. This could come in handy if you're a discerning listener and feel that perhaps your mains sound a bit too bright and you want to subtly roll off the extreme high frequencies. Rotel also provides a Cinema EQ option to tame bright sounding movie soundtracks as well as Dynamic Range control for late night listening. Lastly there is a default setup menu that allows the restoration of factory defaults as well as the saving of user defaults and their restoration.
Listening:
Once I was satisfied with the setup I decided to jump right in and check out some lossless digital movie soundtracks via Blu-ray Disc. The RSP-1570 internally decodes all of the current Dolby/DTS audio formats in both lossy and lossless flavors which include Dolby TrueHD and DTS-HD Master Audio encoded at up to 7.1 channels via its HDMI version 1.3a inputs. Additionally there are four DSP music modes, 5/7 channel stereo, and a 2 channel analog bypass for pure stereo playback. The 1570 successfully and quickly synched up with all of the HDMI devices in my system. I cued up Live free or Diehard which has a killer DTS-HD 5.1 Master Audio soundtrack. I tried out Rotel's proprietary XS (eXtended Surround) processing which extracts matrix surround sound for systems that employ 1 or 2 rear center channel speakers.
Chapter 33 features a harrier jet attack sequence on a multi-tiered freeway and contains a plethora of sound effects, powerful bass and extended dynamic range. The Rotel combo delivered a visceral and enthralling surround sound experience. Dynamics were first rate with gut punching low frequency effects and an enveloping and detail rich sound field that maintained excellent onscreen correlation during panning sequences. The Fifth Element has a superb Dolby TrueHD soundtrack that features a wonderful blend of soft spoken dialogue, evocative music, and varying levels of bombast. Dialogue was lucid and strident free through the center channel. The Rotel combo kept pace with the track's extended dynamic range while never losing focus in reproducing the minutia associated with the recording.
I wanted to test the RMB-1575's muscle so I reconfigured the system with no subwoofer and set my Canton Ergo 611 DC towers and 605 CM center channel to full range. I cued up the dynamically engaging and bass-heavy Cloverfield and began with the sequence that starts on the rooftop. I was treated to an invigorating surround sound experience that offered stalwart bass reproduction, pinpoint imaging and crystal clarity. I was impressed at the composure maintained by the cool running Class D RMB-1575 as it never broke a sweat even at elevated sound pressure levels. It sounded so good that I ended up watching the entire movie!
I wanted to get a feel for the RSP-1570's ability to convert analog video signals to HDMI and scale them to 1080p. I connected my Sony DVD Jukebox to the 1570 via 480i component which required it to de-interlace and scale to 1080p. Generally speaking the results were satisfactory on my large Stewart Studiotek 130 G3 screen. Closer examination revealed some slight softening that isn't present in comparison to the same material viewed utilizing the video processing in my Anthem AVP. I suspect that most probably wouldn't find it objectionable. Those seeking the cleanest image quality would be best served by using HDMI connections wherever possible with the RSP-1570.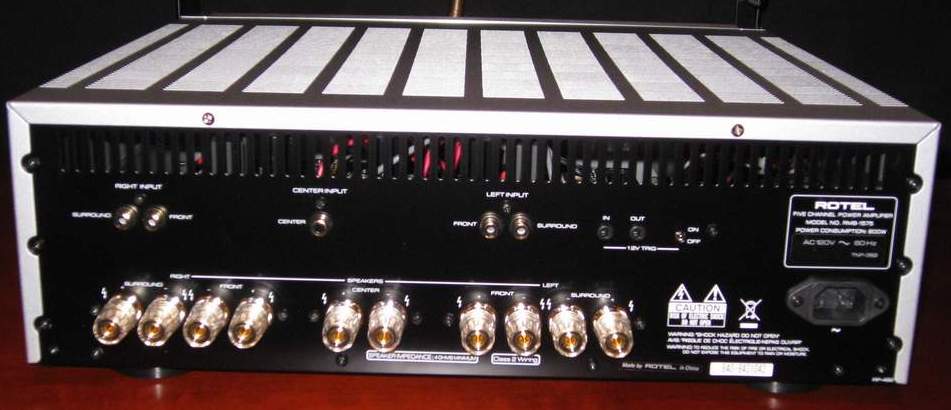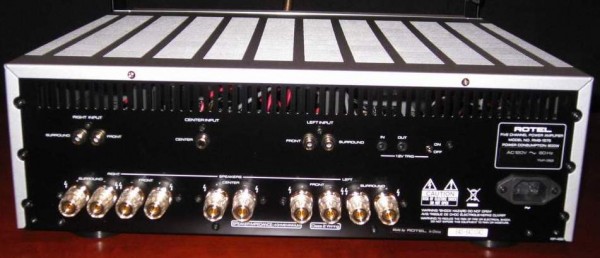 Moving on to music, I used my Marantz DV7001 as a digital transport in order to give the RSP-1570's digital to analog converters a listen with two channel audio. Madeleine Peyroux's Careless Love is a spirited collection of songs that features her Billie Holiday-style vocals and a light jazz/bluesy instrumental blend. I knew I was in for a treat after the first 30 seconds of track one, "Dance Me to the End of Love." Her voice was airy, textured and free of sibilance. Detail was aplenty as highs were crisp with just the slightest hint of edginess in the upper treble range. The acoustic bass on "Don't Wait Too Long" sounded rich, articulated and tight. Wanting to see how the RMB-1575 handled classical arrangements I reached for The Firebird by Stravinsky on Telarc. The "Infernal Dance of King Kastchel" reached down deep with punchy, controlled bass and open sound staging that allowed the individual pieces in the orchestra to be identifiable without adversely impacting imaging.
Listening to multi-channel high resolution surround sound music was just as rewarding (perhaps even better). Diana Krall's When I look in Your Eyes is one of my favorite SACDs. The RSP-1570 doesn't internally decode Direct Stream Digital so I utilized the unit's multi-channel analog input, which bypasses digital processing, but does offer an LFE Redirect option that derives a summed mono subwoofer signal from the seven main channels. Track 6, "I've Got You Under My Skin," features her sultry voice out in front along with piano and full orchestra accompaniment. Her voice sounded pure, full bodied, and warm as it filled the front sound stage. The piano never sounded tinny or thin as the midrange was sweet and grain free.
Gordon Goodwin's Jazz/Big Band fusion Big Phat Band, XXL on DVD Audio features plenty of dynamics and can usually weed out amps that run out of steam when pushed too hard. With the speakers set to full range without a subwoofer I gave it some volume. Track 2, "A Game of Inches," features various brass, bass, and drums. Played back through the Rotel combo this recording rocked. Bass reproduction was taut, pitch perfect and effortless even at ear ringing levels. Trumpets and saxophones were rendered with clear intelligence and never became fatiguing. I found the Rotel combo to offer warm, detailed, tonally rich and pleasing musicality.


Ergonomics:
The RSP-1570 is easy to setup and offers flexibility that allows those so inclined to maximize their setup. Rotel offers an online interactive setup guide/tutorial as well as a downloadable PC application that allows configuration/setup and saving of the processor's settings on your computer (using the supplied cable). The front panel's display is large and legible enough that I could clearly read it from my seated position which is 15 feet away. The neon blue glow around the power/standby button is too bright and makes for a considerable distraction in a darkened room. As a solution to this Rotel advises they are now including a small "dimming" ring (I didn't receive one with my review sample so I wasn't able to test its effectiveness). The onscreen display functions fine but could use a makeover.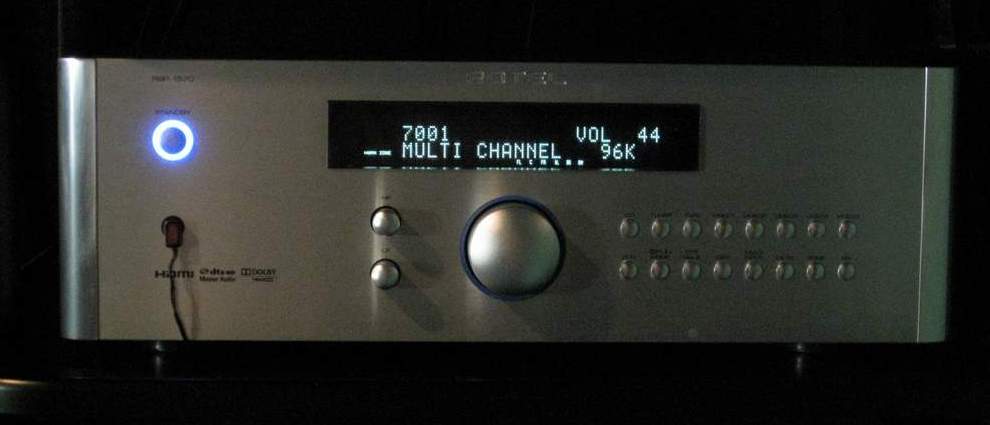 The chassis is solid/ hefty and the knobs, buttons, and inputs are sturdy and well constructed. The unit runs very warm even during normal operation, which could be a consideration for users looking for placement in a cabinet with limited ventilation. The back panel is intelligently laid out with reasonable spacing. Noticeably absent are network connectivity, Dolby Volume, iPod docking, balanced XLR connections and as previously mentioned automatic setup/room correction. It would be nice if the video processing included an option for HDMI sources. This would be helpful with cable/satellite programming via HDMI especially for users with displays that don't have competent video processing. It should be noted that the RSP-1570 isn't 3D ready or capable of being upgraded in its current configuration.

My experience with the Rotel designed RR-1061 remote was mixed. I appreciated its backlighting and placement of secondary buttons under the flip open door. In order to change inputs on the processor the RR-1061 requires users to press and hold the desired input button for more than one second. This could be an issue for those without discrete codes wishing to program macro commands with an after market universal remote. I found that the cursor/enter and volume control buttons on the remote were too small. Responsiveness was pretty good but occasionally required realignment with the unit's remote sensor followed by a second press of the desired function button. Rotel includes a separate owner's manual for the RR-1061 which details setup and device codes for non-Rotel gear. After using the RR-1061 I opted to program my Philips TSU9400 touch panel using Philips' extensive database which has most of the Rotels codes/functions.
The RMB-1575 is lightweight, compact, cool running and efficient. Like the RSP-1570, it's solidly constructed with logically placed inputs/connections on its back panel. I would like to see the inclusion of XLR inputs which would add more flexibility for users that make use of them. The supplied mono cable with 3.5 mm connectors on each end simplifies connection of the 12vdc trigger output from the RSP-1570.
The Definitive Word:
The Rotel RSP-1570 is an excellent surround sound controller that offers first rate performance with digital movie soundtracks, extensive audio setup options and functions as a very capable two channel preamp that falls only slightly behind the musical finesse of a higher-end pre/pro. Its Faroudja based video processing converts and scales analog video signals to HDMI and outputs them at high definition resolutions up to 1080p. The results should satisfy most, however more discerning viewers may notice a slight softening that is probably more apparent on larger displays. The supplied remote control is fully learning capable but may prove logistically frustrating in every day use.
The RMB-1575's Class D operation, low profile design, and superlative sound quality make it a perfect match with the RSP-1570 although it would easily mate with any A/V processor/preamp. The Rotel combo's thoughtful design, audio friendly features, and top flight performance belie their price point. If you're in the market for high quality sound, user friendly operation, and elegant aesthetics give the Rotel RSP-1570/RMB-1575 an audition. I'm sure they will rock your world.
RSP-1570
The Good:
Intuitive user friendly setup
Superb sound with digital movie soundtracks
Solid build quality
Excellent price to performance ratio
The Bad:
Idiosyncratic remote control
Runs warm
Limited video processing options
Bright standby/power LED
No auto setup/calibration, network connectivity
Absence of balanced connections
RMB-1575
The Good:
Plenty of power
Compact design
Cool running efficiency
Terrific sound quality
Excellent price to performance ratio
The Bad:
Absence of balanced connections
The Scorecard:
Design:
[Rating:3.5/5]
Performance:
[Rating:4/5]
Value:
[Rating:4/5]
Overall:
[Rating:4/5]
RSP-1570 Specifications:
THD (20-20,000Hz) 8 ohms, all channels driven – <0.05%
IM Distortion – <0.05%
Frequency Response (+/-1 dB) – 10Hz-120kHz, +/- 3 dB (line level)
10Hz-95kHz +/- 0.3 dB (digital level)
S/N Ratio (IHF A) – 95 dB (Stereo) Analog 92 dB (Dolby Digital, dts) OdBFs
Input Sens. / Impedance – Line Level, 200mV / 100 kohms
Tone Controls (Bass/Treble) – +/- 6 dB at 50 Hz / 15kHz
Preamp Output Levels – 1.0V / 250 ohms
Frequency Response – 3 Hz – 100MHz, +/- 3 dB
S/N Ratio – 45 dB
Input Impedance – 75 ohms
Output Level – 1 volt
Power Consumption – 60 watts
Power Consumption (Standby) – 5.5 watts
Power Requirements – 120 volts, 60Hz (USA version)
230 volts, 50Hz (CE version)
Weight (net) – 9.6 kg / 22 lbs.
Dimensions – 431mm x 144mm x 335mm
Dimensions inches – 17 x 5 5/8 x 13 2/8 in
Front Panel Height – 3U / 132.6mm / 5 2/8 in
MSRP $2199
RMB 1575 Specifications:
Power Output All channels driven – 250 Watts x 5ch (20-20 kHz, 0.03% THD, 8 ohms), 500 watts x 5ch (20-20 kHz, 0.03% THD, (4 ohms)
THD (20-20,000Hz) 8 ohms, all channels driven – < 0.03%
IM Distortion – < 0.03%
Damping Factor (8 ohms) 400
Gain – 27.1dB
Input Sens. / Impedance – 1.5 V / 8.3 k ohms
Frequency Response – (+/-1 dB) 10 – 80 kHz (+3dB)
S/N Ratio (IHF A) – 109 dB
Power Consumption – 600 Watts
Dimensions (W x H x D) mm – 431 x 144 x 407 mm
Dimensions (W x H x D) in. – 17 x 5 5/8 x 16 in
Front Panel Height – 3U / 132.6mm / 5 2/8 in
Weight (net) – 11 kg, lb.
MSRP $2799
More information
Reference Review System:
JVC DLA-RS20 1080p High Definition Front Projector (Calibrated by Jeff Meier)
Stewart Filmscreen – Studiotek 130 G3 100" 16×9 Screen
Anthem AVM50v THX Ultra 2 Preamp/Video Processor
Sherbourn Technologies – 7/200 Seven Channel Amplifier
B&K Reference 200.7 Series Two Seven Channel Amplifier
Oppo BDP-83 Universal disc/Blu-ray Player (HDMI Audio/Video)
Sony Playstation 3 Blu-ray disc Player (HDMI Audio/Video)
Philips TSU9400 Pro Series Touch Panel Remote Control
Canton "Ergo" Series speakers
Axiom Audio QS8 Quadpolar speakers
SV Sound PB-13 Ultra (Rosenut finish)
APC AV S15BLK Power Conditioner/Surge Protector w/battery backup
Wireworld, VizionWare, Better Cables, Audioquest, Best Deal Cables – Audio/Video/Speaker Cabling
Join the Discussion on Our Forum
Enter for a Chance to Win a Squeezebox Radio Courtesy of Logitech and TheaterByte!