Rotel RSX 1562 Surround-Sound Receiver
Every time I think that I have seen the latest thing in A/V receivers, a new one knocks on the door and crosses my home theater threshold. In this case, it is the Rotel RSX 1562 AVR, an update to the well-received RSX 1560 that introduced us to seven channels of Class D amplification for the seven surround channels. This is a favorite pathway for getting maximum wattage into the smallest chassis in an environment-friendly format.  Although there is a strong physical resemblance between the two units, the RSX 1562 has upgraded its performance at the same list price ($2599) from three years ago, a strong statement against inflation!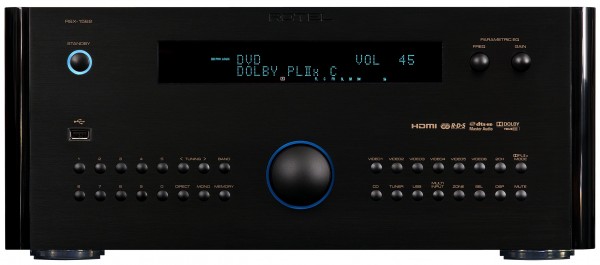 The Beast from the East
Rotel Corporation is headquartered in Japan, but its brains and brawn come from collaborative efforts in the UK and Hong Kong. The result is a hefty (35 pound), impressive silver-faced (or black-faced) component whose large and friendly front display has a central volume control surround by an army of 32 control buttons! On the left side are 10 station selectors, tuning, band, direct, mono and memory functions. On the right are 6 video sources, CD/tuner/USB/multi-input, 2-channel, zone, display, Dolby Mode and Mute. Sitting above are standby, and parametric EQ selectors. Did I mention the USB Audio/iPod port? The rear of the chassis looks like a honeycomb of input and output options. Antenna connections for AM/FM/HD radio, RS-232 . There are composite in (2) and out (1), component in (2) and component out (1), optical and coaxial digital inputs and outputs, 6 HDMI inputs and 2 HDMI outputs, analog 2-channel and surround inputs and outputs, 3 additional video zone IR jacks, seven pairs of speaker binding posts, 12V Trigger connections, and, finally, power switch and cord receptacle.  Whew!  The remote control is refreshingly simple with on/off, volume/mute, a control base, menu, setup, guide, numeric keypad, play functions, and source and mode selectors.
Fortunately, there is an illustrated user's guide that walks novice users through the basic set up. The onscreen menus are pretty plain Jane, just fine with me, but when compared to the sexy graphics for most AVRs, somewhat surprising for a 2012 component. In use, the RSX 1562 runs a bit warm, after all it cranks out 100 watts per channel times seven, so leave some room for ventilation.
Play Baby, Play
AVR buyers are now accustomed to getting all the bells and whistles. For the most part, the RSX 1562 does not disappoint, as all resolutions up to 1080p and surround modes in all lossy and lossless Dolby and DTS formats are available. There is also a proprietary Rotel XS (eXtra Surround) that recognizes any or all surround formats and properly decodes them.  Not only will all digital formats currently on earth be accessible to the RSX 1562 but, being a receiver, you get AM/FM capability.
This is one of the most capable AVRs that I have seen to date in terms of features and performance.  While the set up screens are not ultra-fancy, I had no trouble hooking this unit up to peripherals, or making the proper connections to speakers (I used it in 5.1 configuration). The RSX 1562 does not have an auto EQ routine but does generate test tones for balancing speakers that, with a sound pressure level (SPL) meter, can be adjusted for size and crossover. Parametric manual equalization is also available for speakers. Best of all, you can adjust center channel width which reduces the "bow-tie" effect by shifting some information to right and left front speakers. This is not a terribly difficult process and results in good sonic results.
Turning to the tuners, 30 presets are available although this will probably be one of the functions least likely to be accessed by digital-era users.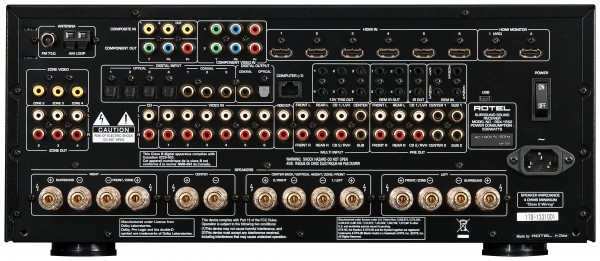 Rotelling down the River
Rotel has exercised good judgment in their selection of Faroudja video processors (latest versions) and dual 32 Bit DSPs and 24Bit/192K audio DACs.  Since the amplifiers are Class D, based on B&O ICE chip technology, the power generation is pretty cool, perhaps even icy(?), and foretells a long life span for this unit.
After getting the RSX 1562 into my Martin Logan surround speaker array (CLXs, Stage, EFXs, and Descent-i), it took about two hours for all of the adjustments to get done. I did not use the parametric equalizer since, without professional calibration, manual EQs can do more harm than good.
Using the internal signal generator and judicious delay settings, I was able to get very well balanced sound from my sitting position. Most viewing was based on Blu-ray and DVD sources although I was quite satisfied that my other devices (cable box, Apple TV and Boxee Box) were well handled by the RSX 1562. An Oppo BDP-95 served both audio and video disc playback functions. I did hook up a USB drive and iPod classic to the front port, knowing that it could handle AAC, mp3, WAV, and WMA files, as well as Apple Lossless files.  The RSX 1562 has  blue-tooth capability that works but will not be high fidelity source to most ears.
I put the RSX 1562 through its paces with a variety of video and audio sources. Beginning with BDs, I watched the HDMI 1.4 inputs reproduce stunning accounts of Sunshine, Avatar, and the reissue of MIB. Colors were accurate and detail preservation as good as I have seen them. If your Blu-ray player is good enough to decode these high resolution audio and video formats then all you want from an AVR is to pass these signals through without additions or subtractions. This the RSX 1562 did to a "T." Audio playback was superb. I did not detect any compromise from the Class D amplification whatsoever. Listening to a series of CDs like the soundtrack from "Wretches and Jabberers," a superb collection of contemporary songs, Esperanza Spalding's "Chamber Music Society," and a sonic blockbuster if there ever was one, "Britten's Orchestra" featuring Michael Steinberg and the Kansas City Symphony, there was an overriding sense that there was nothing that this AVR could not handle. The story was clearly different when it came to USB and Bluetooth sources whose mediocre sound was still mediocre.
I finally tried out the AM/FM radio functions all of which worked as advertised but in our difficult reception area would not be my go-to music sources.
The Good
High versatility in both audio and video formats
High degree of flexibility in set up
Easy to read and follow screen menus
AM/FM Radio
Up to 3 zones available for remote listening.
All major encoded multi-channel formats are available
3-D ready
Adequate power per channel for nearly all applications
The Bad
Set up is straightforward but time-consuming
No autoEQ
No internet radio
The Scorecard:

Design/Ergonomics:
[Rating:4/5]
Performance:
[Rating:4.5/5]
Value:
[Rating:3.5/5]
Overall:
[Rating:4/5]
The Definitive Word
I have seen my share of AV receivers and, in audio and video performance, the Rotel RSX 1562 is as good as it gets.  Build quality is top notch and everything works as intended. There is no video source that this baby will not play and its sophisticated signal processing will get you the best results.  From an audio standpoint, the same can be said for multi- and two-channel sources.  One significant cavil, however, is that this AVR does not have autoEQ. At this price point and below, there are a number of units featuring Audyssey or something like it that will make this process much easier than using SPL meters, a parametric equalizer and your ears, to wit, a recently reviewed Denon AVR-3312.  The onscreen display is also rather pedestrian although it does get the job done.
So there you have it. For those who want high flexibility with universal source compatibility and terrific audio and video performance, the Rotel RSX 1562 will fill the bill. Unlike some of its competitors, there is nothing second-class about construction and component selection. Rotel offers excellent warranties and, given its history, this is a serious update of an already well-received product, the RSX 1560, which came out four years ago with the addition of two more HDMI 1.4 inputs, and an extra HDMI 1.4 output. If you are in the market for a state-of-the-art AVR that will serve you well for some time, the Rotel RSX1562 fills that bill.
–
Specifications :
Audio/Video
Continuous power (7 channels driven)           100 watts/ch (20-20kHz, <0.05% THD, 8 Ohms
Continuous amplifier power                           200 watts (1 kHz, <1.0% THD, 4 Ohms, DIN)
Total Harmonic Distortion                             <0.008%
Intermodulation Distortion (60 hz: 7kHz)     <0.008%
Input Sensitivity/Impedance                          Line Level: 200 mV/100 kOhms
Preamp Output Level/Output Impedance      1.0V/1k Ohms
Decodable Digital Input Signals                      Dolby Digital, Dolby Digital EX,
Dolby Pro Logic IIz, DTS, DTS-ES, DTS 96/24
DTS-ES 96/24, LPCM (up to 192k)
Lossless audio formats (HDMI 1.3): Dolby True HD, DTS HD Master Audio
Decodable USB/iPOD Digital
Input Signals                                                   AAC (m4a), WAV, MP3, WMA Video
Input Resolution                                             480i/576i (composite only), 480p/576p, 720p, 1080i, 1080p, 1080p 24Hz, 3D (HDMI only)
Output Resolution                                          480i/576i (composite only), 480p/576p, 720p, 1080i, 1080p, 1080p 24Hz, 3D (HDMI only)
HDMI Inputs/Outputs                                  Version 1.3, supporting Deep Color passthrough and Broad Space passthrough, Version 1.4,supporting 3D passthrough
FM Tuner
Usable Sensitivity                                           14.2 dBf
Signal:Noise Ratio (at 65 dBf)                        70 dB
Harmonic Distortion (at 65 dBf)                    0.03%
Stereo Separation (1 kHz)                              45 dB
Output Level                                                  IV
Antenna Input                                                75 Ohms
AM Tuner
Sensitivity                                                       50 uV/m
Signal:Noise Ratio                                           40 dB
Output Level                                                  500 mV
Antenna Input                                                Loop antenna
General
Power Consumption                                       500 watts (0.5 watts, standby)
Power Requirements                                       120 volts, 60 Hz (USA version)
230 volts,50 Hz (EC version)
Weight                                                             15.5 kg (34.17 lbs)
Dimensions (W x H x D)                                431 x 188 x 422 mm
17 x 7.5 x 16.63 in
More Information:
Rotel RSX 1562 7.1 Channel Surround-Sound Receiver (SRP $2599)
–