Steven Spielberg's classic 1975 blockbuster Jaws will be coming to Blu-ray, finally, on August 14, 2012, from Universal Studios Home Entertainment. Probably no other film in history has done more to make hordes of beach goers afraid of going into the water, now generations young and not so young can watch it anew in this new Blu-ray edition with its English DTS-HD Master Audio 7.1 soundtrack and 2.35:1 high definition transfer.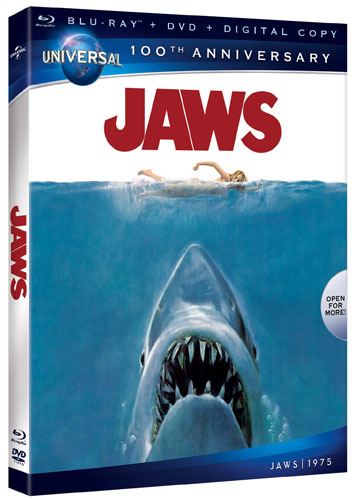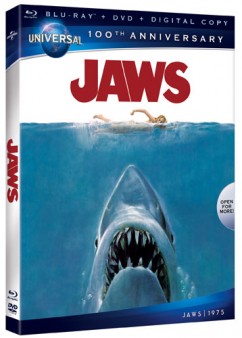 Press Release
Academy Award® Winner Steven Spielberg's
Iconic Summer Classic Comes to Blu-Ray™
for the First Time Ever, Digitally Remastered &
Fully Restored in Honor of
Universal's 100th Anniversary Celebration
JAWS
on august 14th, own the Blu-ray combo pack with dvd, digital copy, ultravioletTM & over 4 hours of bonus features including an all-new documentary "the shark is still working"
Universal City, California, April 10, 2012:  JAWS – the landmark motion picture that still makes audiences afraid to go in the water – comes to Blu-rayTM for the first time ever on August 14th, 2012. Featuring an all-new, digitally remastered and fully restored picture, as well as 7.1 surround sound, the JAWS Blu-rayTM Combo Pack with DVD, Digital Copy and UltraVioletTM gives fans the ultimate way to watch the breathtaking and terrifying action-thriller.
One of the most influential motion pictures of all time and nominated for a Best Picture Academy Award®, JAWS stars Oscar® winner Richard Dreyfuss and Oscar® nominees Roy Scheider and Robert Shaw.  Produced by legendary filmmakers Richard D. Zanuck and David Brown, the film earned an Oscar® for composer John Williams' instantly recognizable minimalist score, as well as Oscars® for Best Editing and Best Sound. When it was first released in 1975, JAWS smashed box-office records and became the highest-grossing film of its era, earning Spielberg a reputation as a Hollywood visionary.  Today, it remains one of the highest-grossing films in motion-picture history[1] and is largely considered the film that launched the summer blockbuster.
JAWS is one of 13 classic Universal films to be digitally remastered and fully restored from 35mm original film elements as part of Universal's ongoing 100th Anniversary celebration. The JAWS restoration began with researching and evaluating the existing film elements to determine the best means to restore the film. Over the course of several months, skilled technicians at Universal Studios Digital Services meticulously balanced color, removed dirt and scratches, and repaired any damage to the film elements shot by shot and frame by frame. Following the picture restoration, Universal Studios Sound team up-mixed the iconic JAWS soundtrack to DTS-HD Master 7.1, optimizing the sound on the Blu-rayTM for the latest home theater technology. The entire restoration process was conducted in conjunction with Steven Spielberg and Amblin Entertainment's post-production team to ensure the integrity of Spielberg's original vision remained intact.
"JAWS holds a unique place, not just in Universal Pictures' history, but in global pop culture," said Craig Kornblau, President of Universal Studios Home Entertainment. "It is only fitting that this phenomenal film should be given the extensive restoration needed to ensure that long-time fans as well as newcomers can enjoy this unforgettable cinematic achievement for generations to come."
The JAWS Blu-ray™ Combo Pack is available in collectible Universal 100thAnniversary packaging for a limited time.  The Combo Pack also contains a Digital Copy of the film for a limited time, compatible with iTunes®, iPad®, iPhone®, iPod™ touch, Android or online retail partners, as well as an UltraViolet™ copy.  UltraViolet is the revolutionary new way for consumers to collect movies and TV shows in the cloud to download and stream instantly to computers, tablets and smartphones.  Consumers can now truly enjoy their movies anytime, anywhere on the platform of their choice.
Blu-ray™ Bonus Features:
The Shark is Still Working: The Impact & Legacy of JAWS:  All-new feature-length documentary featuring never-before-seen footage and interviews with cast and crew including Steven Spielberg, Richard Dreyfuss and Roy Scheider.
JAWS: The Restoration:  An all-new, in-depth look at the intricate process of restoring the movie.
The Making of JAWS:  A two-hour documentary featuring interviews with key cast and crew.
From the Set:  An insider's look at life on the set of JAWS, featuring an interview with Steven Spielberg.
Deleted Scenes & Outtakes
JAWS Archives:  Take a peek inside the JAWS archives, including storyboards, production photos and marketing materials, as well as a special segment on the JAWS phenomenon.
Original Theatrical Trailer
UltraViolet™:  The revolutionary new way for consumers to collect movies and TV shows, store them in the cloud, and download and stream instantly to computers, tablets and smartphones. Currently available in the United States only.
Digital Copy:  Viewers can redeem a digital version of the full-length movie from a choice of retail partners to watch on an array of electronic and portable devices.
pocket BLU™ App:  The popular free pocket BLU™ app for smartphones is now even better with newly updated versions for iPad®, Android™ tablets, PC and Macintosh computers, with features made especially to take advantage of the devices' larger screens and high resolution displays.

Advanced Remote Control: A sleek, elegant new way to operate your Blu-ray™ player. Users can navigate through menus, playback and BD-Live™ functions with ease.
Video Timeline: Users can easily bring up the video timeline, allowing them to instantly access any point in the film.
Mobile-To-Go: Users can unlock a selection of bonus content with their Blu-ray™ discs to save to their device or to stream from anywhere there is a Wi-Fi network, enabling them to enjoy content on the go, anytime, anywhere.
Browse Titles: Users will have access to a complete list of pocket BLU™-enabled titles available and coming to Blu-ray™. They can view free previews and see what additional content is available to unlock on their device.
Keyboard: Entering data is fast and easy with your device's intuitive keyboard.

BD-LIVE™:  Access the BD-Live™ Center through your Internet-connected player to access the latest trailers, exclusive content and more!
DVD Bonus Features:

Spotlight on Location: The Making of JAWS:  Highlights from the full-length documentary featuring interviews with key cast and crew.
Synopsis:
Directed by Academy Award® winner Steven Spielberg, Jaws set the standard for edge-of-your seat suspense quickly becoming a cultural phenomenon and forever changing the movie industry. When the seaside community of Amity finds itself under attack by a dangerous great white shark, the town's chief of police (Roy Scheider), a young marine biologist (Richard Dreyfuss) and a grizzled shark hunter (Robert Shaw) embark on a desperate quest to destroy the beast before it strikes again. Featuring an unforgettable score that evokes pure terror, Jaws remains one of the most influential and gripping adventures in motion picture history.
CAST & FILMMAKERS:
Cast: Roy Scheider, Robert Shaw, Richard Dreyfuss, Lorraine Gary, Murray Hamilton
Directed By: Steven Spielberg
Produced By: Richard D. Zanuck and David Brown
Music By: John Williams
Based on Novel By: Peter Benchley
Screenplay By: Peter Benchley and Carl Gottlieb
Director of Photography: Bill Butler
Production Design By: Joseph Alves Jr.
Editor: Verna Fields
TECHNICAL INFORMATION
BD:
Street Date: 8/14/2012
Copyright: 2012 Universal Studios. All Rights Reserved.
Selection Numbers: 61121167 (US); 61121267 (Canada)
Running Time: 2 Hours 4 Minutes
Layers: BD-50
Aspect Ratio: Widescreen 2.35:1
Rating: PG
Technical Info: English DTS-HD Master Audio 7.1/DTS Digital Surround 2.0 Mono and Dolby Digital 2.0, Spanish and French DTS Digital Surround 5.1
Subtitles: English SDH, French and Spanish
TECHNICAL INFORMATION:
DVD
Street Date: 8/14/2012
Copyright: 2012 Universal Studios. All Rights Reserved.
Selection Numbers: 61120918 (US); 61121268 (Canada)
Running Time: 2 Hours 4 Minutes
Layers: Dual Layer
Aspect Ratio: Anamorphic Screen 2.35:1
Rating: PG
Technical Info: English Dolby Digital 5.1 and 2.0 Mono, Spanish and French Dolby Digital 5.1
Subtitles: English SDH, French and Spanish
In honor of its Centennial anniversary, Universal Pictures proudly salutes 100years of unforgettable films that have entertained audiences and touched the hearts of millions around the globe. In celebration of our first 100 years,Universal Studios Home Entertainment is proud to present a selection of our many beloved movies as part of an extensive year-long program that underscores the studio's rich cinematic history and indelible cultural impact.
Universal Studios Home Entertainment is a unit of Universal Pictures, a division of Universal Studios. Universal Studios is apart of NBC Universal, one of the world's leading media and entertainment companies in the development, production, and marketing of entertainment, news, and information to a global audience. Formed in May 2004 through the combining of NBC and Vivendi Universal Entertainment, NBC Universal owns and operates the No. 1 television network, the fastest-growing Spanish-language network, a valuable portfolio of news and entertainment networks, a premier motion picture company, significant television production operations, a leading televisionstations group, and world-renowned theme parks. NBC Universal is 80%-owned by General Electric, with 20% controlled by Vivendi Universal.
–
[amazon-product]B007STBUIW[/amazon-product]
Join the Discussion on Our Forum