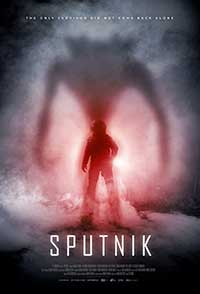 Those unlike me who were not around when the Soviet Union launched the world's first satellite in October 1957 cannot appreciate what a game-changer it was and how it totally transformed America's mission to get not only into space but, twelve years later, to put a man on the moon.
Sputnik (literal meaning: companion) opens in 1983 with two Russian cosmonauts returning to Earth in their Orbit-4 from an extraterrestrial research mission. On entering the Earth's atmosphere, they see something moving outside of their space capsule. The craft has a hard landing in Kazakhstan, apparently killing cosmonaut Kiril Averchenko (Aleksey Demidov) while his commander Konstantin Veshnyakov (Pyrtor Fyordov) survives but is seriously injured.  Konstantin is transported to a remote military facility under the command of Colonel Semiradov (Feodor Bondarchuk). Konstantin makes a remarkably quick physical recovery but has recurring amnesia. The Colonel recruits unconventional psychiatrist Tatyana Klimova (Oksana Akinshina) to help Konstantin recovery his memory. Via CCTV, Tatyana is shown that the cosmonaut is the host for an extra-terrestrial creature who can only venture out of his gut for a couple of hours at night while Konstantin sleeps. The creature-Konstantin relationship appears mutually beneficial as the former derives nourishment while the latter continues to gain strength.
The inconvenient truth is that the Colonel is planning to weaponize the alien being and to that end lets it regularly feed on the facility's prisoners as it gets stimulated by its victims' high cortisol levels just before they die. Base physician Dr. Yan Rigel (Anton Vasilev) takes Tatyana to witness one of these feeding sessions and she is horrified. She reveals to Konstantin that he is carrying a parasite and that his comrade Averchenko, while badly damaged, is still alive but was not infested by the creature because he had previously undiagnosed cancer. Attempts to disconnect the alien being from Konstantin fail as the cosmonaut's health declines when the creature is out of his body. Tatyana realizes that she and Konstantin must escape from the facility and release the creature in a desolate area where it cannot find another host. The pair can then travel to the orphanage where Konstantin's illegitimate son Lyosha (Vitaly Korniyenko) is being kept so they can be reunited.
[envira-album id="124588″]
The trope of extraterrestrial infestation of space travelers is now old as the hills but Sputnik is not like most films in this genre. Director Egor Abramenko has taken the script by Oleg Malovichko and Andre Zolotarov and crafted a far more original sci-fi drama that goes to the very heart of what constitutes humanity and what core values are worth dying for. Character development in Sputnik far exceeds most of its predecessors, and the performances turned in by leads Akinshina, Fyodorov, and Bondarchuk are excellent. While the many-eyed webbed-neck creature might look like your typical alien, when Tatyana brings it Konstantin's Russian doll, viewers get to see that like humans it has real feelings. By way of warning, there are some pretty gruesome scenes like the creature's feeding on its victims' brains but the cinematography that focuses on the forbidding interiors of the military facility provides a most appropriate setting for this dark tale.
It is hard to imagine life in the former Soviet Union in the time period of this story but this film portrayal of those snared in the web of totalitarianism is quite convincing. I would have to go back to the original 1972 Solaris to recall a better example of Soviet misadventures in outer space. A highly recommended sci-fi flick that is definitely worth your attention.
Sputnik is now available on various digital and VOD platforms
[youtube https://www.youtube.com/watch?v=Qh-oOnZ2Di0&w=853&h=480]
---
The Film: 4.0/5
Studios & Distributors: Art Pictures Studio | Fond Kino | Hype Film | Vodorod | IFC Midnight
Country: Russia
Language: Russian
Run Time: 113 Mins.
Aspect Ratio: 2.35:1
Director: Egor Abramenko
Writers: Oleg Malovichko | Andre Zolotarev
Release Date: 14 August 2020