Aspect Ratio: 1.37:1

Video Codec: AVC/MPEG-4

Resolution: 1080p/24

Audio Codec: English PCM 1.0

Region: A

Rating: Not Rated

Discs: 1
Studio: Criterion

Blu-ray Release Date: May 25, 2010

List Price: $39.95
[amazon-product align="right"]B00393SFWU[/amazon-product]
Purchase Stagecoach [Criterion Collection] on Blu-ray at CD Universe
Shop for more Blu-ray titles at Amazon.com
Overall
[Rating:4/5]
The Film
[Rating:4/5]
Video Quality
[Rating:3.5/5]
Audio Quality
[Rating:3.5/5]
Supplemental Materials
[Rating:4/5]
Click thumbnails for high-resolution 1920X1080p screen captures
(Screen captures are lightly compressed with lossy JPEG  thus are meant as a general representation of the content and do not fully reveal the capabilities of the Blu-ray format)
The Film
[Rating:4/5]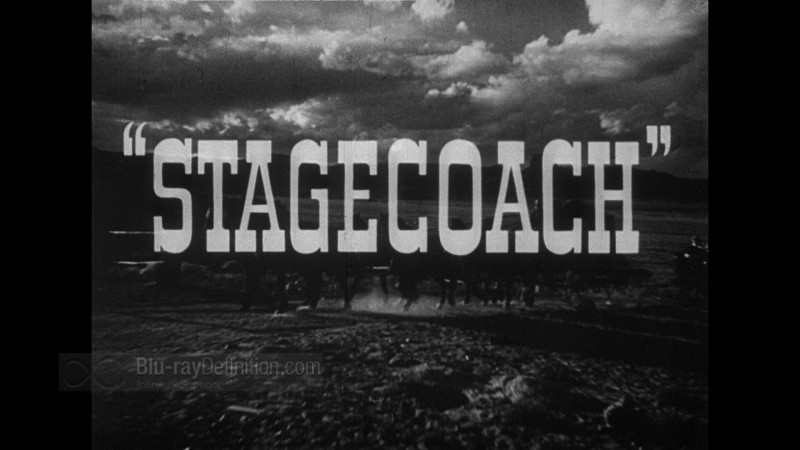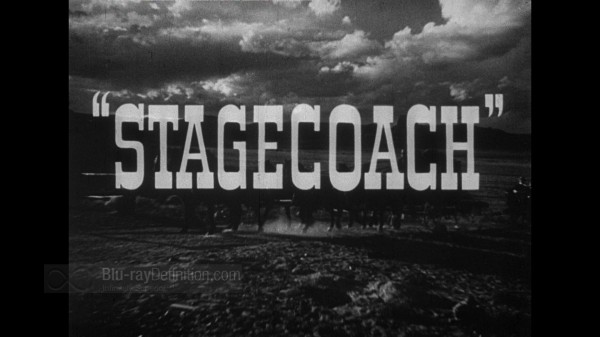 It's the film that defined the Hollywood western, indelibly linked director John Ford to the genre, and turned John Wayne into a huge box office star for decades to come. It's the 1939 western Stagecoach. Filmed in unforgettable geographical landscape made famous by Ford, Arizona's Monument Valley, the film set a new creative standard for the western, moving it and John Wayne out of the B-Movie purgatory and starting a new trend of US mythology on the big screen.
Its story was taken from the Ernest Haycox short story "Stage to Lordsburg," and it follows a group of disparate characters riding a stagecoach through hostile Apache territory on their way to Lordsburg. It's not that Haycox's story or Dudley Nichols' screenplay introduce anything new in these characters that makes Stagecoach special, in fact, they are all quite typical such as the drunken doctor (Thomas Mitchell), the outcast prostitute (Claire Trevor), the crooked banker (Berton Churchill), a gambler with a shady past (John Carradine), a pregnant wife trying to reach her soldier husband (Louise Platt) and the outlaw out for revenge (John Wayne), but Stagecoach infuses a depth to each character in their interaction with one another that had never been seen before in the western, or any of these group "disaster films" before. John Ford's uncanny ability to capture the surroundings of Monument Valley, his perfect eye for framing and his ease behind the lens all elevate Stagecoach to a higher level of art than previously seen for any western as well.
The central story is that this group of individuals must make it to Lordsburg with the outlaw Ringo Kid (Wayne), himself heading to Lordsburg to kill the men who murdered his father and brother. Along their journey, the group's interactions with each other slowly begin to shift from distrust and dislike to begrudgingly tolerating each other, if only out of need to fight off the Apaches being led by Geronimo.
The characterization of the Native Americans is the weakest link in Ford's film. No rhyme or reason is given for the Apache's attacks. All we are told is that they are "savages" and our party of heroes must be saved.
Along the journey, Ringo finds love with Dallas (Trevor) the prostitute, and, where at first he is the only one who will even speak to her, eventually even Mrs. Mallory (Louise Platt) comes around and begins to respect Dallas. This is one of the turning points in Stagecoach that humanizes the characters and adds depth and realism to the film.
Ford would go on to film practically all of his westerns in Monument Valley, regardless of their setting and that Stagecoach was just the starting point for what was to be an even greater career for Ford and Wayne is telling. They both could have ended their foray into westerns with this one film and been heralded as the fathers of the modern genre.
Video Quality
[Rating:3.5/5]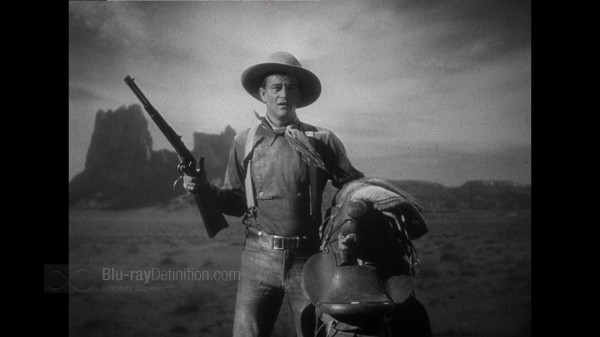 The original negative for Stagecoach has been considered lost for decades. For this transfer, Criterion evaluated several of the best available prints, both restored and original before choosing a 1942 nitrate duplicate negative as the primary source for this new high definition transfer, created on a Spirit 2K Datacine. Some of the worst damage was manually removed along with dirt, splices, warps, jitter, and flicker using MTI's DRS system and Pixel Farm's PFClean system while Digital Vision's DVNR system was used for small dirt, grain, and noise reduction. In instances where damage was not fixable without leaving traces of restoration work, the original damage was left in.
Naturally, with such an old film and the absence of an original negative there is only so much that can be done to make it look as good as possible for a high definition format, but Criterion has done a rather decent job with their AVC/MPEG-4 transfer. The film appears in its original aspect ratio of 1.37:1 and there are quite a few moments where it looks rather clean and detailed for something taken from a duplicate negative. Still, there are many obvious flaws that mar the picture. Kudos should still go to Criterion for opting to leave these things in rather than be tempted to wipe them clean, use excessive DNR on the negative, and destroy whatever detail is there in the negative.
Audio Quality
[Rating:3.5/5]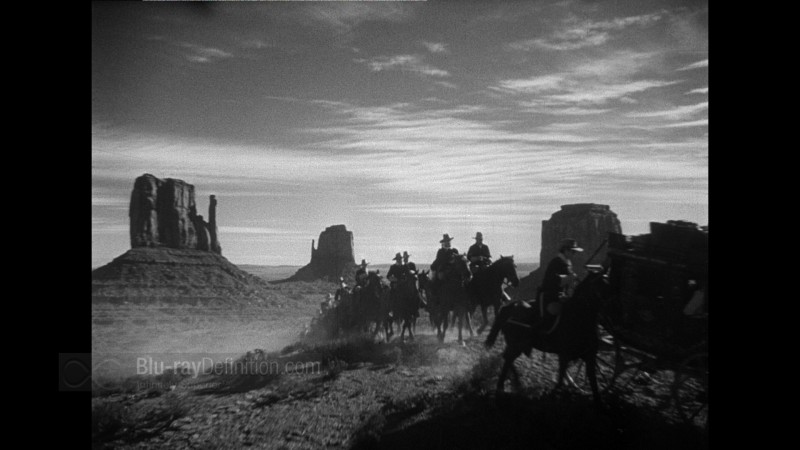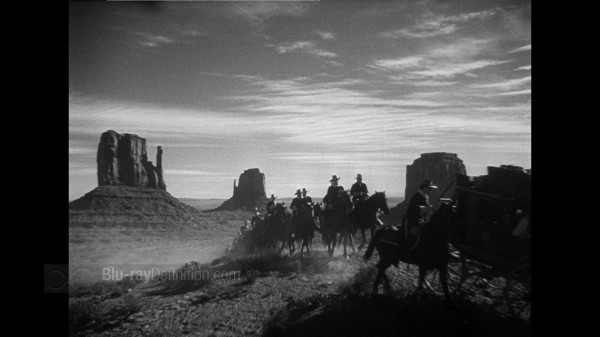 The monaural soundtrack was mastered from multiple track elements, including soundtrack negatives and prints. Clicks, thumps, hiss, and hum were manually removed using Pro Tools HD. Crackle was attenuated using AudioCube's integrated audio workstation.
For a soundtrack from 1939 taken from multiple sources, Stagecoach actually sounds very decent. Hiss might be a bit higher than usual, but crackle is hardly an issue. Of course, depth of soundstage is somewhat limited and gunfire sounds on the thin side, but dialogue is intelligible and sound effects are for the most part realistic given the age and source material.
Supplemental Materials
[Rating:4/5]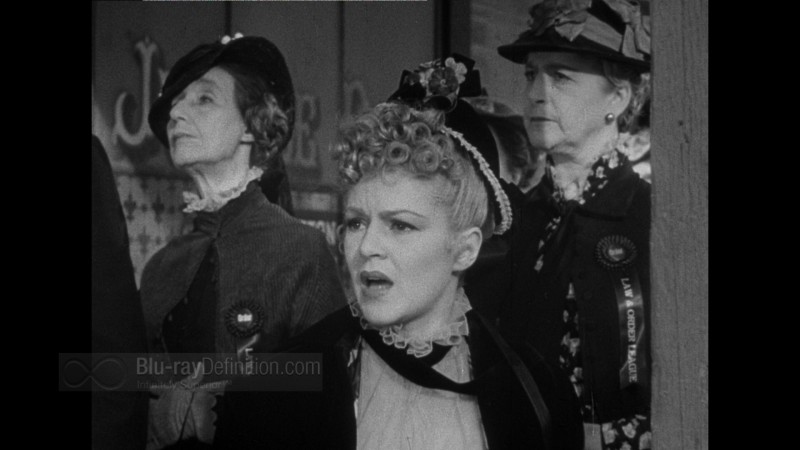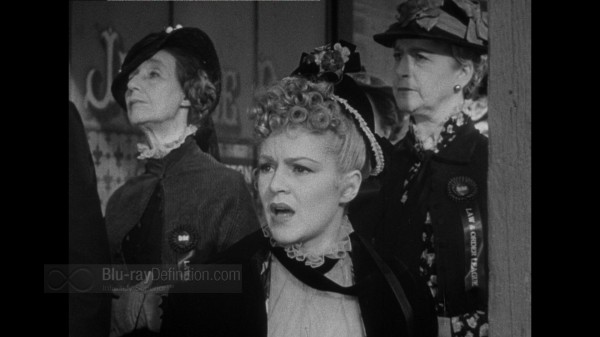 Criterion has done a typically thorough job on the supplements for this release of Stagecoach. Anyone familiar with the studio's releases will know that they prefer to forgo the frivolous extras and supply meaningful explorations of the feature film and its creators. There's no shortage of those available here, so enthusiasts will be pleased.
The supplements provided on this release are:
Commentary — Recorded exclusively for the Criterion Collection in 2009, this commentary features film historian and western scholar Jim Kitses (Horizons West).
Bucking Broadway (1.37:1; 1080i/60; 0:54.29) — This fifty-four-minute silent film from 1917 is one of John Ford's earliest works. A rollicking western about a cowboy (director favorite Harry Carey) whose true love is whisked away by a city slicker, Bucking Broadway showcases the underdog protagonist, jovial humor, regard for family unity, and epic visual style that would become hallmarks of the director.. Featuring a new score by Donald Sosin, the film has been restored by the Archives françaises du film, CNC.
John Ford Interview (1.33:1; 1080i/60; 1:12.29) — This extensive 1968 interview with John Ford, by British journalist and television presenter Philip Jenkinson, features the legendary filmmaker discussing a wide range of topics, such as the western genre, John Wayne, race representation, Stagecoach, and violence.
Peter Bogdanovich (1.78:1; 1080p/24; 0:14.17) — In this new video piece, acclaimed filmmaker and John Ford biographer Peter Bogddanovich offers his thoughts on Stagecoach.
Dreaming of Jeanie (1080p/24; 0:21.50) — This video essay by writer Tag Gallagher (John Ford: The Man and His Films) analyzes the visual style Ford employs in Stagecoach, and explains how his technique allows us to both deeply empathize with and remain objective toward the film's many characters.
John Ford Home Movies (1.78:1; 1080p/24; 0:07.13) — In this new video interview, John Ford's grandson and biographer Dan Ford (Pappy: The Life of John Ford) discusses the director's personal home movies and what they reveal about the man and his special relationships with Hollywood luminaries like John Wayne and cinematographer Gregg Toland.
True West (1.78:1; 1080p/24; 0:10.44) — In this new video interview, Pulitzer Prize-winning author Buzz Bissinger (Friday Night Lights) explains the key role that 1920s trading post operator Harry Goulding played in bringing Monument Valley to the attention of the Stagecoach production, thereby establishing a new cinematic icon of the American West.
Yakima Canutt (1.78:1; 1080p/24; 0:10.00) — Yakima Canutt was the talent behind the amazing physical feats in Stagecoach, and he would go on to revolutionize Hollywood's stuntman industry. In this new video piece, acclaimed stunt coordinator and stuntman Vic Armstrong (Raiders of the Lost Ark) offers his thoughts on Canutt and his contribution to filmmaking.
Screen Director's Playhouse — This radio adaptation of Stagecoach, originally broadcast on January 9, 1949, stars John Wayne and Claire Trevor, reprising their film roles.
Trailer (1.37:1; 1080i/60)
Booklet: Essay  "Taking the Stage" by critic David Cairns and Ernest Haycox's "Stage to Lordsburg," the short story that inspired the film.
The Definitive Word
Overall:
[Rating:4/5]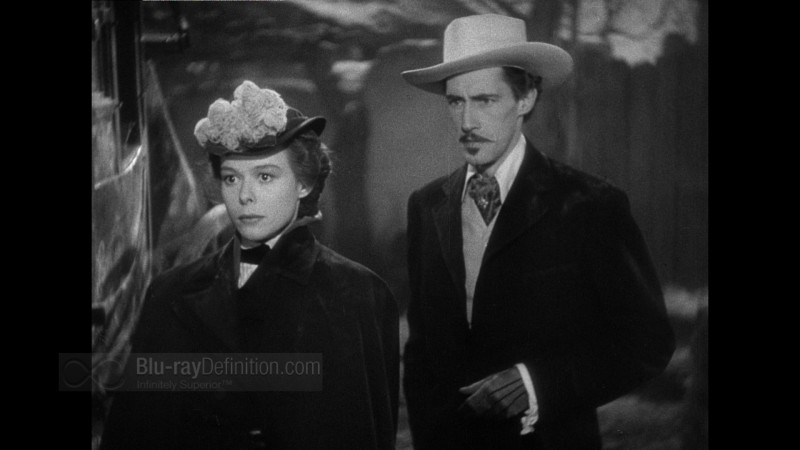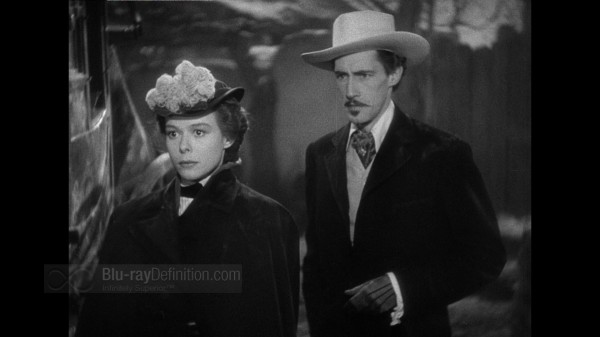 1939 was truly a great year for filmmaking. It saw the release of The Wizard of Oz, Gone with the Wind, Drums Along the Mohawk, Mr. Smith Goes to Washington, and, of course, this film, Stagecoach. This film is arguably the beginning of the modern American myth of the Wild West; Americana at its finest: epic gun battles, beautiful cinematography and gorgeous landscapes of the west. Criterion has done its best with this older film, although its original negative has been long lost. Don't let that stop you from picking up this classic of the western genre.
Additional Screen Captures: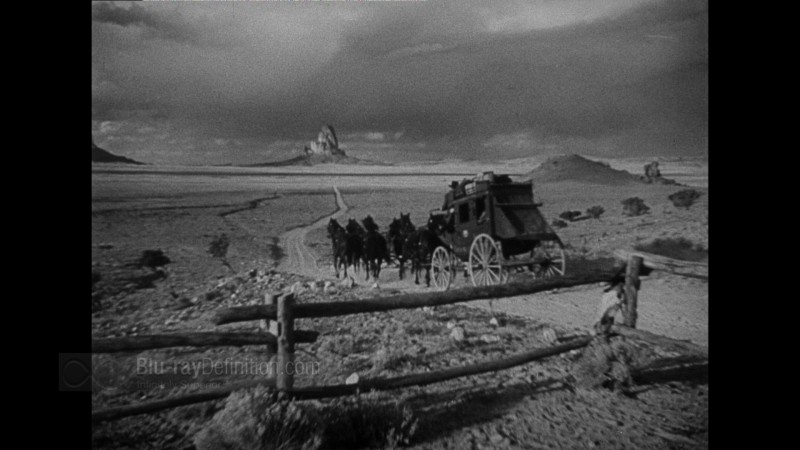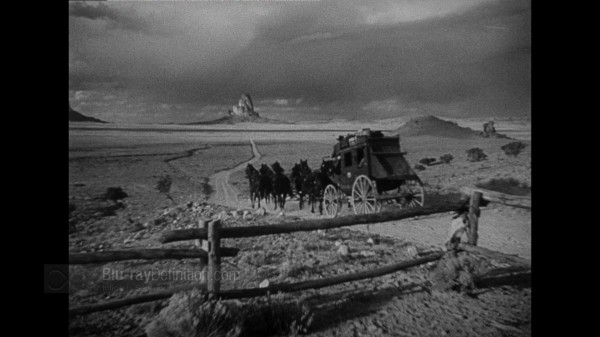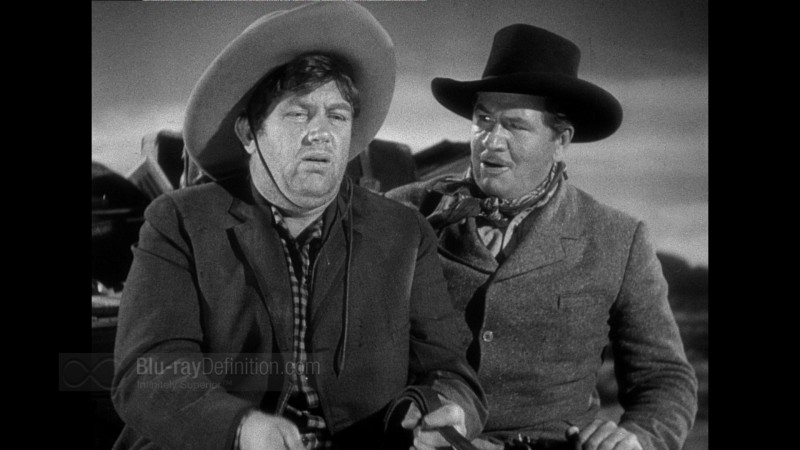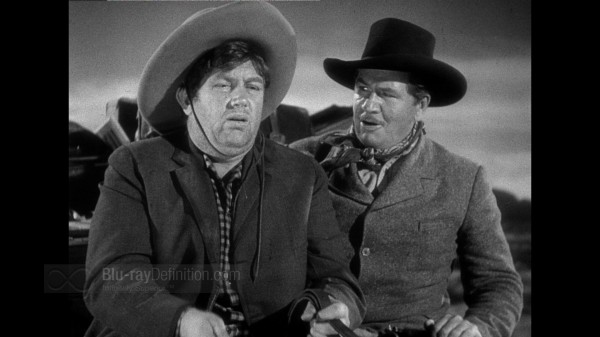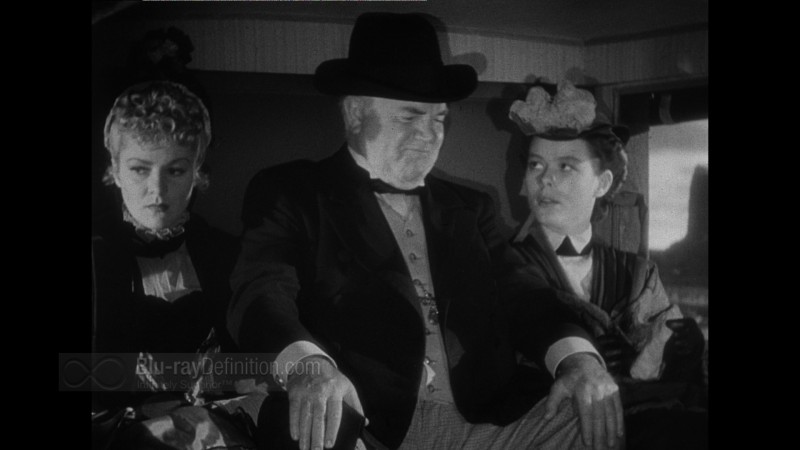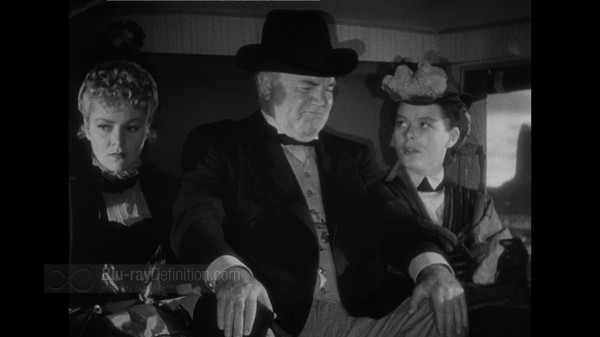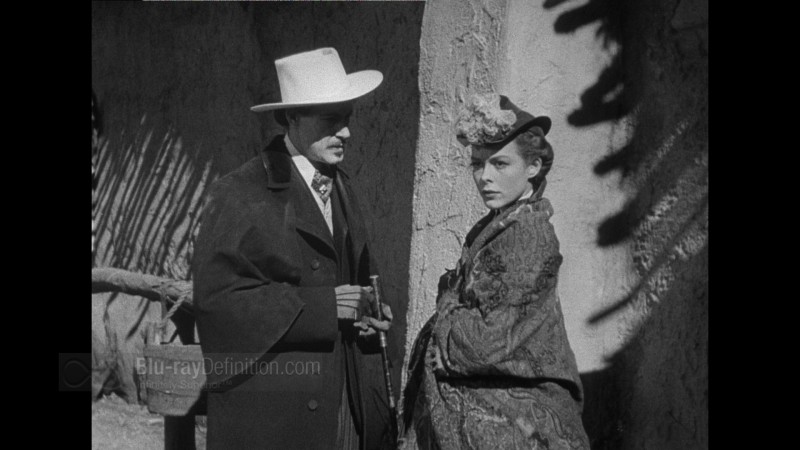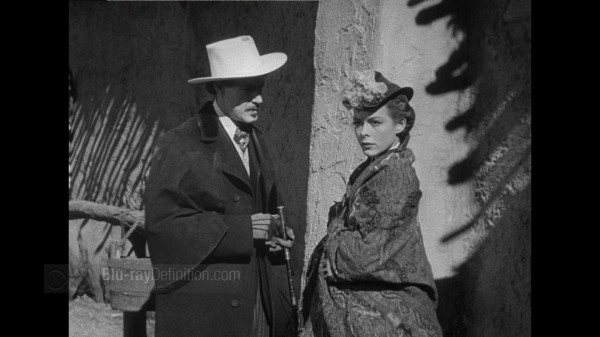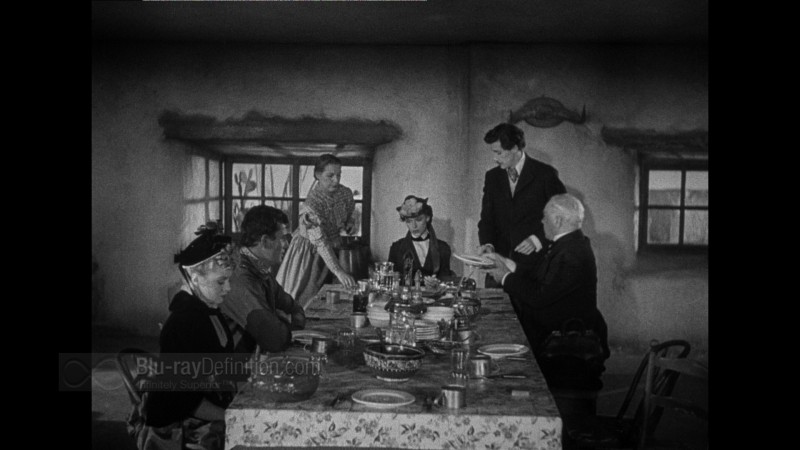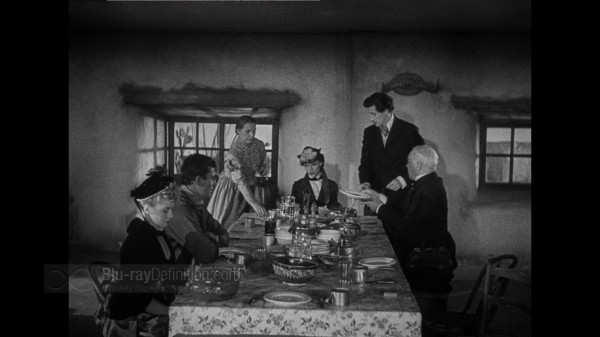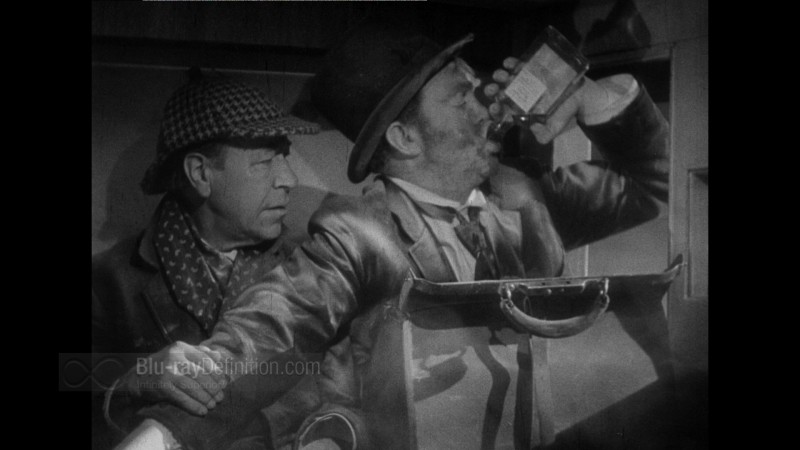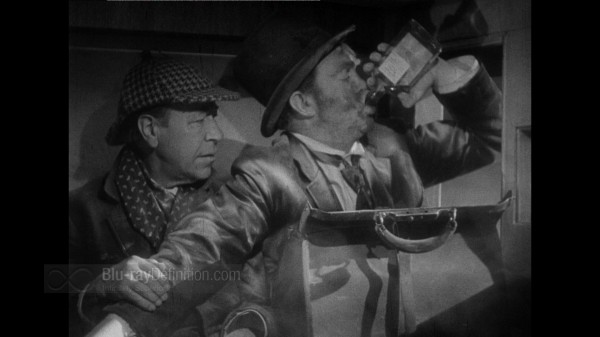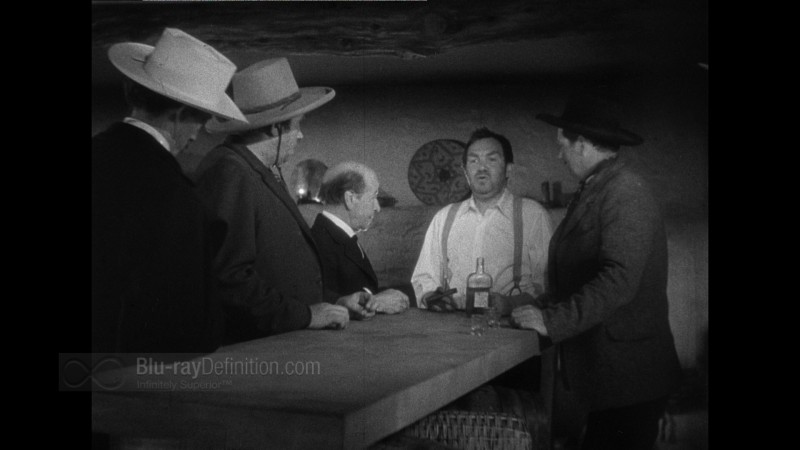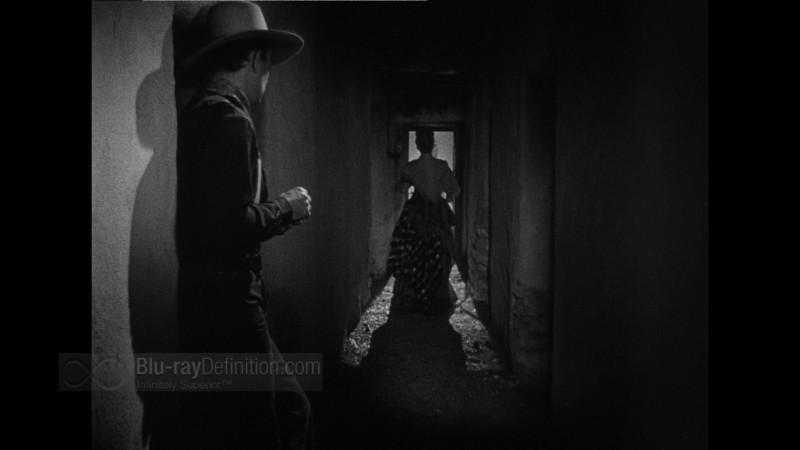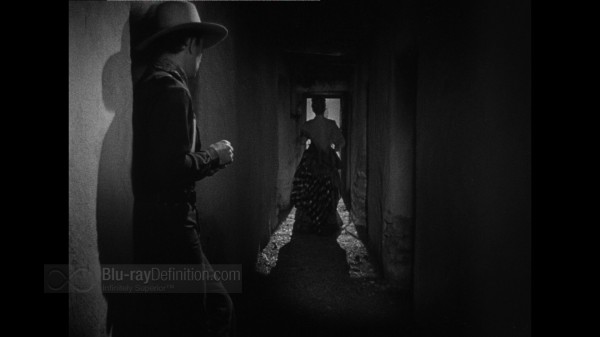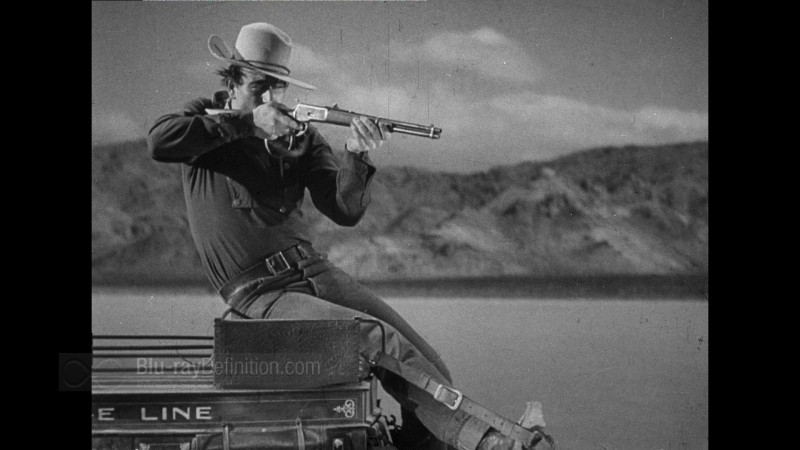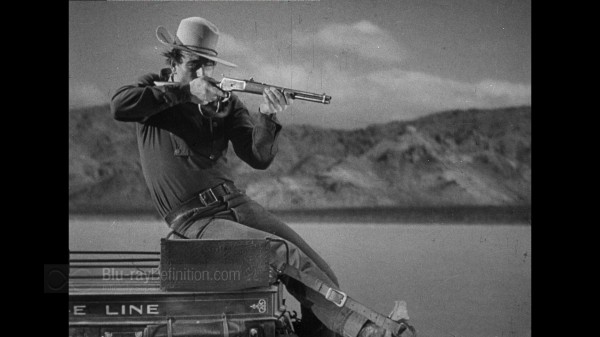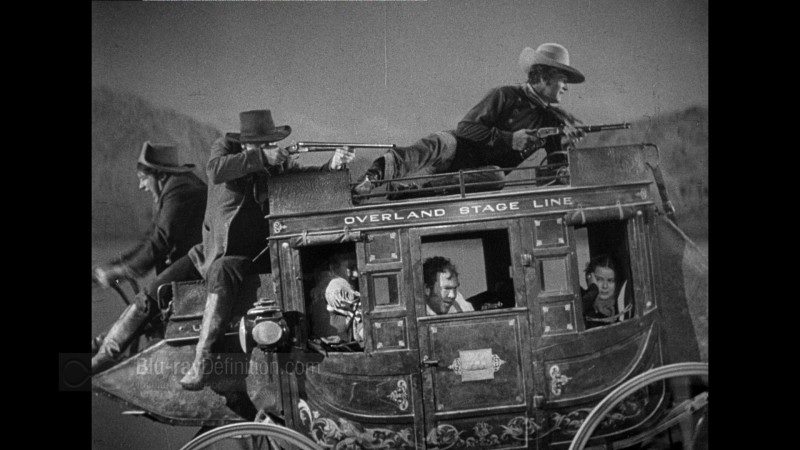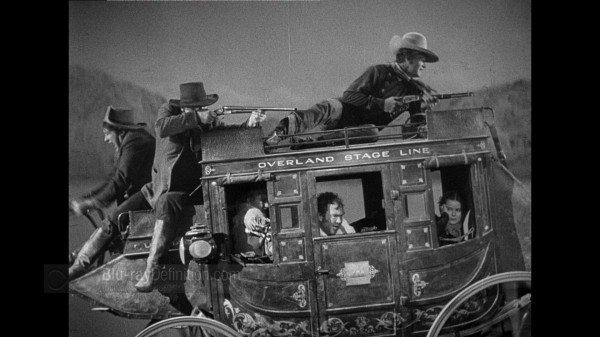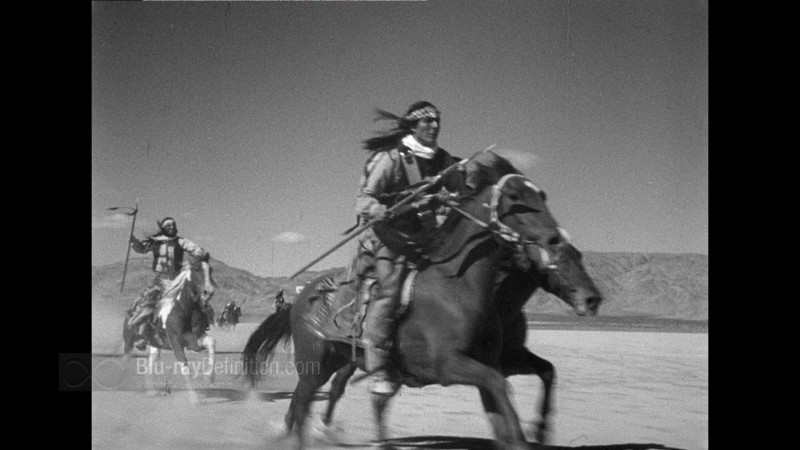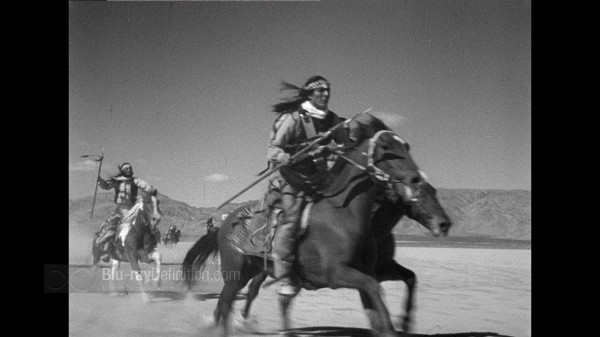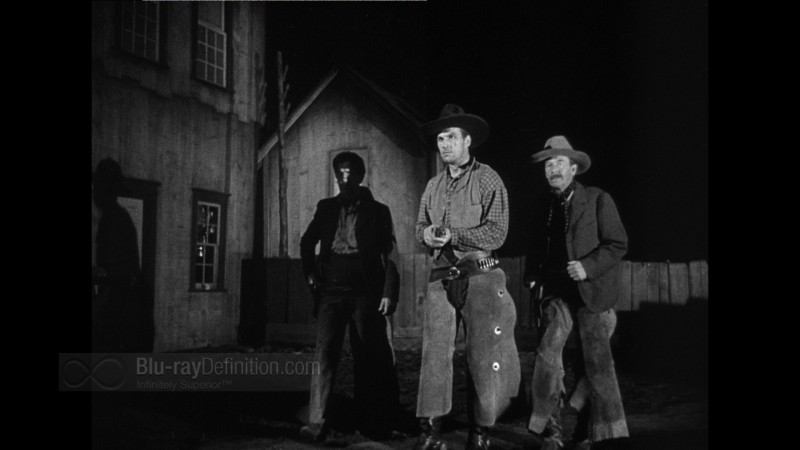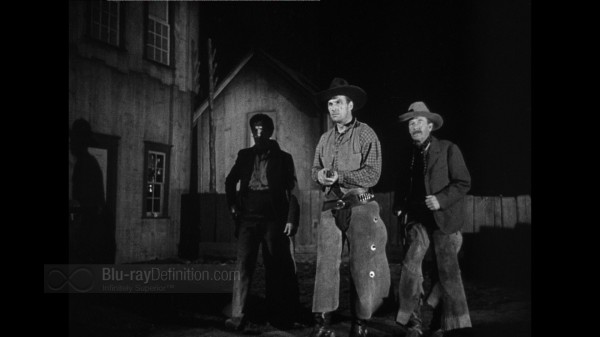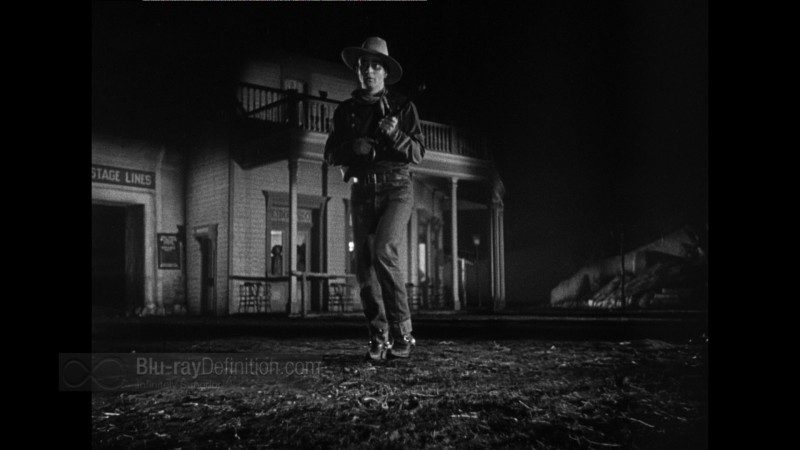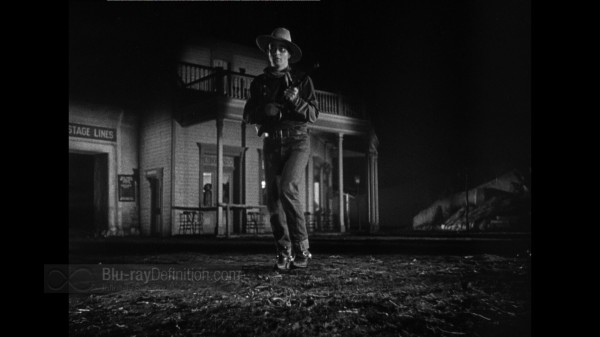 Purchase Stagecoach [Criterion Collection] on Blu-ray at CD Universe
Shop for more Blu-ray titles at Amazon.com