Captain Kirk and the crew of the Enterprise will boldly go where they have never gone before when STAR TREK II: THE WRATH OF KHAN Director's Edition arrives for the first time on Blu-ray June 7, 2016 from Paramount Home Media Distribution. As part of the 50thanniversary celebration of the Star Trek franchise, this classic film has been digitally remastered in high-definition with brilliant picture quality and will be presented in both Nicholas Meyer's Director's Edition and the original theatrical version.  The Blu-ray also includes a brand-new, nearly 30-minute documentary entitled "The Genesis Effect: Engineering The Wrath of Khan," which details the development and production of this fan-favorite film through archival footage, photos and new interviews.
Director's Edition of Classic Star Trek Film Arrives on Blu-ray™ for the First Time Ever
STAR TREK II
The Wrath of Khan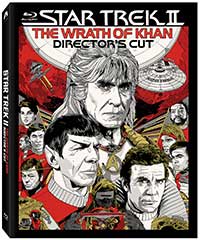 Debuting June 7, 2016, Blu-ray Includes Digitally Remastered Film, Plus a Brand New Documentary on the Making of the Fan-Favorite Movie
In addition to the new documentary, the

 

STAR TREK II: THE WRATH OF KHAN

 

Director's Edition

 

Blu-ray is bursting with more than two hours of previously released special features including multiple commentaries, original interviews with William Shatner, Leonard Nimoy, Ricardo Montalban and DeForest Kelley, explorations of the visual effects and musical score, a tribute to Ricardo Montalban, storyboards and much more.
Captain Kirk's Starfleet career enters a new chapter as a result of his most vengeful nemesis: Khan Noonien Singh, the genetically enhanced conqueror from late 20
th
century Earth.  Escaping his forgotten prison, Khan sets his sights on both capturing Project Genesis, a device of god-like power, and the utter destruction of Kirk.
STAR TREK II: THE WRATH OF KHAN Director's Edition Blu-ray
The Blu-ray is presented in 1080p high-definition with English 7.1 Dolby TrueHD, French 2.0 Dolby Digital, Spanish Mono Dolby Digital and Portuguese Mono Dolby Digital with English, English SDH, French, Spanish and Portuguese subtitles.  The disc includes the following:
Director's Edition in high-definition

Theatrical Version in high-definition

Commentary by director Nicholas Meyer (Director's Edition & Theatrical Version)

Commentary by director Nicholas Meyer and Manny Coto (Theatrical Version)

Text Commentary by Michael and Denise Okuda (Director's Edition)

Library Computer (Theatrical Version)

The Genesis Effect: Engineering The Wrath of Khan—NEW!

Production

Captain's Log

Designing Khan

Original interviews with DeForest Kelley, William Shatner, Leonard Nimoy and Ricardo Montalban

Where No Man Has Gone Before: The Visual Effects of

 

Star Trek II: The Wrath of Khan

James Horner: Composing Genesis

The Star Trek Universe

Collecting Star Trek's Movie Relics

A Novel Approach

Starfleet Academy: The Mystery Behind Ceti Alpha VI

Farewell

A Tribute to Ricardo Montalban

Storyboards

Theatrical Trailer
STAR TREK II: THE WRATH OF KHAN Director's Edition
Street Date:                        June 7, 2016
U.S. Rating:                        Theatrical version: PG
                                           Director's Edition: PG for violence and language