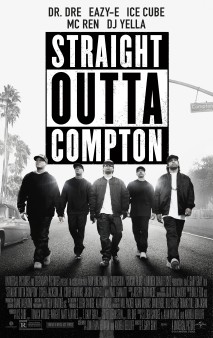 –
The Film
Excuse the semi-late film review for Straight Outta Compton. The weekend is over and I just caught from a screening Sunday night. It was a sold out show (yes, even on a Sunday night) and I attended a local screening with my younger siblings and girlfriend in tow. The unique part of watching the film with the people I was with is due to age disparities. I'm ten year's older than my youngest sibling and almost fifteen years older than my girlfriend. Yes, that's a bit TMI, but the point is that no matter what the age demographics are, the fact that you can spot something in Straight Outta Compton and connect the dots to the popular culture of today shows just how ground breaking the film and band is and were. You may have never heard the band in their hey-day but you know and are aware of everything that came after their split. Let's just say that the parents of yesteryear were not fans.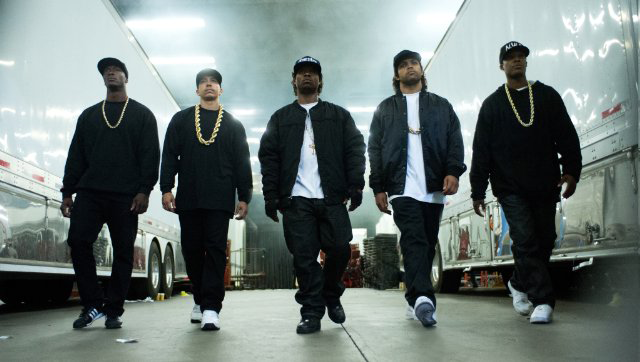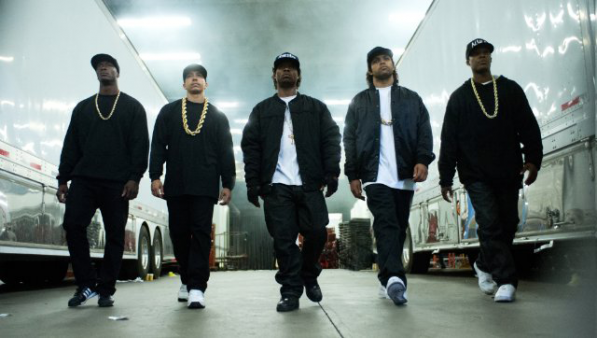 Straight Outta Compton takes place in the mid 1980s in Compton, California. The Los Angeles Police Department is knocking down doors of suspected and known drug dealers using military-style tactics. A young hustler named "Easy E" decides that there must be something better than selling drugs, so he uses some of his resources and decides to invest his money in a hip-hop group. With his friend "Dr. Dre" they set out to create a music group unlike any other. Brought to the fold are Ice Cube, DJ Yella, and MC Ren. The collective would be known as N.W.A. (Niggaz With Attitudes).
The band starts out playing crappy venues and house parties until manager extraordinaire Jerry Heller meets with Easy and offers him a contract. Soon thereafter it becomes the Jerry and Easy E show due to them basically "owning" the band and the rest being left out. The most vocal proponent was to be Ice Cube. Cube wrote more than half of material N.W.A. used and never received his fair compensation. This struck a rift in the band and Ice Cube left and went solo to critical and acclaimed success. This also cause further rifts as he and the N.W.A. developed a rivalry.
Let us keep in mind that Straight Outta Compton is a roughly 2 hour and 40 minute film. You could double that amount and still just be scraping the surface. The film does a fine job in compressing the main events of the rise, success, and fall of the group. Their story takes no prisoners and is an emotional and gritty journey through the mean streets of Compton in a most tumultuous time. The film also flashes forward and spans about ten years or so. The film also features a cool epilogue and after thought on what happened to the members of the band. Most already know that Eazy E succumbed to AIDS at the age of 31 but other than Dre and Cube rising to the stratosphere the rest of the members did alright for themselves, as well.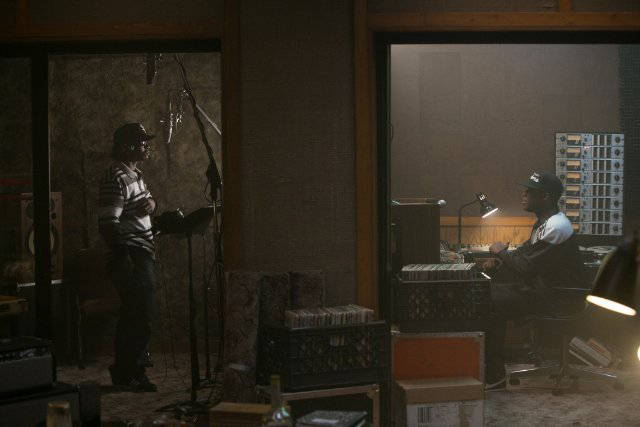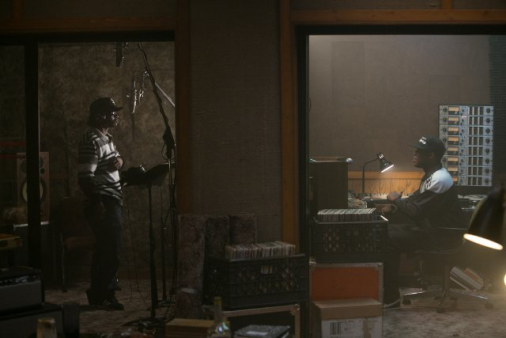 I don't want to say that the film is predictable, because it's not, but we sort of know the aftermath of what happened to N.W.A.; the film just breaks it down in a simpler form. Violence, power, show business, and MONEY were the ultimate culprits in making and breaking the band, but in doing so N.W.A. became immortal. When "gangsta rap" is mentioned, the homeboys from the Compton 'hood will always be that #1 group folks talk and reminisce about.
I have read that the original cut of Straight Outta Compton clocked in at 3 hours and 30 minutes. Here's hoping that we get an ultimate cut. The theatrical is totally okay as is but for something as epic as this then the more the better, in my opinion. The theatrical cut flew by. As you have already guessed, I loved the film and cannot wait to own it on Blu-ray. If you have some time (or make time) then Straight Outta Compton is worth it. Get out of the hot weather and into a cool cinema and enjoy!
 Our Movie Rating:
[Rating:4.5/5]