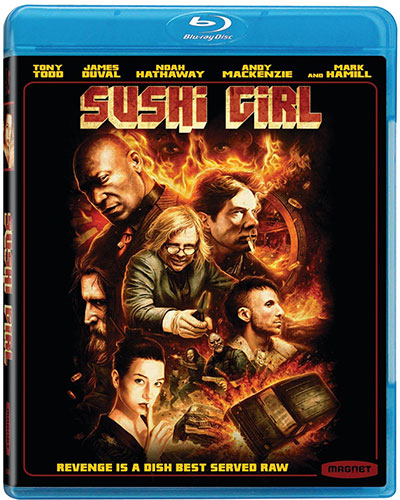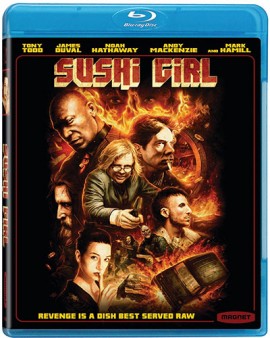 A deceptively straightforward indie exploitation flick, writer/director Kern Saxton's Sushi Girl has all the makings of an instant cult classic. Released here on home video from Mark Cuban's Magnolia Home Entertainment Magnet imprint, the film is populated with over-the-top archetypes, copious amounts of violence, and, of course, the titular "Sushi Girl" who lay naked on a table covered with nothing but, well, sushi, for most of the movie.
The heart of the story revolves around a jewel heist gone wrong. It's now six years later, and Fish (Noah Hathaway), one of the robbers involved in the heist is just out of prison early on good behavior. Duke (Tony Todd), the cigar-smoking, yakuza-obsessed leader of the gang has summoned Fish and the remaining three members, Crow (Mark Hamill), Max (Andy Mackenzie), and Francis (James Duval), to his new, abandoned, Asian-themed restaurant under the guise of a feast to celebrate Fish's release. Here, they are to dine on sushi spread out on a naked girl (Cortney Palm) and reminisce. But in reality, Duke, and the others, want Fish to spill his guts on what happened to the missing diamonds before he was caught by the police. They all seem to believe he stashed them somewhere and kept all the money for himself. It isn't long before the friendly reunion turns rather ugly.
Sushi Girl has an oddball feel to it from the very beginning. From the gathering around this unclothed woman covered in sushi to the immediately uneasy feel amongst the "friends," Saxton's screenplay and set gives you the sense that something is awry. Using flashbacks to help unravel the story leading up to the present, he slowly reveals the relationship between the characters and how they ended up in this unlikely place. Still, we are left puzzled the whole time as to how or why they would be revealing so much damning evidence in front of the "sushi girl" who lay frightened out of her wits on the dinner table.
As aforementioned, the characters in the film are all, broad, over-the-top, archetypes, but they are also deftly portrayed. Tony Todd as the cigar smoking, intimidating "mob boss" is chilling. Mark Hamill as Crow, probably the most surprising of the bunch, is a gay, near neurotic psychopath who apparently loves to torture people so much he carries around his own little torture packet. Andy Mackenzie is the brutish, kill first ask questions later, biker-dude type, and lastly, James Duval is Francis, a squirmy coke-head. They somehow all fit together perfectly thanks to the writing and the superlative acting.

The Video
Sushi Girl arrives with an AVC/MPEG-4 1080p encodement from Magnolia. It's a fine effort that has strong contrast, lots of textural detail and high frequency information and rich color saturation, particularly reds. Flesh tones look natural and shadow delineation is nicely extended.
The Audio
The film is given a solid lossless DTS-HD Master Audio 7.1 (48kHz/16-bit) soundtrack. While the extra back channels do offer a strong, fully-encapsulating soundfield during the heist scene flashbacks and gunfight scenes, a majority of the film is dialogue-driven. This means the audio is rather front-heavy and the extra channels seem a bit like overkill. Still, the mix works, dialogue is clean, dynamics are strong, and high end frequencies are natural in sound.
The Supplements
A heavy dose of supplements is provided with Sushi Girl, including two audio commentaries and a few featurettes.
The supplements:
Filmmaker commentary with Kern Saxton, Destin Pfaff, Neal Fischer, and Suren M. Seron
Cast commentary with Tony Todd, James Duval, Noah Hathaway, Andy Mackenzie, David Dastmalchian, Destin Pfaff, and Kern Saxton
Sushi Girl: A Documentary (1.78:1; SD; 00:59:55)
Alternate Scenes (2.35:1; 1080p/24):

Alternate Reveal
Alternate Ending

Outtakes (2.35:1; 1080p/24; 00:17:00)
Fake TV Commercials à la Sushi Girl (1.33:1; SD; 00:03:40)
Producer's Diaries (1.78:1; 1080p/24; 00:07:22)
Sushi Girl Music Video: Victories and Consequences by Send the Sages (1.78:1; 1080p/24)
Cast and Crew Interviews at the International Premiere (1.78:1; 1080p/24; 00:13:50)
Poster & Promotional Image Gallery (1080p/24)
Behind the Scenes Photo Gallery (1080p/24)
Storyboards (1080p/24)
Trailers:

Green Band Grindhouse Teaser
Red Band Voices Teaser
Red Band Trailer 1
Red Band Trailer 2

Credits
Additional Magnolia Trailers
BD-Live
The Final Assessment
Sushi Girl is one of those films that is so audaciously wild that it is both funny and seriously twisted. This is classic cult material that I have no doubt in ten or twenty years time will be at the top of cult-film fans lists.

---
Aspect Ratio: 2.40:1

Video Codec: AVC/MPEG-4
Resolution: 1080p/24 (23.976Hz)

Audio Codec: English DTS-HD Master Audio 7.1 (48kHz/16-bit)

Subtitles: English SDH, Spanish

Subtitles Color: White

Region: A (Region-Locked)

Rating: R

Discs: 1 (1 x Blu-ray)
Digital Copies: N/A

Run Time: 99 Mins.

Studio: Magnolia Home Entertainment

Blu-ray Release Date: February 19, 2013
List Price: $29.98