– –

The Film
[Rating:4/5]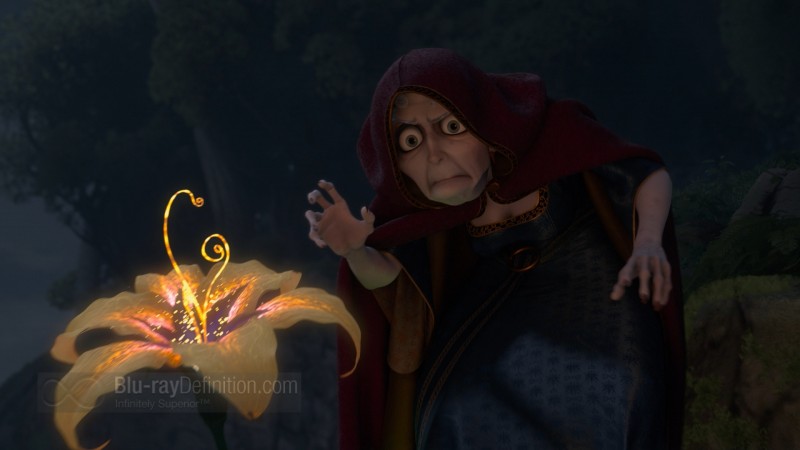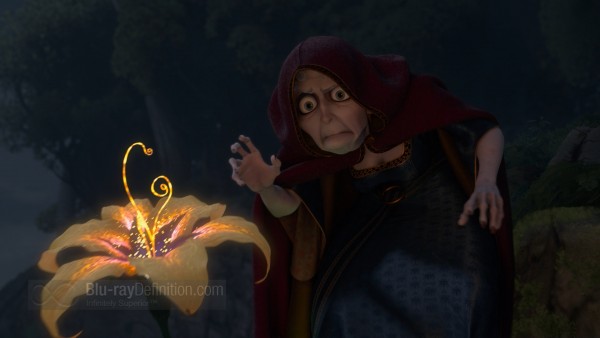 This retelling of Rapunzel from Disney arrives as the 50th animated feature from the studio, but in reality it has been knocking about at Disney since Walt was still around. He'd been working on a retelling of this classic story when he was still running the studio, but it never came to anything, until now. The creative geniuses behind Bolt (Byron Howard), The Little Mermaid and Beauty and the Beast (Alan Menken) finally bring this splendid stale to its fruition, Disney style. And, dare I say, it just may be the best non-Pixar animated feature to come out of the studio since their resurgence of the late-80's/early-90's.
Disney returns to their familiar formula of a princess in distress set to tunes this time out with a slight comedic edge DreamWorks fans will recognize. Long-tressed Rapunzel (Mandy Moore; A Walk to Remember) has been trapped in her tower by Mother Gothel (Donna Murphy) for eighteen years and longs for adventure. It takes Flynn Ryder (Zachary Levi; Chuck) a thief and bit of a gadabout who wanders into her tower trying to hide from palace guards to get her out into the world – only after she whacks him with a frying pan and hides his stolen palace crown. Rapunzel wants a guide to take her to see the lanterns that always appear on her birthday and Ryder agrees so he can get his crown back. Of course the two set off on a wild adventure that involves barroom brawls, nearly getting drowned, and possibly falling in love while Mother Gothel is in pursuit. She must get Rapunzel back to control her magical hair that has the power to heal and keep someone alive long past their years.
Tangled may be CG, but it looks and feels like classic Disney. It's colorful, charming, and has spectacular 3D effects. Has Disney finally solved the CG puzzle without needing to seek help from Pixar?
Video Quality
HD:[Rating:5/5]
3D Effect:[Rating:5/5]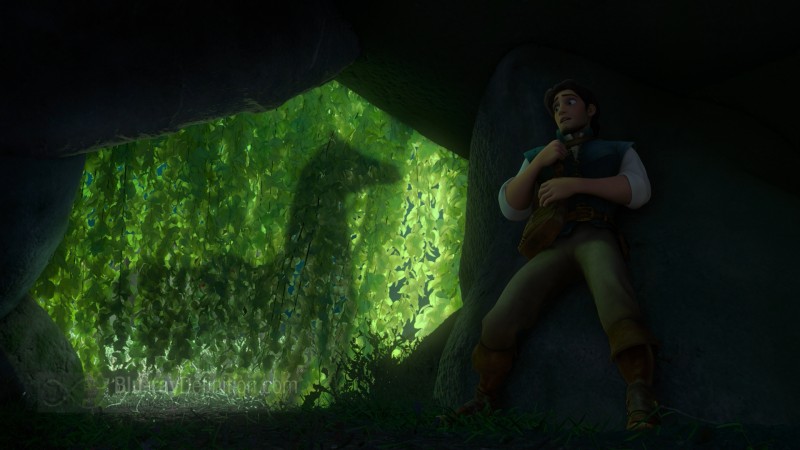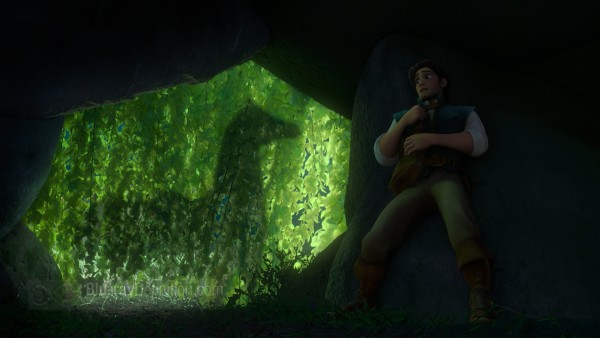 Come on, it's CG, it's Disney, and it's on Blu-ray, of course Tangled looks great. Both the Blu-ray 2D and Blu-ray 3D discs are superb representations of this film. Bright colors, excellent detail and no artifacts to be found. Outside of some slight ghosting/crosstalk in the 3D version, there are no issues with the 3D transfer either. Colors seem to pop just as vividly and detail is just as strong; every strand of Rapunzel's hair can be seen. The 3D effect seems to be going for a more natural look of dimensionality most of the time, but that is not to say there aren't moments with more aggressive pop-out, such as the scene in the pub where things definitely fly at you. Most aggressive, however, is the lantern scene, where there are moments where you feel you can literally reach out and grab some of the paper lanterns floating by.
Audio Quality
[Rating:4.5/5]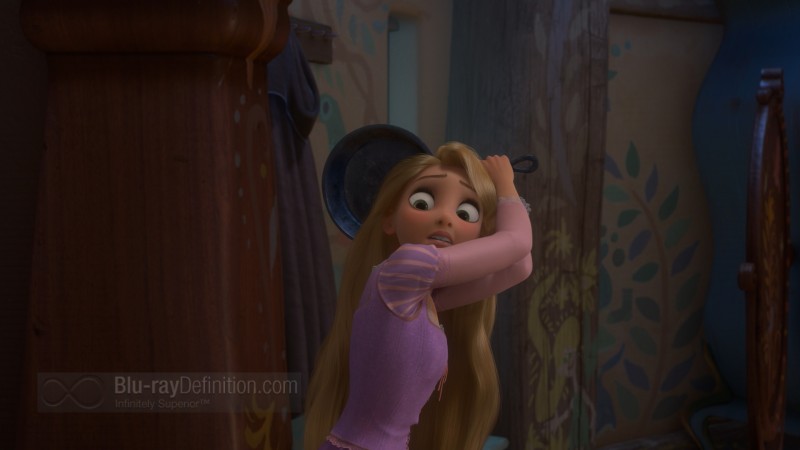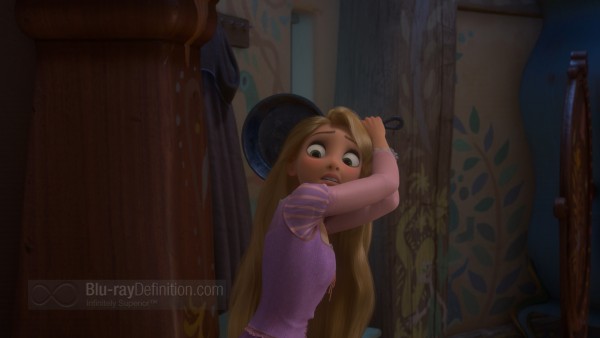 Tangled comes with an excellent DTS-HD Master Audio 7.1 lossless soundtrack that really does make good use of those extra back channels, surrounding listeners in a capsule of sound. Discrete sounds make their way to the back channels as well as the surrounds and there is a wide stereo stage across the front. Lows are deep and tight, high frequencies are clean and smooth and dialogue is cradled well in the mix with no sign of clipping.
Supplemental Materials
[Rating:3.5/5]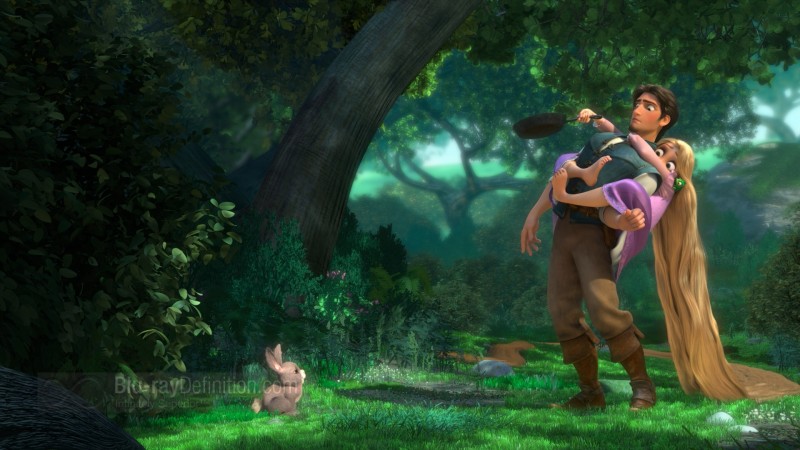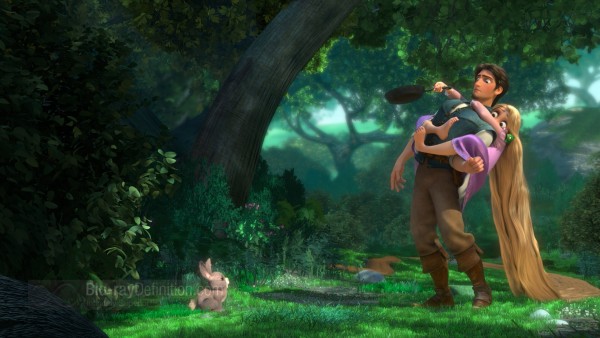 All the video supplements reside on the 2D Blu-ray, with the 3D disc being a barebones disc with no more than a 3D trailer of Cars 2.
The supplements provided with this release are:
Deleted Scenes (1080p/24)
Original Storybook Openings (1080p/24):
50th Animated Feature Countdown (1080p/24; 0:02.03)
Extended Songs:

"When Will My Life Begin"
"Mother Knows Best"

Untangled: The Making of a Fairy Tale (1.78:1; 1080p/24; 0:12.28) – Mandy Moore and Zachary Levi host this brief "making of" filled with factoids.
Tangled Teasers
DVD
Digital Copy

The Definitive Word
Overall:
[Rating:4/5]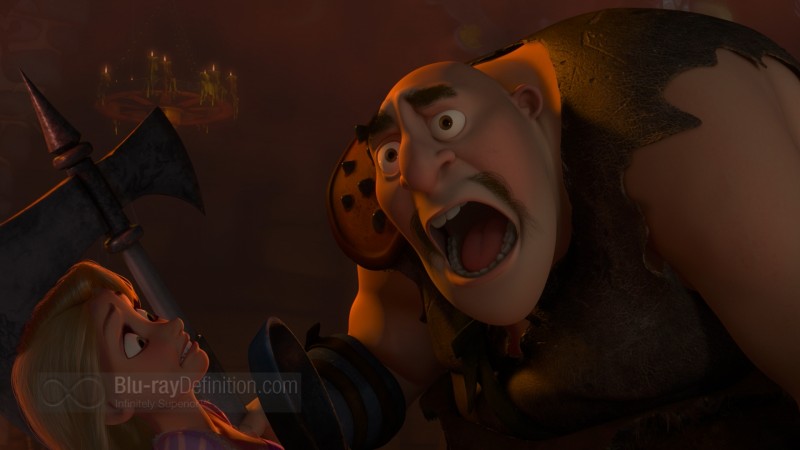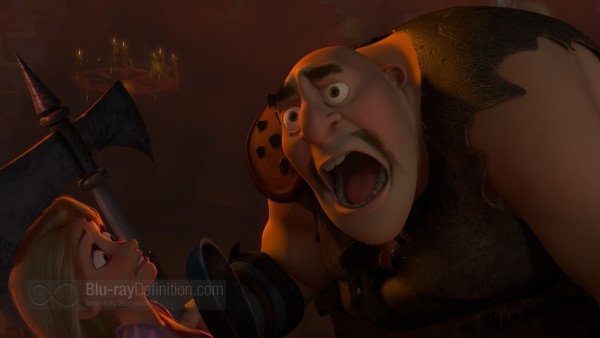 A fun film that belongs in the canon of Disney classics. Tangled can be enjoyed by all members of the family, young and old. Highly recommended.
Additional Screen Captures
[amazon-product align="right"]B004G6009K[/amazon-product]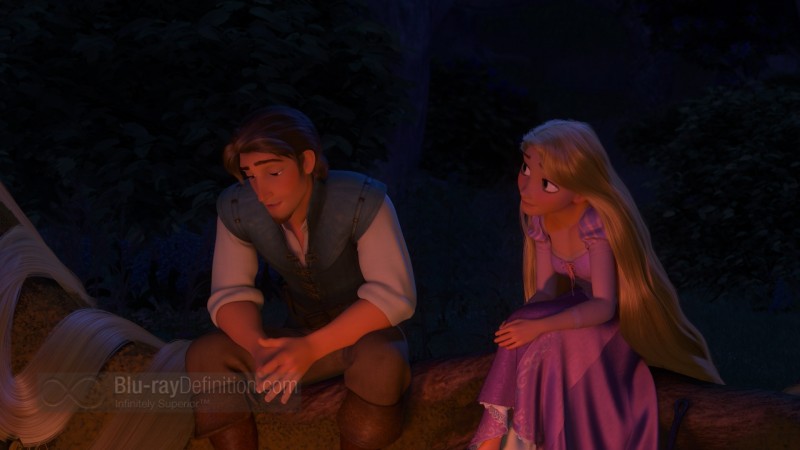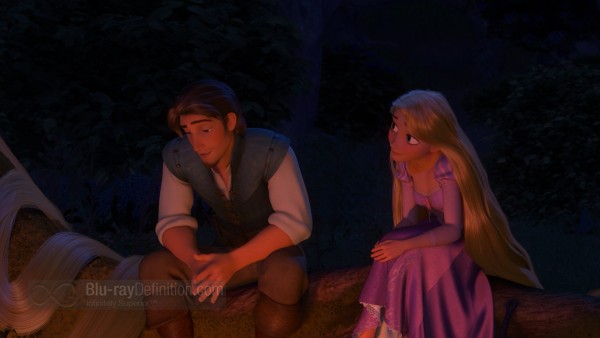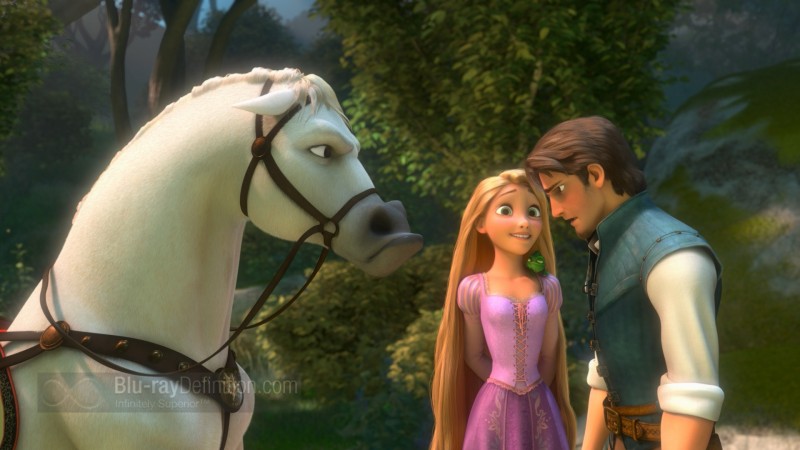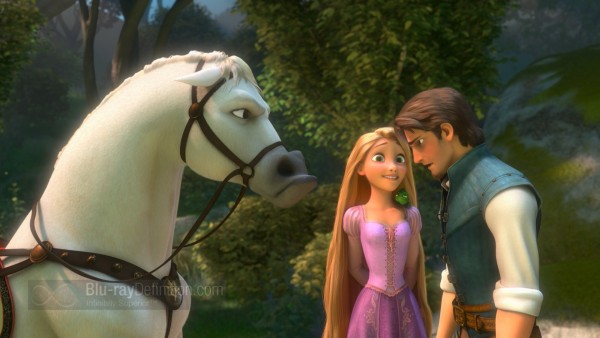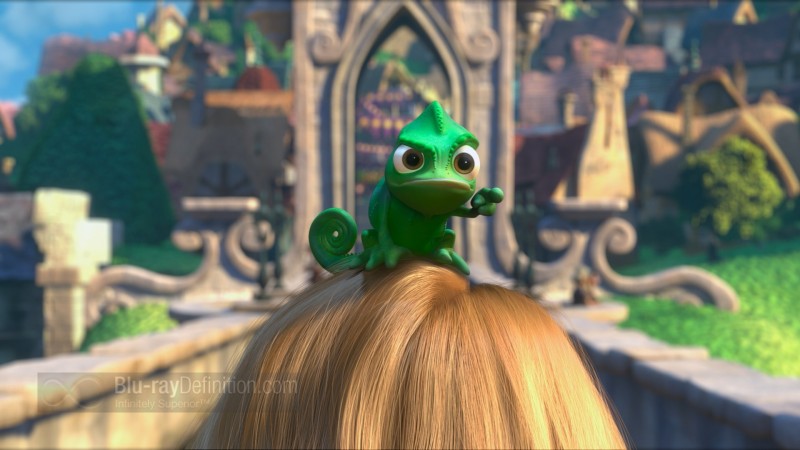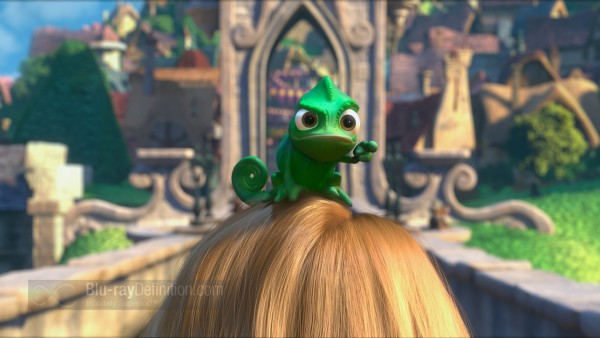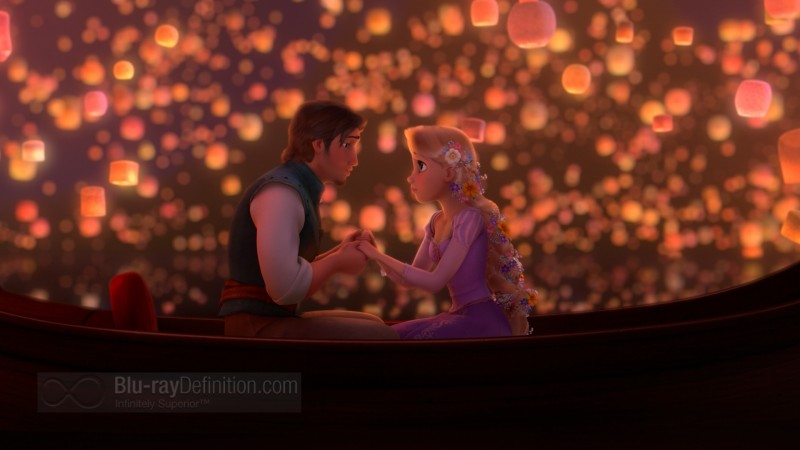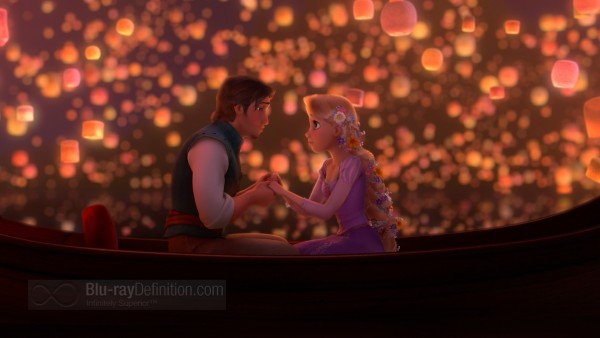 [amazon-product align="right"]B004G6009K[/amazon-product]