Twentieth Century Fox Home Entertainment today announced the release date and details for the long-awaited three-disc Extended Edition Blu-ray of Director James Cameron's box office phenomenon Avatar. But before anyone gets too excited, just as previous reports had suggested, this version still doesn't include 3D. For that, you'll need to drop a lot more cash on a Panasonic 3DTV to get the Blu-ray 3D version of Avatar thank comes bundled with with it starting sometime in December.
The three-disc Extended Collector's Edition Blu-ray will be released on November 16th in North America and November 15th in the rest of the world. The release will contain three versions of the film, the original theatrical release, a special edition re-release, family audio track with all objectionable language removed and new collector's extended cut with sixteen more minutes including an exclusive alternate opening Earth scene.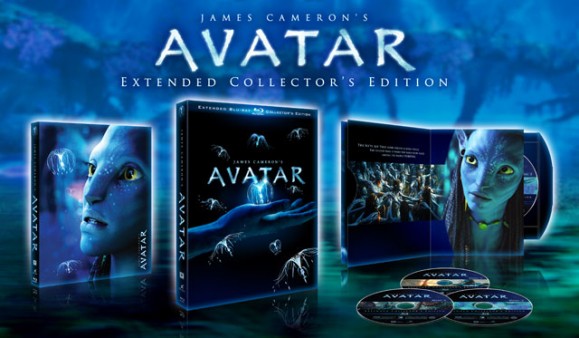 Technical specifications include a 2.35:1 high definition encoding, English DTS-HD Master Audio 5.1 soundtrack with French, Spanish and Portuguese Dolby Digital 5.1 and English SDH, French, and Spanish Subtitles.
Special features include:
Disc One:
Original Theatrical Version
Special Edition Re-Release

Collector's Extended Cut16 more minutes and exclusive alternate opening
Family Audio Track (All Objectionable Language Removed)
Original Theatrical Release
Special Edition Re-release
Disc Two:
"Capturing Avatar" An in-depth feature length documentary with James Cameron, Jon Landau   and cast and crew
Deleted Scenes – including over 45 minutes of new never-before-seen deleted scenes
Production Materials
Disc Three:
Open "Pandora's Box" and go deeper into the filmmaker process
Interactive Scene Deconstruction: Explore the various stages of production through 3 different viewing modes
Production Shorts: 17 featurettes covering performance capture, scoring the film, 3D fusion camera, stunts and much more
Avatar Archives including original scriptment, 300 page screenplay and the extensive Pandorapedia
BD-live Portal with additional bonus materials
The Avatar Extended Collector's Edition Blu-ray will sell at a suggested retail price of $54.99 U.S. / $66.99 Canada.
Additionally there will be a Three-Disc Special Edition DVD release as well selling at a suggested retail price of $34.98 U.S./$45.98 Canada