Severin Films will be releasing director Paul W. S. Anderson's controversial film Shopping, which also marked the screen debut of actor Jude Law, on Blu-ray and DVD February 8, 2011 at a suggested retail price of $24.98 (Blu-ray), $19.98 (DVD).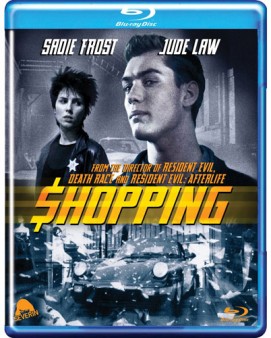 Press release:
FROM THE DIRECTOR OF RESIDENT EVIL AND DEATH RACE,
IT'S THE CONTROVERSIAL ACTION DRAMA THAT MARKED
JUDE LAW'S DEBUT
SHOPPING
Censored for Its Frank Depiction of Violence, Paul W.S. Anderson's First Film Finally Arrives on DVD and Blu-ray on February 8, 2011,
from Severin Films
SHOPPING, the long-suppressed look at violence among British teens, makes its long-delayed uncut digital debut when Severin Films releases the film – the first for both star Jude Law and blockbuster director Paul W.S. Anderson – on Blu-ray and DVD on February 8, 2011. The SRP is $24.98 for the Blu-ray and $19.98 for the DVD.
The British police called it "ram-raiding." Teenage hooligans called it "shopping." And audiences and critics worldwide called it one of the most shocking debuts of the decade. In a bleak near-future, charming ex-con Billy (Oscar nominee Jude Law of Sherlock Holmes, Closer and Cold Mountain) and sexy girlfriend Jo (Sadie Frost, Bram Stoker's Dracula) live for stealing fast cars, leading cops on high-speed chases, and crashing through posh store windows to steal everything they can grab. But when the law and a rival gang both vow to end their spree, can Billy and Jo pull off one final raid before their world comes crashing down?
Sean Bean (The Lord of the Rings, Red Riding), Jonathan Pryce (Brazil, Glengarry Glen Ross), Sean Pertwee (Dog Soldiers, The Tudors) and '60s music icon Marianne Faithful (Marie Antoinette) also star in this reckless orgy of destruction – censored for 15 years by British authorities – from writer/director Paul W.S. Anderson (Alien vs. Predator, Resident Evil: Afterlife, Death Race). This throbbing, kinetic film hot-wired the U.K. crime-movie explosion of the late '90s.
Variety's Todd McCarthy said SHOPPING's opening sequence, "consisting of stunning aerial industrial landscapes accompanied by a pulsating score, wonderfully summons up a devastated, depersonalized world." Derek Adams of Time Out London praised: "Anderson's directorial debut is praiseworthy for its high-octane, unsentimental look at the contemporary phenomena of joyriding and ram-raiding."
This landmark Blu-ray and DVD release features the full-length, uncensored version of SHOPPING. Both formats include new exclusive extras such as commentary by director Paul W.S. Anderson and a making-of featurette and on-set interviews with Anderson, Jude Law and Sadie Frost.
About Severin Films
Severin Films, founded in 2006 with offices in Los Angeles, New York and London, has been called "well on its way to becoming the greatest indie label of all time" by BlogCritics.org. Their DVD and Blu-ray releases include Enzo Castellari's original Inglorious Bastards, the unrated Director's Cut of Just Jaeckin's Gwendoline, Richard Stanley's restored Hardware, Goya Award winner Jess Franco's Macumba Sexual and Bloody Moon and Oscar-nominee Patrice Leconte's The Hairdresser's Husband. Severin hit mainstream headlines all over the globe in 2010 with the theatrical release of the incomparable Birdemic: Shock & Terror.
#  #  #
SHOPPING
Street date: February 8, 2011
Prebook: December 27, 2010
SRP: $24.98 (Blu-ray), $19.98 (DVD)
Running time: 106 minutes
Not rated
Extras: Director commentary, featurette
—-
[amazon-product]B004EI2NRM[/amazon-product]