Walt Disney Studios Home Entertainment has announcement that they will be bringing their hand-drawn animated hit The Princess and the Frog to Blu-ray Combo Pack day-and-date with the DVD release on March 16th, 2010.
The hand-drawn animated film marked a historic achievement for the studio being both the studio's re-entry into the world of hand-drawn animated feature length films after nearly a decade's absence from the genre and the first time a Disney film has featured a black princess. The Princess and the Frog features a jazz-inspired musical score from composer Randy Newman and classic hand-drawn Disney animation from the team of John Musker and Ron Clements (Aladdin, The Little Mermaid).
Exclusive bonus features include games and specially- created featurettes that take viewers on a once-in-a-lifetime tour of the storied French Quarter of New Orleans. The Blu-ray features a 1.78:1 1080p high definition transfer with an English DTS-HD Master Audio 5.1 soundtrack and English SDH, French and Spanish Subtitles.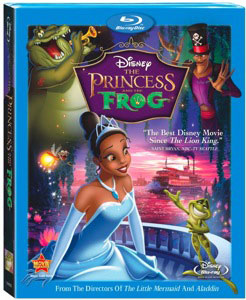 Bonus features for The Princess and  the Frog include:
Deleted Scenes
Audio Commentary by John Musker and Ron Clements (co-writers and directors) and Peter Del
Vecho (producer)
"Never Knew I Needed"- Music video by Ne-Yo Games and Activities
What Do You See: Princess Portraits — A bayou-style quiz tests viewers' knowledge of all of Disney's beautiful princesses. Ray's firefly family creates twinkling portraits of each princess and if the player correctly identifies her, they can enjoy a tongue-cheek mini re-telling of that character's story.
Exclusive to the Blu-ray Combo Pack edition:
Backstage Disney
Magic In The Bayou: The Making of A Princess — Co-writers and directors John Musker and Ron Clements take a freewheeling, behind-the-scenes look at the making of Disney's newest animated  film as it grows from an initial concept to a lavish animated film set in the enchanting world of New Orleans and the surrounding bayous.
The Return To Hand Drawn Animation
The Disney Legacy
Disney's Newest Princess
The Princess and the Animator
Conjuring The Villain
A Return To The Animated Musical
Bringing Life to Animation with an introduction by John Musker and Ron Clements.
Deleted Scenes introduced by the filmmakers
Art Galleries — A collection of storyboard art traces the visual development of The
Princess and the Frog's rich gallery of characters and settings.
The Princess and the Frog Blu-ray Combo Pack will sell for an SRP of $44.99.