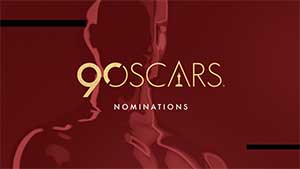 Tuesday, January 23, 2018. There are nine 2018 Oscars nominees for the Best Picture award at this year's upcoming Academy Award show. Given the wide range of topics such as horror (Get Out), science fiction (The Shape of Water), war (Dunkirk, Darkest Hour), journalism (The Post), coming of age (Lady Bird, Call Me By Your Name), criminal justice (Three Billboards) and the fashion industry (Phantom Thread) that are featured in this list of contenders, 2018 will be a challenging year for AMPAS voters, to say the least.
TheaterByte has already weighed in on six of these movies and here are our views on these 2018 Oscars nominees:
The Shape of Water (5/5): Guillermo Del Toro shows his consummate mastery of fantasy films by bringing us an extraordinary fairy tale romance between an amphibian creature and mute janitor that, against all odds, is moving and credible. Superbly written, cast, directed and filmed, this is a creative masterpiece in every respect and has received a whopping thirteen Oscar nominations.
Dunkirk (5/5): Writer/director Christopher Nolan delivers a powerful, immersive account of the largest successful wartime evacuation ever recorded that has both a pulse-pounding pace and great visuals. This is an ultimate show rather than tell film that leaves audiences overwhelmed by the magnitude of what happened nearly eighty years ago.
The Post (4.5/5): Director Spielberg applies his deft touch to a great script rendered to screen heavyweights Hanks and Streep that delivers all the suspense and tension leading up to a legendary journalistic achievement. Meryl Streep has been nominated again for Best Actress; Hanks got stiffed.
Darkest Hour (4/5): A superb historical drama that depicts the first month of the Churchill administration and focuses on behind-the-scenes politics rather than war, concluding with the epic evacuation of British troops from Dunkirk. Gary Oldman, winner of the Golden Globe Best Actor award, has received a well-deserved Oscar nomination.
Three Billboards Outside Ebbing, Missouri (3.5/5). A much-ballyhooed indie film that featured star actress Frances McDormand, Woody Harrelson, and Sam Rockwell, all of whom received Oscar bids. TBOEM is weighed down by a oppressively bleak script, endless streams of graphic violence and profanity, and so-so direction. Billed as a "black comedy," viewers expecting a Fargo reboot might leave the theater scratching their heads.
Phantom Thread (3/5): A less than hoped for big screen farewell for the legendary Daniel Day-Lewis, nominated again for Best Actor, that takes a lightweight story and releases even more ballast as it sails into the theaters. While a visually beautiful film, DDL deserved a better vehicle on which to ride off into the sunset of his storied film career.
The excitement of Oscar night will undoubtedly build along the way but we will go on record to predict that the Best Picture Oscar will go to the film at the top of this impressive list of 2018 Oscars nominees.
Tune in on March 4, 2018 to see which of your favorite of the 2018 Oscars Nominees will take home the statuette.