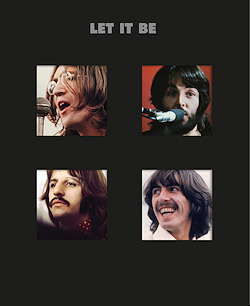 The Beatles' swan song Let it Be arrives again, newly remixed and remastered in this 6-Disc Super Deluxe Edition and, let's just get it out of the way, haters gonna hate. It seems when it comes to the Fab Four, many people have never been and never will pleased with the numerous releases, remasterings, remixes, EP's, and re-releases. This album, the final word from The Beatles, is bound to take some heat, so let's first get out of the way what it isn't. There is no Savile Row rooftop concert included here, neither in an audio mix nor on video. There is no Let it Be documentary film included – not the original and not the Peter Jackson redux.
The process for Let it Be played out over the span of over two years and during that time, the band came together for numerous rehearsals and recording sessions, with the determination to craft an album free from the constraints of the studio that would take them back to their roots as a live band. All the while they were being filmed by a documentary crew and many seeds of songs that would eventually reappear on their solo projects were fleshed out. While this endeavor's ultimate crescendo was the collapse of the band, it left behind plenty of material that has never been fully plumbed. UMG seeks to rectify that with this massive release.
With that out of the way, let's move on to the good stuff, and there's plenty of that to be had in what is a glorious thicket of material. Firstly, there are numerous remixes. I know, purists, please run to the shower and put out the fire in your hair right now. Now that you're toweled off and ready to go, let's talk the newly remixed by Giles Martin original album on CD 1. It doesn't stray too far from the Glyn Johns engineered, Phil Spector produced original, but it does have far more clarity and perhaps spreads some sounds out in the stereo field a bit more clearly. Then on the Blu-ray Audio — Disc 6, there are the Dolby Atmos (48kHz/24-bit) and DTS-HD Master Audio 5.1 (96/24-bit) surround mixes and LPCM 2.0 (96/24-bit) mix.

If you are a fan of music in Atmos, as I am, and if you have heard The Beatles in Atmos before on The White Album or any of John Lennon's or George Harrison's solo releases in Atmos, then you know what you're in for here. Martin does not do anything gimmicky with the mix, but there is a balanced and atmospheric approach to the sound mixing. Vocals become clearer and more centered in the mix. The songs that obviously standout are "Across the Universe," "Let it Be," and "The Long and Winding Road," but "I've Got a Feeling" is also more expansive and a song like "Two of Us" really sounds more lively. The 5.1 mix is equally impressive, but the soundstage collapses just a little bit.
CD 2 features the Get Back – Apple Sessions, which has The Beatles laying down several tracks that were finally beginning to resemble the final versions which would appear on the album release, including the opening "Two of Us" where John seems to be adopting an almost Southern twang, and the first rooftop performance of "Don't Let Me Down".
CD 3 is the Get Back – Rehearsals and Apple Jams disc. This is several outtakes and rehearsals, lots of studio chatter, which should be interesting to diehard fans, but most interestingly, we get to hear early versions of George Harrison's "All Things Must Pass" as performed by The Beatles and even a brief foray into John Lennon's "Gimme Some Truth".
CD 4 With this disc, Get Back LP, we have the remastered, previously unreleased 1969 Glyn Johns mixes of these recordings of outtakes that were compiled in 1969. Many of the songs and recordings here sound a bit on the rough and tumble side, live, and haven't quite come together yet, but the magic is there still. The best tracks on here are the bluesy, almost roadhouse sounding "I've Got a Feeling and the passionate "Don't Let Me Down" with smashing keyboard work from Billy Preston.
CD 5 Is the Let it Be EP which contains the 1970 mixes of "Across the Universe and "I Me Mine"
Apart from the music, of course, the centerpiece of this deluxe set is a 100-page coffee table sized hardcover book with essays, a forward by Paul McCartney, and the in-depth track-by-track recording information by Kevin Howlett, who not only gives background information on the recording sessions and various outtake and rehearsal dates, but also some history on the songwriting processes for each song.
There is no way a true Beatles fan and collector could pass up this set. It sounds great and is full of great music mixed and mastered well. No, it doesn't have the original album mix or the rooftop concert, but you can't always get (everything) you want. Err, wrong band.
The Beatles — Let it Be 6-Disc Super Deluxe Edition is out now from UMG. 5 LP Box Set, Picture Disc, 1 LP, 2CD, and Digital also available.
---
Label: UMG
Artist: The Beatles
Producer: Phil Spector | Glyn Johns | Giles Martin
Street Date: 26 August 2021
Audio Format: CD | Blu-ray Audio | LPCM 2.0 (96/24) | Dolby Atmos (48/24) | DTS-HD MA 5.1 (96/24)