–
Click thumbnails for high-resolution 1920X1080p screen captures
(Screen captures are lightly compressed with lossy JPEG  thus are meant as a general representation of the content and do not fully reveal the capabilities of the Blu-ray format)
The Film
[Rating:4.5/5]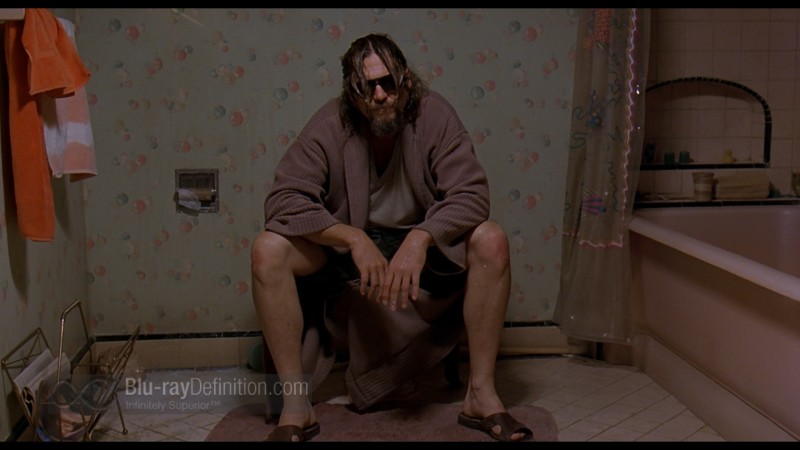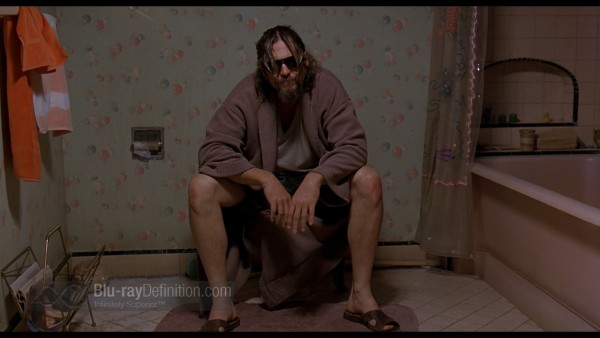 After the success of 1996's dark comedy Fargo, Coen brother's returned in 1998 with The Big Lebowski. An oddball comedy/mystery that brought the world of Raymond Chandler into the turn-of-century and also mix old-style Hollywood musical production values, Lebowski has all the earmarks of a classic Coen brothers feature. The cadence of the dialogue, the seeming parallel universe in which all the characters exist, and, mostly, non-stop, gusting laughs. It takes a special cast of actors to pull off the Coen's precise dialogue, which may sound like it's improvised, but it really isn't; The Big Lebowski's actors have the chops and the chemistry that make it all click.
The story has one middle-aged stoner "Dude" (Jeff Bridges), a violent, Vietnam-obsessed convert to the Jewish faith (John Goodman), a pretentious performance artist who likes to swing from her ceiling naked (Julianne Moore), and one pedophile named Jesus (John Turturro). Crazy enough for you yet?
The Dude, Jeffrey Lebowski, finds himself the subject of a case of mistaken identity when some people burst into his rather rundown home and pee on his rug demanding money, thinking he is Jeffrey Lewbowski (David Huddelston), the millionaire. Seeking recompense from "The big Lebowski" for the damage to his rug, that he feels "really tied the room together," Dude goes to the mansion of Jeffrey Lebowski. He is initially turned away, but when the Big Lebowski's young trophy wife Bunny (Tara Reid) is kidnapped, Dude is called in to be the hand-off man for the million dollars the kidnappers are demanding. Of course, his delusional and violent friend Walter (Goodman) has other plans for the cash and when the two drive by the spot they are supposed to toss the briefcase, Walter throws a bag of his underwear instead. This leaves the Dude on the hook for the cash and everyone after him to get it back. This includes big time porn producer Jackie Treehorn (Ben Gazzara), the group of German nihilists who claim they have Bunny, and the big Lebowski's daughter Maude (Moore). What no one can seem to answer is, was Bunny really kidnapped, or did she stage the whole thing just to get the money?
What makes Lebowski so amusing is that the Coens have gathered together a group of every odd and quirky personality type you have ever known or met in your life and fit them together perfectly in this unlikely, but utterly amusing scenario. From Walter's constant ramblings and rages about Vietnam and delusions about just what he can accomplish, to their friend Donny's (Steve Buscemi) teetering on the fringes of conversations, never really knowing what's going own. Even Julianne Moore's pretentious, artsy affections may seem over-the-top, but they certainly ring true for anyone who has spent any amount of time around the New York art scene.
Video Quality
[Rating:3.5/5]
The Big Lebowski does not look like great reference material in this new release, but then the film never was one that leapt out at you and looked really amazing. There are still a few places where some specks of dirt and scratches can be seen. Overall, I'd say Universal has been a bit heavy-handed cleaning up grain, however, and this affects background detail and textures in skin in particular, which can look a little waxy. Flesh tones are good, if sometimes a little reddish. I'm sure most non-videophiles will be happy with this VC-1 encodement of Lebowski, but it doesn't blow me away.
Audio Quality
[Rating:4/5]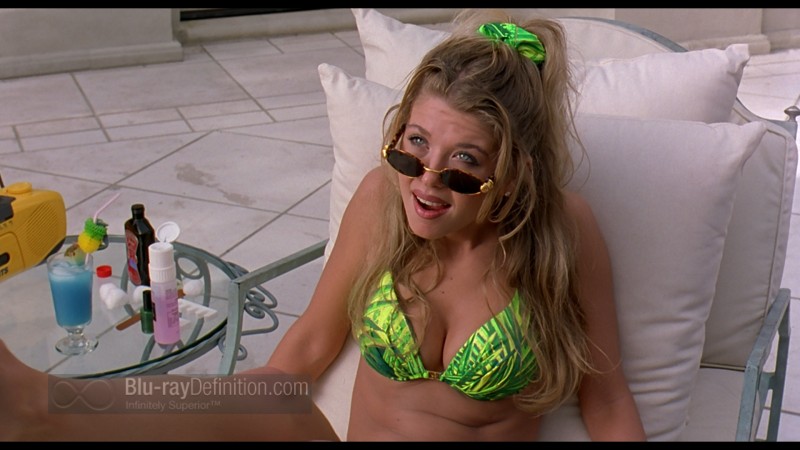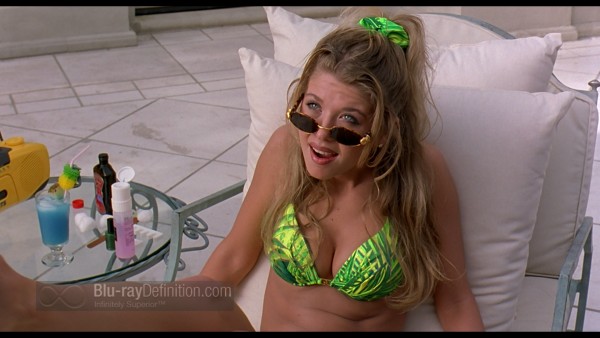 There is a DTS-HD Master Audio 5.1 soundtrack that doesn't do much with the surround channels expect add some ambience that helps widen the soundstage during times when the classic musical soundtrack is brought to the fore of the mix.Other than that, the mix presents clean dialogue with a punchy midrange and average low frequency extension that is tight and musical during the numerous musical sequences.
Supplemental Materials
[Rating:4.5/5]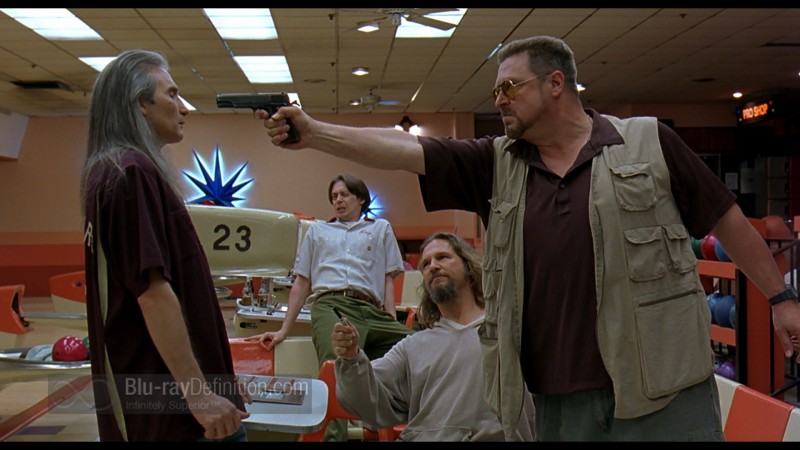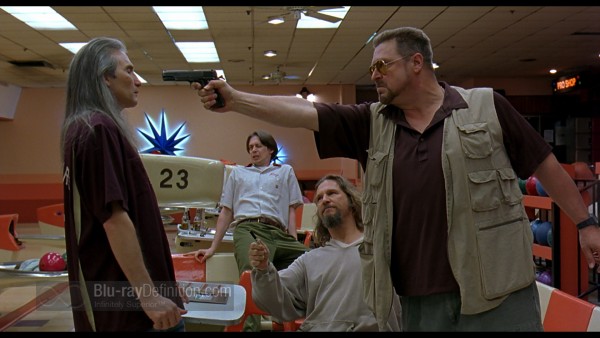 This is loaded with cool extras, man. From the Blu-ray Book package to Universal's interactive U-Control features, there are hours of supplements to dig through in this premium package.
Here's a rundown of what you get:
Worthy Adversaries: What's My Line Trivia – Play along with this in-movie game in 1- or 2-player mode as either The Dude or Walter. The film will periodically pause and bring up a multiple choice asking you to guess what your next line is.
An Exclusive Introduction (1.33:1; 480i/60; 00:04:40)
The Dude's Life (1.78:1; 1080p/24; 00:10:08) – Each of the main cast members discusses their character in the film.
The Dude Abides: The Big Lebowski Ten Years Later (1.78:1; 1080p/24; 00:10:27) –The cast members discuss the growth in popularity of the film, their memories of working together on Lebowski, and working with the Coen brothers.
Making of The Big Lebowski (1.33:1; 480i/60; 00:24:35)
The Lebowski Fest: An Achiever's Story (1.33:1; 480i/60; 00:13:53) – Follow The Lebowski Fest from its humble beginings in Kentucky to the huge conventions they have become.
Flying Carpets and Bowling Pin Dreams: The Dream Sequences of The Dude (1.78:1; 1080p/24; 00:04:20)
Interactive Map – Have a look at some of the locations where Lebowski was filmed.
Jeff Bridges Photo Book (1.78:1; 1080p/24; 00:17:30) – Jeff Bridges shows the photo book that he made and gave as a gift to the cast of The Big Lebowski after filming.
Photo Gallery (1.33:1; 480i/60; 00:02:25)
Learn More About the No Kid Hungry Campaign
U-Control

Scene Companion – Picture-in-Picture behind the scenes footage and audio commentary for specific scenes.
The Music of The Big Lebowski – Song title, songwriting, and performer credits for the music soundtrack displayed.
Mark It, Dude – A running count of how many times The Dude gets hit and how many times the words "dude," "man," and "fuck" are used.

pocket Blu – pocket Blu compatible for use on iPhone, iPad, iPod Touch, Android and other devices to access exclusive interactive features and directly download digital copy.
Digital Copy
Blu-ray Book – This high-quality hardcover Blu-ray Book package contains production stills, film trivia, a formula to mix your own "Caucasian," an interview with Jeff Dowd, real-life inspiration for The Dude, and much more.
The Definitive Word
Overall:
[Rating:4/5]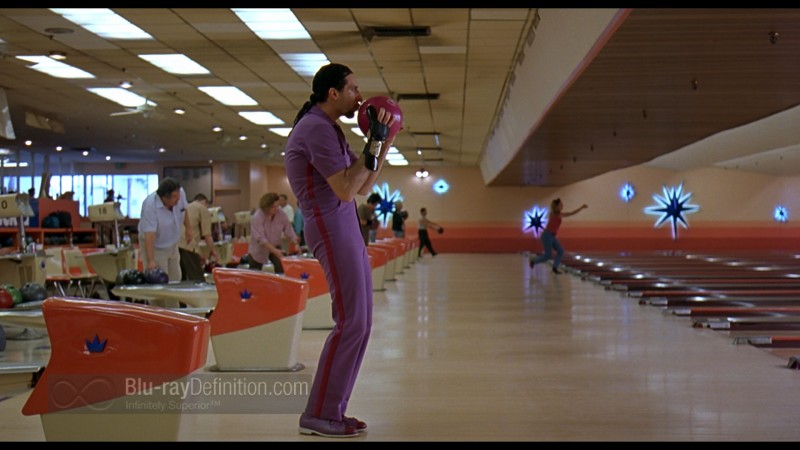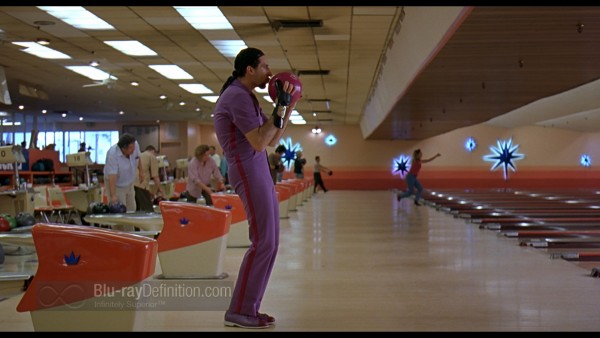 I had tears of laughter rolling down my cheeks as I watched The Big Lebowski, which is something that hasn't happened to me while watching a comedy in a very long time. This is definitely one of the greatest comedic films ever produced and it has been given a decent if not prefect spruce up in a classy package loaded with extras from Universal.
Additional Screen Captures
[amazon-product align="right"]B0051GOB26[/amazon-product]
Purchase The Big Lebowski on Blu-ray+Digital at CD Universe
Shop for more Blu-ray titles at Amazon.com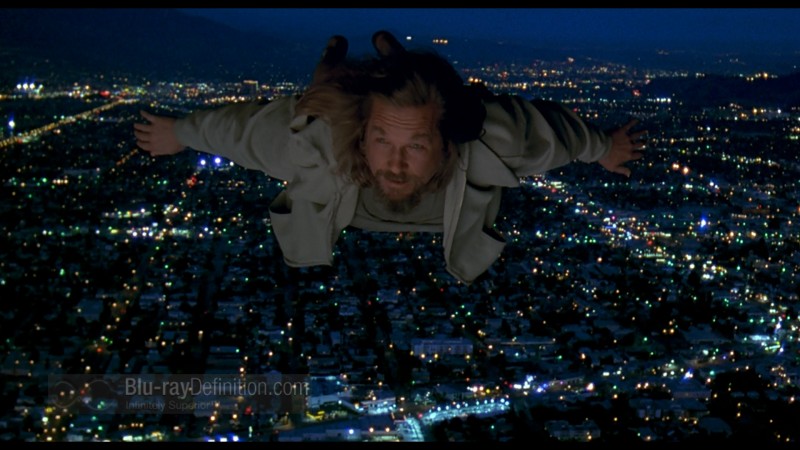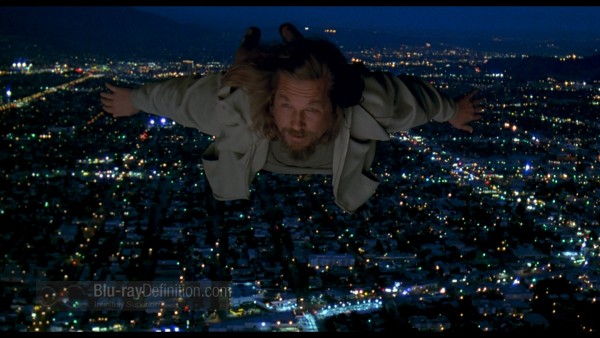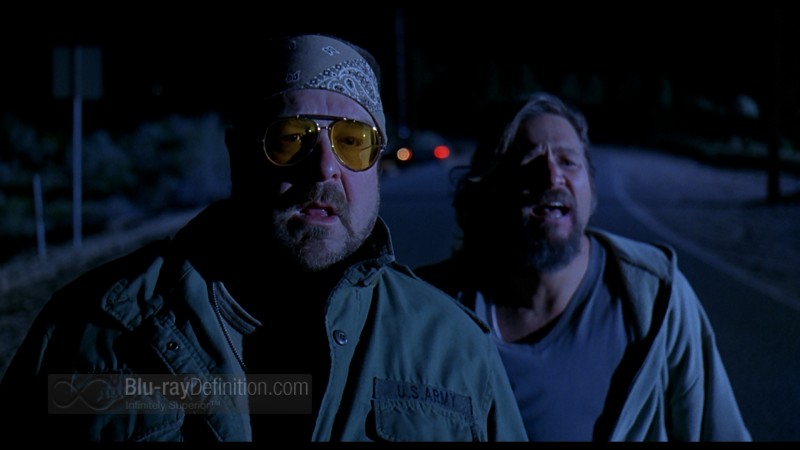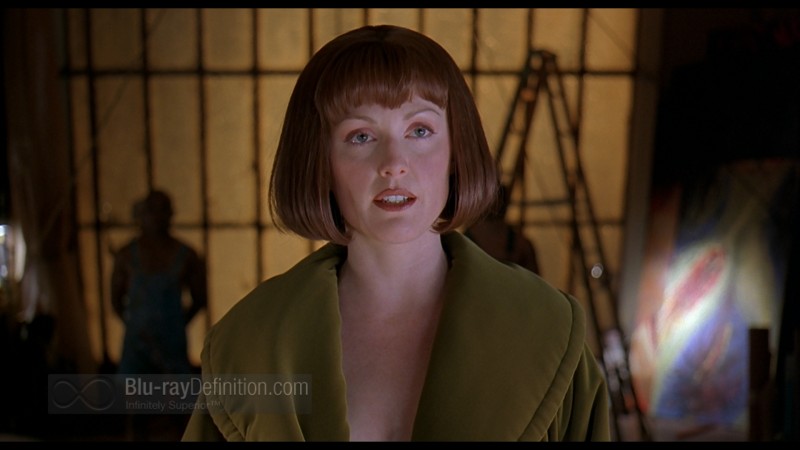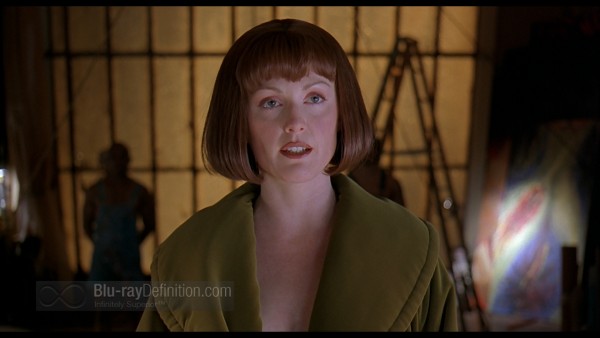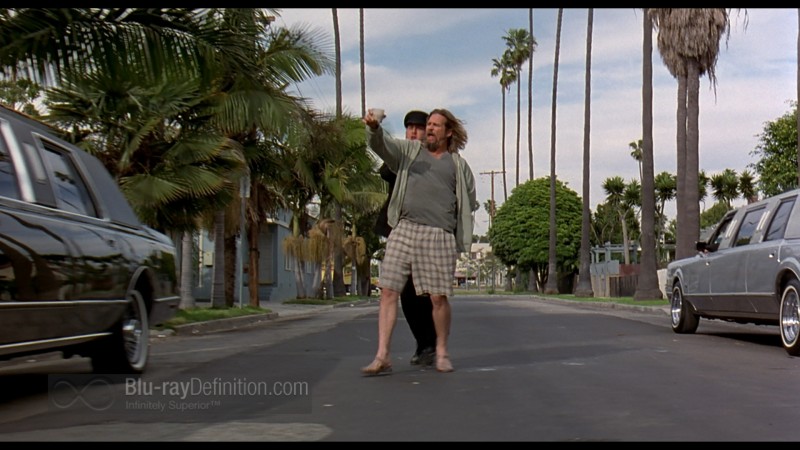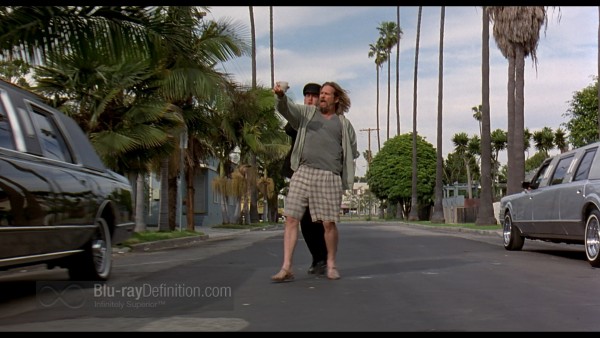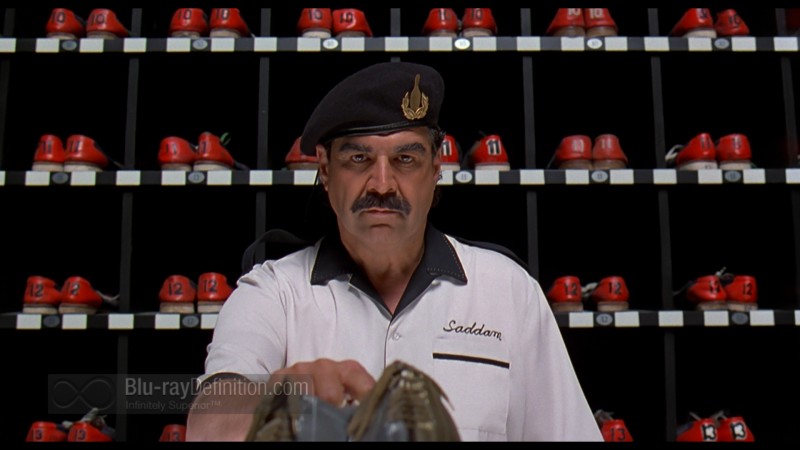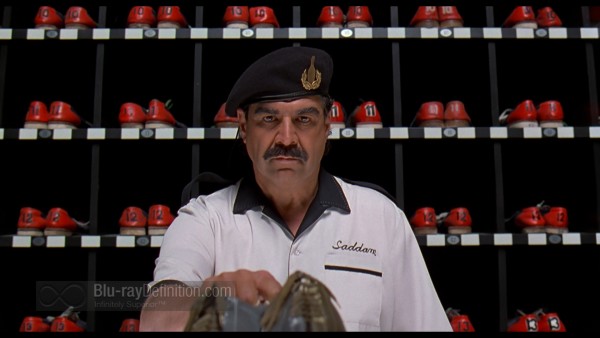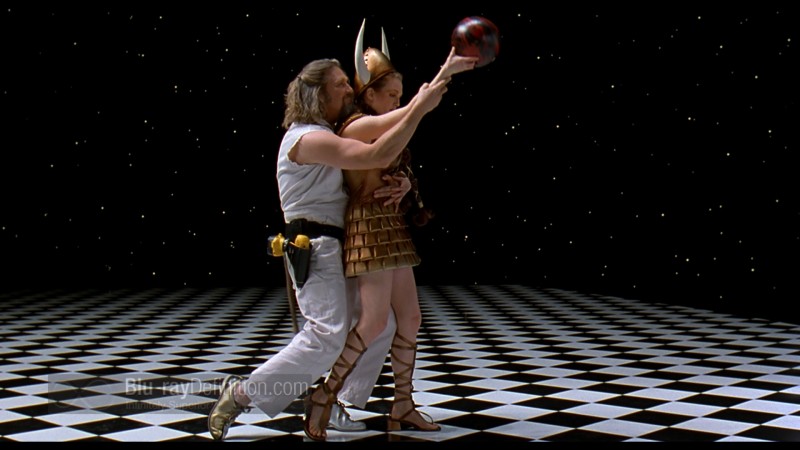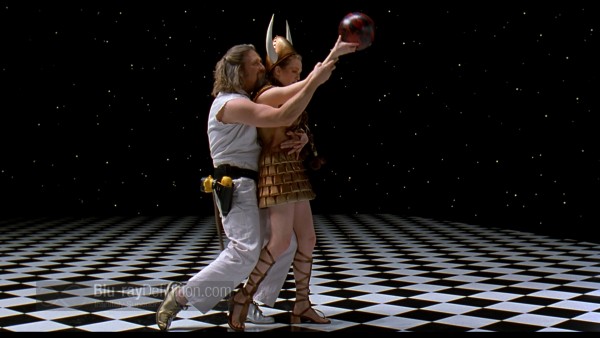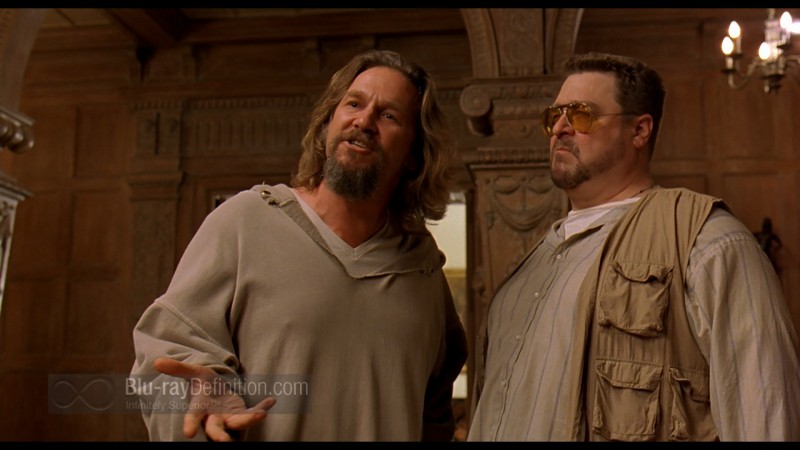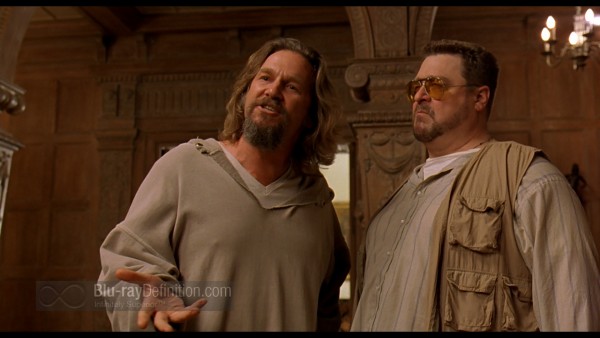 [amazon-product align="right"]B0051GOB26[/amazon-product]
Purchase The Big Lebowski on Blu-ray+Digital at CD Universe
Shop for more Blu-ray titles at Amazon.com