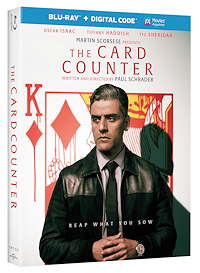 Writer/director Paul Schrader, who has written such classics as Taxi Driver and written and directed more recent, powerhouse dramas like First Reformed, sticks very close to his wheelhouse with The Card Counter, a film starring Oscar Isaac, Tiffany Haddish, and Tye Sheridan. In fact, Schrader sticks so close to familiar territory with this screenplay it can almost be taken as a halfhearted, contemporary update on his powerful screenplay for Taxi Driver, a film directed by Martin Scorsese, who "presents" this film.
Isaac plays loner professional gambler and former serviceman, William Tell, the card counter of the title. As the film opens, Tell gives us a monologue on the low-lives of the casinos, the empty motel rooms, the stench of it all that seems all-too-familiar. This sounds like the voiceover from Travis Bickle that plays over the glorious jazz and mean streets of New York City that opens Taxi Driver. Only, this opening is somehow more clinical, less moving, less uneasy. Tell meets attractive stable runner (a person who gathers a group of high-stakes gamblers and stakes them with other people's money) La Linda (Tiffany Haddish, whose performance is underwhelming against Isaac's flawless loner persona). La Linda wants to convince Tell, whose uncanny skill at counting cards earns him a good living but Tell is disinterested at first. He likes to play around the edges, keep his stakes and winnings low, earn just enough to keep the casino runners from kicking him out. Meanwhile, youngster Cirk (Tye Sheridan) approaches Tell with a plan. Cirk and Tell have a mutual acquaintance from Tell's past in the military and Cirk has a plan to avenge something that happened to his father due to this person, with Tell's help, not knowing that Tell was more involved than he let on.
This story plays out very, very slowly, and Schrader seems to forgo much of the exposition on these characters, providing only some flashback sequences to explain some of the mystery surrounding William Tell and what he may be running from. Schrader shoehorns a romance between Tell and La Linda into the story, which would be fine if one ever got the sense that there was some sort of chemistry between the two, but there isn't any, and we aren't even offered any background on La Linda to understand why she would be drawn to Tell romantically.
So, what we have here is a reworking of Schrader's loner veteran from Taxi Driver into a contemporary loner veteran. Both characters attempt to aid young adults who aren't particularly open to their advice and both characters become, let's say, intrigued, with a beautiful woman, but their idiosyncrasies make it difficult for them to have a stable relationship. The problem with The Card Counter is most of the rough edges are polished and the motivations are unclear at best or scrubbed clean at worst. We also have uneven performances from the cast. Isaac is brilliant, his cast members not so much. Haddish feels like a fish out of water in this drama and Tye Sheridan is not even given much room to stretch dramatically. There is a lot that could have been great in this film, but if you want a great version of this story, go back and watch Taxi Driver or for something more contemporary, watch Schrader's First Reformed.
The Video
The Card Counter was shot on the Arri Alexa LF with Arri Prime DNA lenses in 4.5K and utilizes a 4K digital intermediate for the mastering. The film comes to Blu-ray in an AVC 1080p encodement that is framed at 1.66:1, but a few scenes switch to 1.85:1 and 2.39:1. The picture is what I would call, in a word, flawless, and it seems a shame Universal has not chosen to issue this film on 4K Ultra HD disc. There are many scenes where a 4K with Dolby Vision or HDR10 disc transfer would really bring out the spectacle of the casinos at night, one scene with Oscar Isaac and Tiffany Haddish as they stroll at night surrounded by multi-colored neon lights looks brilliant on this Blu-ray release and would 'pop' even more in HDR. We get really strong depth-of-field in those deep focus shots and even in frames where there is shallow focus, the backgrounds don't seem soft. Detail is crisp, shadows nuanced, and colors natural.
The Audio
The English DTS-HD Master Audio 5.1 mix provided for The Card Counter is subtle, perhaps too subtle. The surround channels carry very subtle atmospheric sound effects, the reverberation of music, very quiet sounds of the casinos, low traffic noise. This is a missed opportunity even if one factors in the artistic intent to stay in keeping with the overall quiet, slow-burn nature of this film. Otherwise, the dialogue is clean and there isn't much to complain about.
The Supplements
There's only one bonus feature included which has an interview with Paul Schrader on the film. Otherwise, only the Movies Anywhere digital code is included.
Movies Anywhere Digital Copy Code
High-Stakes World (1080p; 00:05:13)
The Final Assessment
A reference quality Blu-ray for a movie that had a lot of potential, has great performances and excellent visual style, but never quite rises to the heights it promises.
The Card Counter is out on Blu-ray December 14, 2021 from Universal
---
Rating Certificate: R (for some disturbing violence, graphic nudity, language and brief sexuality)
Studios & Distributors: Focus Features | LB Entertainment | Astrakan Film AB | Bona Film Group | Convergent Media | Convergent Media | Enriched Media Group | HanWay Films | One Two Twenty Entertainment | Redline Entertainment (II) | Universal Pictures Home Entertainment
Director: Paul Schrader
Written By: Paul Schrader
Run Time: 111 Mins.
Street Date: 14 December 2021
Aspect Ratio: 1.66:1 | 1.85:1 (some scenes) | 2.39:1 (some scenes)
Video Format: AVC 1080p
Primary Audio: English DTS-HD MA 5.1
Secondary Audio: Spanish DD 5.1 | Descriptive Video Service
Subtitles: English SDH | Spanish