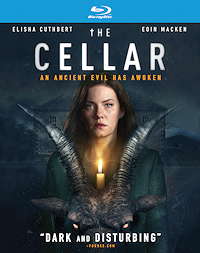 In The Cellar, Elisha Cuthbert (Eat Wheaties!, The Girl Next Door) plays Keira Woods who moves into a new house with her husband Brian (Eoin Macken), teenage daughter Ellie (Abby Fitz) and adolescent son Michael (Michael-David McKernan). Instantly the house seems strange, especially the cellar, which seems to lock Ellie in all on its own. As Keira and Brian are away leaving the kids on their own in the house, Ellie apparently vanishes from the cellar as she is on the phone with her mother. Everyone is convinced that Ellie ran away given her troubled past, but not Keira, Keira won't give up the search for clues and she soon discovers that their house is being controlled by an ancient and powerful malevolent entity.
For the first two acts of this film not much of anything happens and writer/director Brendan Muldowney does his best to infuse the film with the eerie atmosphere of a film like The Exorcist, but it falls flat, relying too much on some mild jump scares and atmospheric music. It's not until the film's denouement and finale do we get some real tension and suspense and a pretty good twist ending despite it being telegraphed. Cuthbert really carries this film and makes it far better than it is with her performance as the determined mom.
The Video
The Cellar hits Blu-ray in a 2.39:1 AVC 1080p encodement from RLJE Films. Detail is solid. There is definitely a digital look to it and shadows don't necessarily have the sort of depth we would like to see, but there is good nuance with little crush.  Some very slight banding can be seen, but this is overall a pleasing looking transfer for an indie horror film.
The Audio
The Cellar gets a somewhat basic but not bad lossless English DTS-HD Master Audio 5.1 mix as the sole audio option. It does a decent job with atmospherics for a horror film like this, but it can also tend to be a bit on the dry side staying in a narrow dynamic range, but there are some scenes, especially in the film's final act where things open up a bit and lows come more into play as well.
The Supplements
The audio commentary and short film will be the strongest bonus features you'll want to check out on this disc.
Director & Producer Commentary
Interviews with The Cellar Cast & Crew (1080p; 00:05:09)
The Cellar VFX Before & After (1080p; 00:02:50)
"The Ten Steps" Short Film (1.78:1; 1080p; 00:10:31)
"The Ten Steps" Director Commentary
The Final Assessment
A tepid horror at best that takes most of the film to find its footing. When it does get rolling, it becomes truly horrifying even given some plot holes and telegraphing of major twists. Elisha Cuthbert saves the film with her brilliant dramatic performance as the determined mom, towering over the rest of the cast. Maybe rent this one first or slip it into a horror marathon during the Halloween season.
The Cellar is out on Blu-ray and DVD June 21, 2022 from RLJE Films

---
Rating Certificate: NR
Studios & Distributors: Fís Éireann/Screen | Epic Pictures Group | Savage Productions | Hail Mary Pictures | BNP Paribas Fortis Film Finance | BCP Asset Management | Wrong Men North | Wallimage | VOO | BE TV | WRAP Fund | The Creative Europe Programme of the European Union | RLJE Films | Shudder
Director: Brendan Muldowney
Written By: Brendan Muldowney
Run Time: 95 Mins.
Street Date: 21 June 2022
Aspect Ratio: 2.39:1
Video Format: AVC 1080p
Primary Audio: English DTS-HD MA 5.1
Subtitles: English SDH | French | Spanish