–
The Film
Based on the book of the same name by David Ebershoff, The Danish Girl tells the real life story of Einar Wegener (Redmayne) who never felt right as a man so he decides to transition into a woman, being one of the first known recipients ever of sex reassignment surgery. It was with the support of his wife and fellow painter Gerde Wegener (Alicia Vikander) that gave him the courage and hope that helped him through the transition to live the rest of his life as Lili Elbe. But the film portrays Einar's transition and Gerde's acceptance as a dull one, there are no real revelations, nothing exciting about the story, and even Redmayne's performance is a bit under the radar. It's Vikander who steals the movie right from under Redmayne's corset.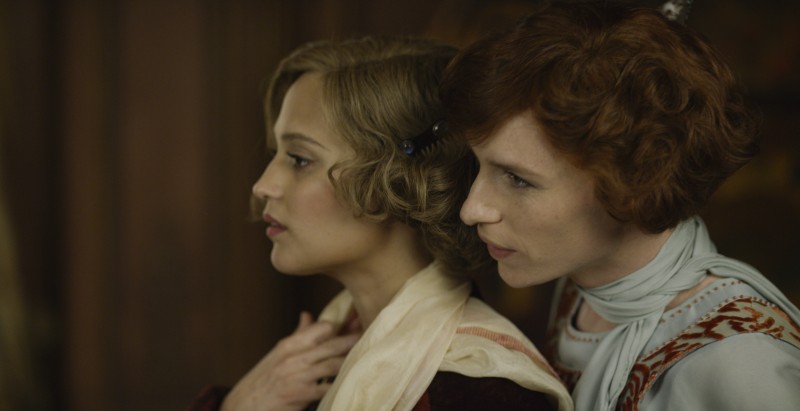 The movie tells us that Einar's interest in all things Transgender suddenly happened when Gerde asked him to fill in for a female model who didn't show up for one of her painting sessions. So she asks him to put on a dress so that she can finish the painting. He likes the way it feels, but more importantly he likes the way he looks in it, and this suddenly (a bit too suddenly) awakens Einar's inner woman. This takes place in 1926 while the couple was living in the liberal land of Copenhagen, though such things were not done, nor not even discussed back then. But with Gerde's full support, and help, Einar starts dressing up as a woman outside of their house. Things get a bit more complicated when another man, Henrick (Ben Whishaw) takes an interest in Einar, who by this time has started calling himself Lili.
Gerde is asked to go to Paris so that she can work for a local art dealer, and while her career flourishes, their marriage slowly dissolves. And a childhood friend of Einar's/Lili's, Hans (Matthias Schoenaerts) shows up and forms a complex triangle with the couple. And it's not long before Einar goes ahead with the surgery that will take away his manhood.
The Danish Girl is a bit dull. It's not a sweeping European love story where love conquers all in the midst of one man's awakening to his gender identity and one woman's loyalty to her spouse regardless. Hooper's direction can't bring Lucinda Coxon's boring script to life. Not even the actors can accomplish this. Redmayne is good as Einar/Lili, yet there were times when I thought I was still watching him play Stephen Hawking. It's his eyes, he blinks his eyes quite a lot in this film, just like the way he did in The Theory of Everything, playing Hawking with Lou Gehrig's disease. However, it's pretty much Vikander's movie. She's beautiful and emotional and accepting when the times call for it — it's just as good a performance as Felicity Jones was as Hawking's wife in The Theory of Everything. Vikander's star is on a meteoric rise, having appeared in three films this past year (Ex Machina, The Man from U.N.C.L.E. and Burnt). She's currently filming the fifth Bourne Identity film with Matt Damon and Tommy Lee Jones and has two other features coming out in 2016. I was very disappointed that The Danish Girl was not as good as I had hoped, perhaps it might be better to read the actual book, and skip the movie.