Studios have dug deep and invested real care to release some best-ever editions of cult films, lost gems, brand-new TV programs and even recent blockbusters. Music labels have joined the celebration as well, as you'll see from the CDs and vinyl on this list. Join us as we explore sets devoted to single movies, franchises, complete series… and the greatest album of all time.
The Man Who Fell to Earth (Lionsgate)
and
Limited Edition 2 LP/2 CD Deluxe Soundtrack (Universal Music)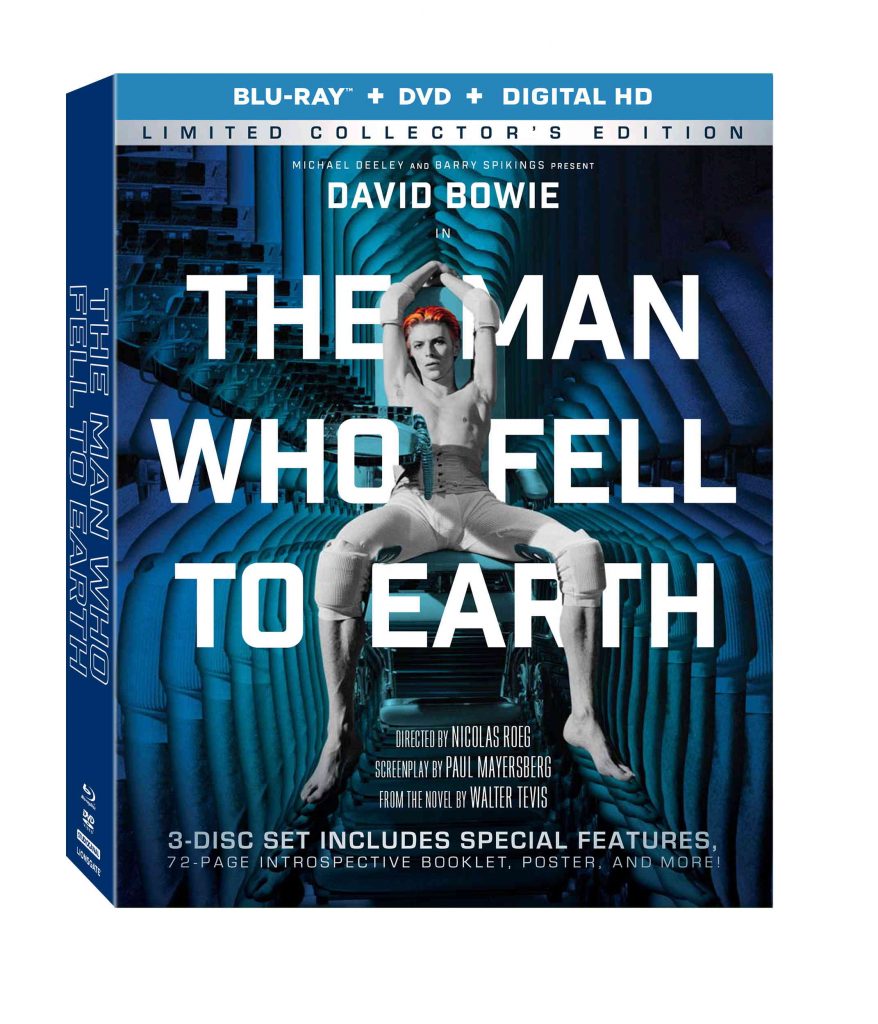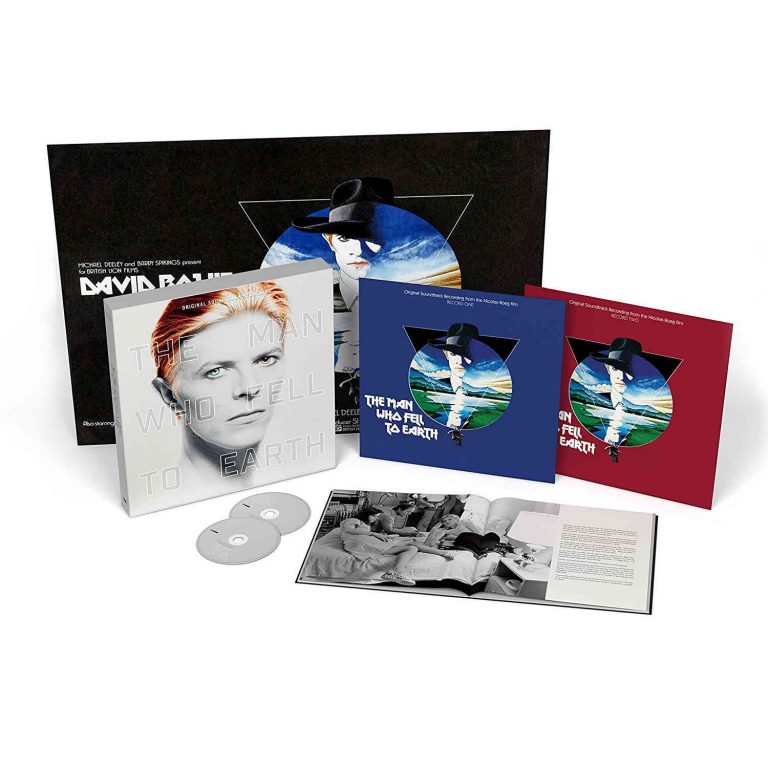 While it might not have been the ideal movie choice for eleven-year-old me way back in 1975, The Man Who Fell to Earth is nonetheless an engaging arthouse combo of science fiction and contemporary, offbeat romance from the inventive Nicolas Roeg. The film benefits from a 4K restoration (red-headed young David Bowie was admirably unafraid to look freaky), presented with extras on a single Blu-ray and then again on a pair of DVDs. (A Digital Copy is also provided.) The bonus content is primarily a collection of new and old interviews, most of them definitely worth a look. Lionsgate has added some first-release-only goodies as well, including a companion booklet, a reproduction of the vintage press book, a few interesting little art cards and even a miniature movie poster, neatly folded up.
The British Blu-ray set included a music CD that is not supplied here, but fortunately (and independently) Universal Music has gone ahead and finally released for the very first time the full soundtrack album on two-platter vinyl (19 tracks)—as it would have been issued back then—as well as a double CD (25 tracks) and in a limited edition dual-format deluxe box that includes both. Inside that box is also a gorgeous, coffeetable-ready 12"x12" hardcover book with never-before-seen on-set photos and text by original film editor Graeme Clifford. The story behind this mind-bending, eclectic mix is fascinating in its own right: After an aborted attempt by Bowie to write the score himself, Stomu Yamash'ta and "Papa John" Phillips were tapped instead, to better suit the director's vision. There's also buzz of political intrigue surrounding the missed opportunity for a release at the time of the film's debut, in addition to the mysterious disappearance and recent discovery of the master tapes.
Star Trek: Enterprise The Complete Series – Blu-ray
Star Trek: Voyager The Complete Series – DVD (CBS/Paramount)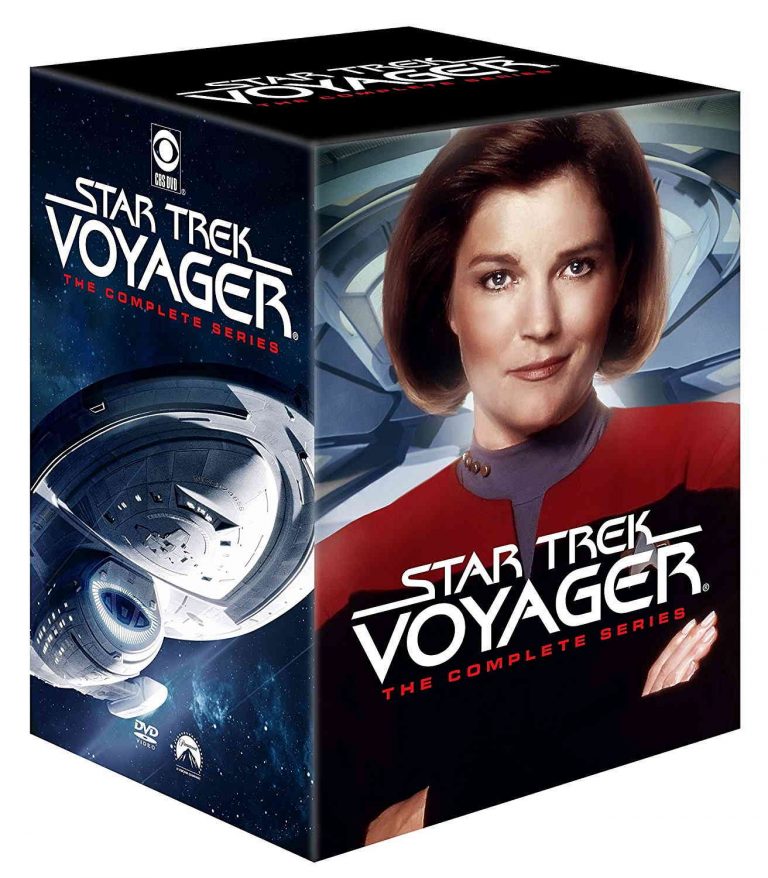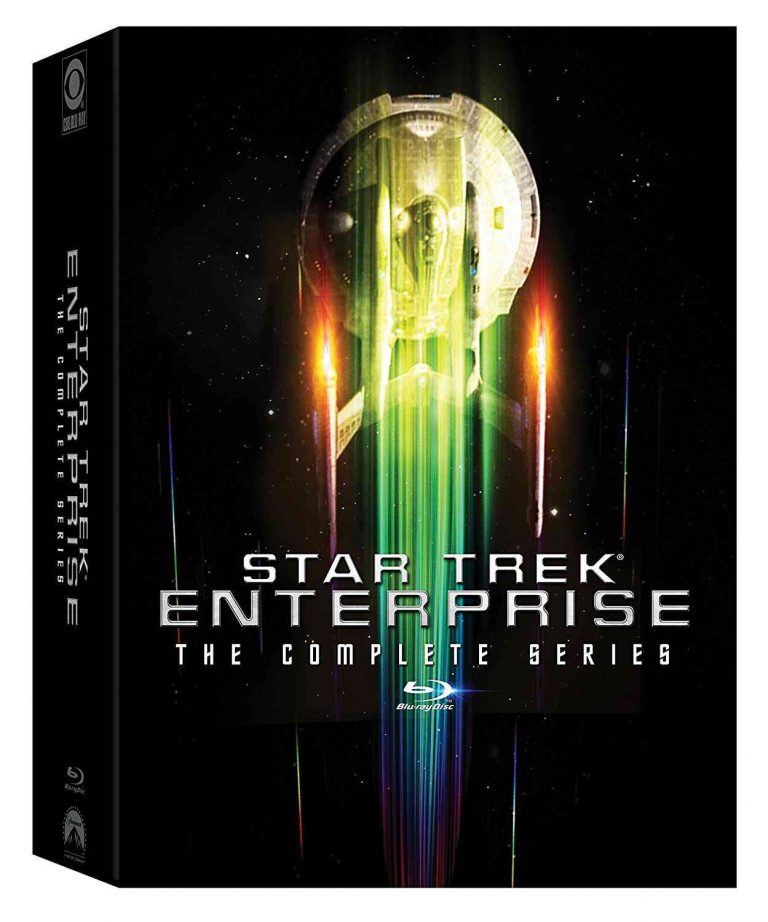 CBS/Paramount continues its reissues of their Star Trek TV properties as (slightly) slimmer, higher-value Complete Series sets, now including all four seasons of Enterprise (2001-2005, on 24 Blu-ray discs) and seven of Voyager (1995-2001, on 47 DVDs). While I was not much of a fan of the Lost in Space redux at the heart of Voyager, the characters were fairly intriguing, especially the small screen's only female starship captain at the time, Janeway (the amazing Kate Mulgrew), and of course reclaimed Borg Seven of Nine (Jeri Ryan) who arrived at the start of Season Four. Enterprise posed an interesting challenge as the show that's set earliest in the chronology of the saga but representing what was then the newest production technology and esthetic sensibilities. They largely struck that balance, as well as infusing the show with some welcome personality.
I recently learned that The Next Generation, Deep Space Nine and Voyager only existed in their finished forms as old-school NTSC (standard-def) video. But while Next Gen (incredibly the most popular Trek series of them all) warranted the costly upgrade for Blu-ray, the others are considered too niche. Enterprise, being the newest, saw high enough production values that it could skate onto Blu-ray as well, hence the two different formats of the sets covered here. Because all of the discs are simply repackaged, all bonus content from the single-season sets is included.
Penny Dreadful The Complete Series (CBS/Paramount)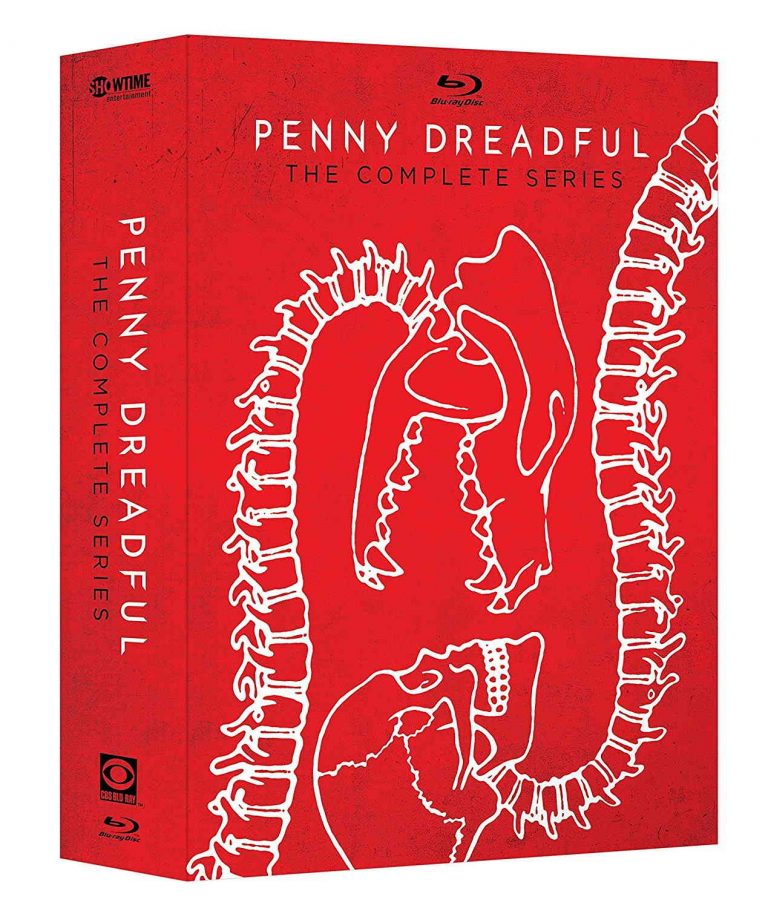 The combination of classic horror fiction characters (Dracula, Frankenstein, Dr. Jekyll, and even Dorian Gray) might remind some viewers of The League of Extraordinary Gentleman, or even Van Helsing, but soon enough Penny Dreadful cuts its own swath. A terrific and surprising cast brings to life these protagonists and more, in service of what is essentially a single grand narrative that plays out across three seasons, fraught with intrigue, twists, danger, violence, creepiness and general weirdness. The peculiar title references an unflattering nickname given to the inexpensive serial pulp fiction that inspired the show, popular in Victorian-era England when/where this tale is set.
While the 16:9 HD video is a treat, the audio is downright intriguing as it jumps from DTS-HD Master Audio 5.1 on the first two seasons to Dolby Atmos with a TrueHD 7.1 core for the final season, and hats off to the mixers for really running with it. Creator John Logan brought Penny to its organic end rather than lumber on indefinitely, which was the right choice artistically but we can only wonder how disappointed the ardent fans must have been, as the long list of brief featurettes can be dreadfully gushy at times.
Black Society Trilogy
Dead or Alive Trilogy (both Arrow)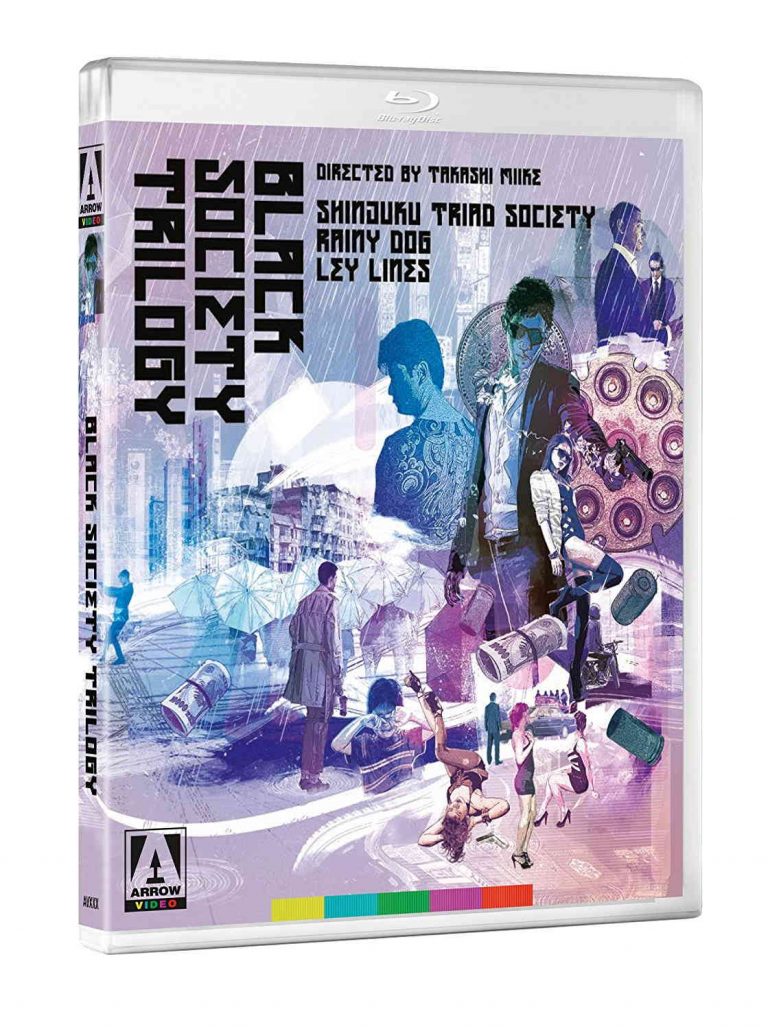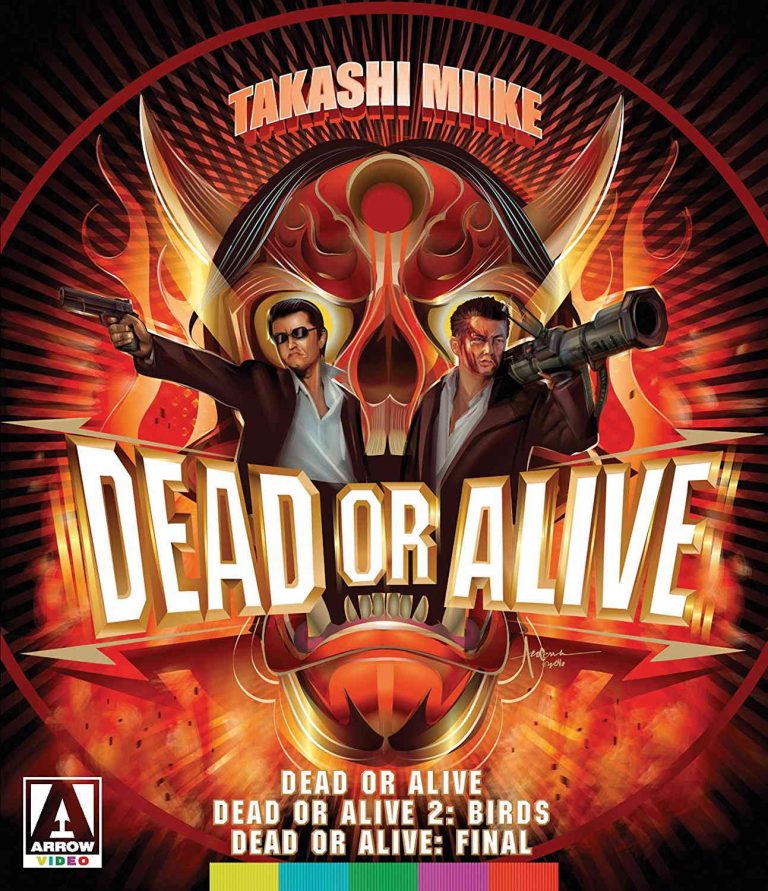 Much like Sergio Leone's "Man with No Name" Trilogy is connected by theme and tone (okay, and the presence of gun-toting Clint), so are director Takashi Miike's intense yet surprisingly nuanced Japanese crime dramas Shinjuku Triad Society, Rainy Dog and Ley Lines. Each released two years apart from 1995 to 1999, these films catch the acclaimed filmmaker at a pivotal span in his career, transitioning from direct-to-video to the "major league," as it were.
From 1999 to 2002, Riki Takeuchi and Shô Aikawa starred in Dead or Alive, Dead or Alive 2: Tôbôsha (Birds) and Dead or Alive: Final, albeit as different characters each time. Again, the second and third installments are not really direct "sequels" rather a chance for the outside-the-box Miike to advance his craft and shift from a fairly straightforward yakuza tale to some unusual comedic elements to a post-apocalyptic world and androids, indulging in the more extreme violence and sexual perversions for which he is better-known.
All but one are presented in the original Japanese (Rainy Dog is in Chinese, due to its setting), all in Linear PCM stereo paired with English subtitles. New audio commentaries are supplied by Miike biographer Tom Mes on all three Society films, as well as on the original Dead or Alive. A new interview with Sho adorns each set, in addition to a new Miike interview on Black Society's second disc.
Harry Potter Years 5-7 in 4K (Warner)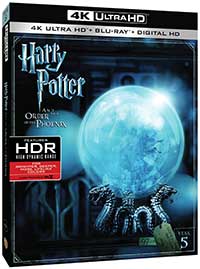 Okay, okay, these are not a pre-packaged "set" per se, rather we can assemble our own with the purchase of the Ultra HD 4K Blu-rays of Harry Potter and the Deathly Hallows: Part 2, Harry Potter and the Deathly Hallows: Part 1, Harry Potter and the Half-Blood Prince and Harry Potter and the Order of the Phoenix. Somewhat curiously as you might have noticed (the Potterverse is chock full of curiosities, isn't it?), the back half of Harry's epic saga is dropping in UHD before the first four movies, and a quite sensible rumor has it that these fifth-thru-eighth installments hit this spring because director David Yates was already on-hand to oversee the video transfer of Fantastic Beasts and Where to Find Them. Expediency aside, the real story here is how Warner has simply knocked it out of the park with these 4K remasters of beloved catalog titles. This exquisitely conceived and realized world with all of its shadowy magic makes outstanding use of HDR in particular. Too often, studios reissue movies on a new format (think DVD, Blu-ray) with lackluster masters, but the color, clarity and nuance on display here is an inspiring glimpse of what's possible, and a flung gauntlet for industry peers to answer. Audio for all has been happily upgraded to DTS:X as well. Included with each movie is the current Blu-ray disc—HD special features and all—plus a digital copy.
Not surprisingly, Years 1-4 are on the way, promised for "later in 2017."
Donnie Darko Limited Edition (Arrow)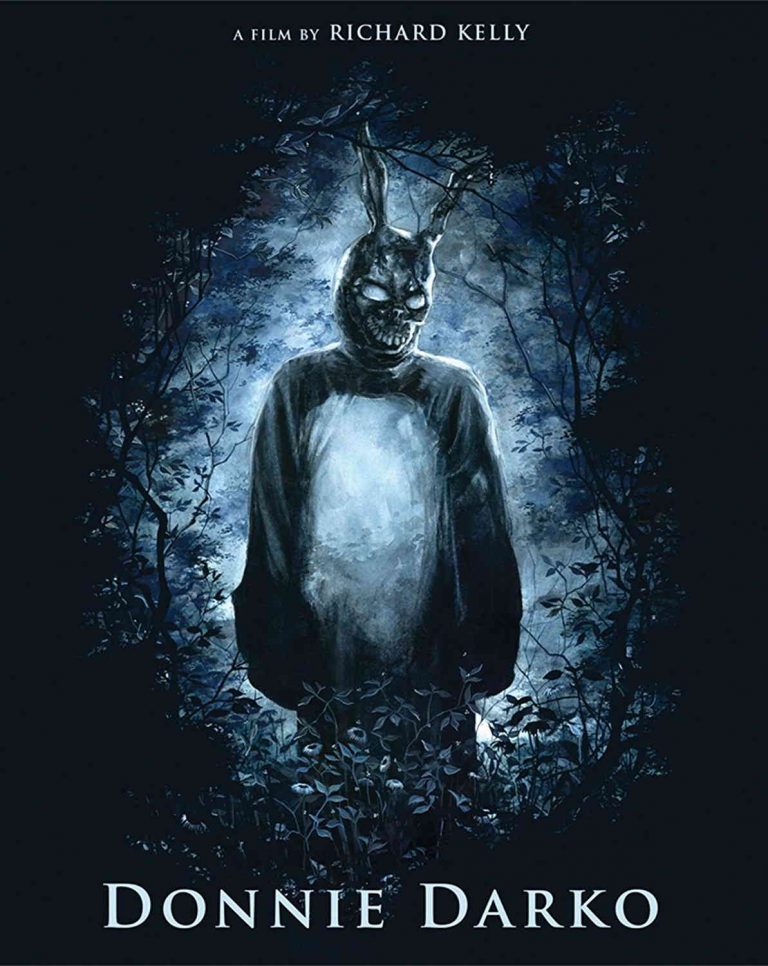 This bizarre indie confection involves teen angst, cool parents, a giant rabbit with uncanny knowledge, and the perception of space-time itself… in addition to a mountain of stuff I can't even wrap my head around. As the title suggests, the movie is indeed dramatically heavy. The plot is complicated and hard to summarize, which might explain the big studios' reluctance to back it for a major release in 2001. Yet writer/director Richard Kelly's magnum opus attracted a wide array of serious talent (both Gyllenhaals, Patrick Swayze, Drew Barrymore, Katharine Ross) and now legions of fans. It was revisited in a 2004 extended Director's Cut which clarifies some of the more ambiguous points in the story, pleasing some viewers while irritating others.
Exclusive new 4K remasters of both versions were supervised and approved by Kelly and cinematographer Steven Poster, upping the ante from Fox's somewhat lackluster 2009 presentation. They are offered on both Blu-ray and DVD in this outstanding limited edition. A new "making of" is supplied as well as a treasure trove of archival bonus content from previous home entertainment releases, including three different audio commentary options. There are also postcards, a print of the newly commissioned artwork as well as a 94-page hardbound companion book with introduction by none other than Donnie himself, Jake Gyllenhaal.
Speed Racer The Complete Series (Funimation)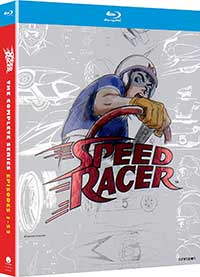 I had hoped to say more about this collection of the classic 52 episodes, a staple of my formative weekday afternoons. Alas, this five-disc set contains only the American edits, English mono audio and zero extras, (Looks like I will be holding onto my 2008 DVD collection, the one with the bonus disc and the nifty Mach 5-shaped package, a while longer.) Certainly a good value though, and glad to have them in clean, colorful HD.
House: Two Stories (Arrow)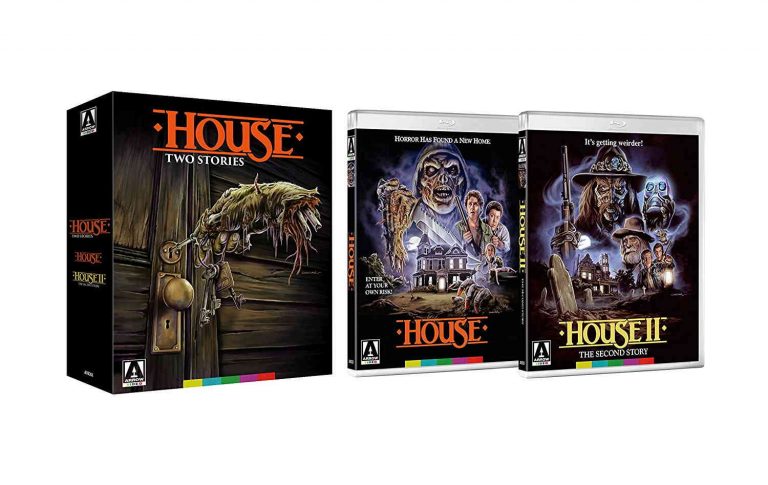 The tried and true haunted house genre saw a somewhat successful blend of laughs and scares in the original, minimally titled House. The film also brought together some popular actors of the era—William Katt, Kay Lenz and George Wendt—as well as some solid talent behind the camera, namely director Steve Miner, producer Sean Cunningham and co-writer Fred Dekker. Despite a glut of modestly budgeted horror in the mid-to-late '80s, the House team found a sufficient audience to merit the follow-up House II: The Second Story (still one of my favorite sequel names), noteworthy for a big-screen appearance of a young Bill Maher and a bit of meta-casting with Wendt's Cheers alum John Ratzenberger.
Arrow seems to specialize in seeing greatness where other might miss it, producing an unexpectedly lavish box for the first two films in this series, featuring new 2K restorations for each movie, director/writer/producer commentaries, new documentaries, still galleries and more. Oh, and the 148-page hardcover companion book inside the slipcase covers all four films in loving detail.
Purchase House: Two Stories Limited Edition (Amazon.com)
Drive-In Triple Feature (Warner Archive)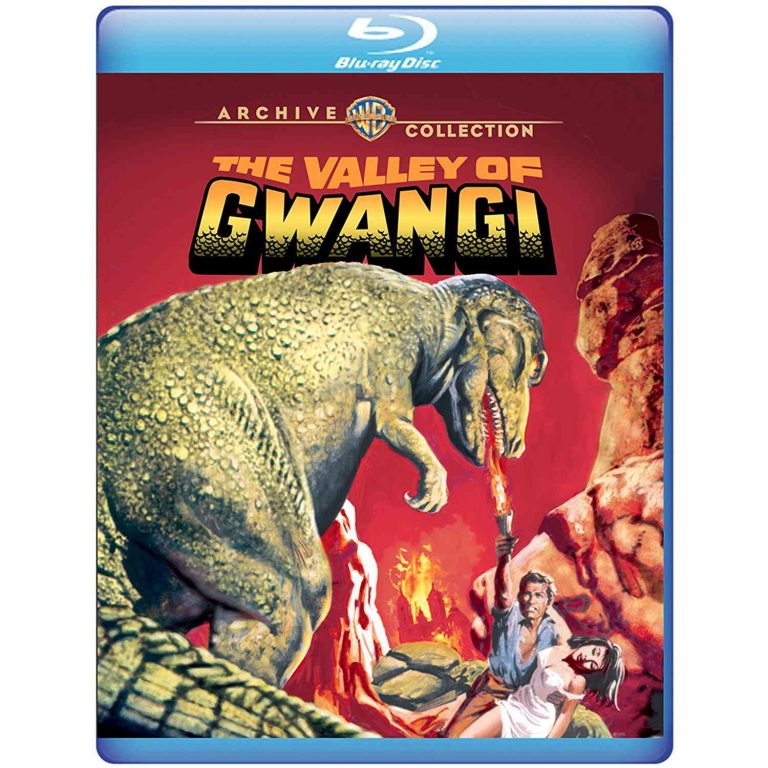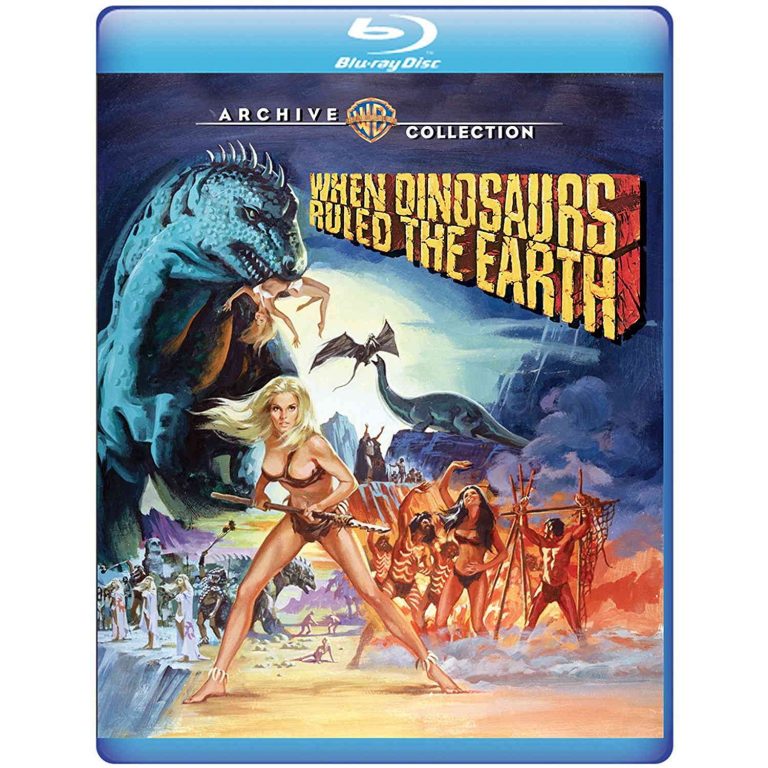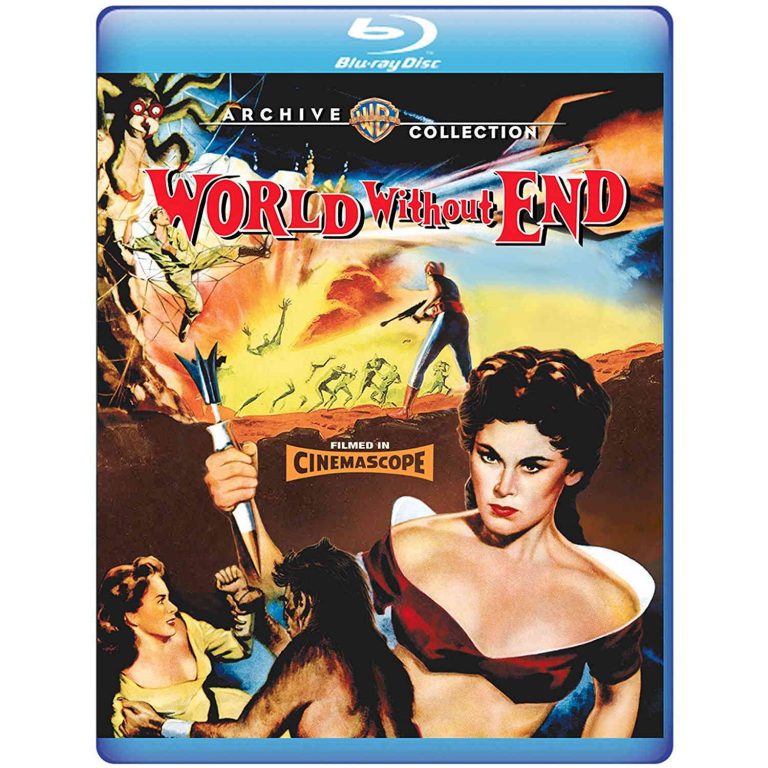 Again, this is not an official "collection" from the studio, but a thematic trilogy of sorts all released separately on Blu-ray within a few weeks of one another, and all with the brand-new 1080p remasters for which Warner Archive has been rightly earning kudos from fans of deep-catalog titles. The multi-talented special effects artist Jim Danforth left his mark on the Hammer classic When Dinosaurs Ruled the Earth , with its scantily fur-clad humans fighting to survive prehistoric monsters, and each other. Be warned, this is not the Saturday afternoon syndicated version, rather the international cut with a bit of nudity, featuring 1968 Playmate of the Year Victoria Vetri. Stop-motion animation requires photographing and re-photographing the action, which introduces layers of dirt and film grain that can compromise the overall fidelity of the of the image, so it's not always a pretty film but great care has been taken to ease it into the high-def era.
The legendary stop-motion master Ray Harryhausen took us to The Valley of Gwangi, giving audiences the novel idea of combining cowboys and dinosaurs… which I'll take over Cowboys and Aliens any day! I'd say that this is probably the best-looking disc of this trio, also supplemented with two brief featurettes. And World without End is just good old-fashioned schlock, perhaps an overly ambitious CinemaScope production from "B-plus" production company Allied Artists Pictures. Rod Taylor shows his early heroic side in this futuristic adventure loosely and unofficially based upon H.G. Wells' The Time Machine. Buy the big box of microwave popcorn and clear your schedule.
The Before Trilogy (Criterion Collection)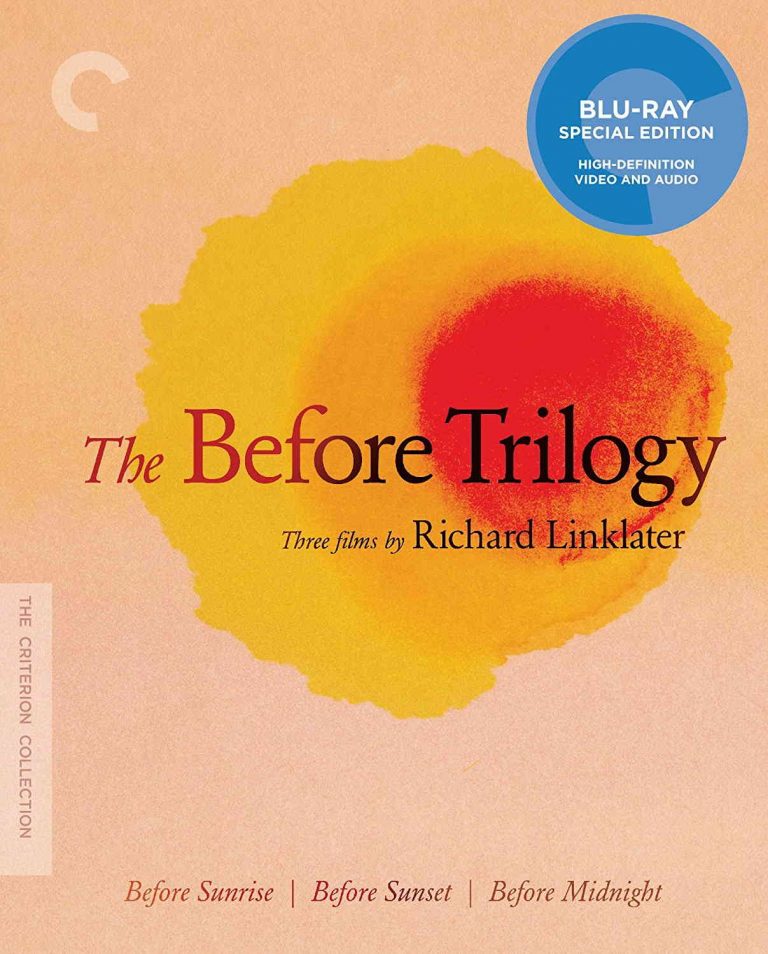 Clearly filmmaker Richard Linklater is in this business for the long haul, evidenced both by singular passion projects that take several years to complete (Boyhood) and this series of films—Before Sunrise (1995), Before Sunset (2004) and Before Midnight (2013)—that follows an aspirational yet relatable couple across nearly two decades. It appears to be a labor of love for him, along with frequent collaborator Ethan Hawke and co-star Julie Delpy, all of whom would share writing credit as well (with Kim Krizan) from Sunset onward. Taken together, the trilogy shows the actors as well as the characters aging and maturing, catching them at different stages with different priorities, for a level of honesty that no single movie with even the best old-age makeup could match. Spacing the movies nine years apart affords true gravitas plus very human subtleties beyond what anyone could have written without the benefit of time and life experience.
New video masters were created for the first two films, with an authentic 2.0 soundtrack on Sunrise and 5.1 on the others. Bonus-wise, there are new documentaries and new on-camera explorations, with much involvement from Linklater, Hawke and Delpy, whose archival Midnight commentary is also ported here.
Purchase The Before Trilogy Blu-ray (Amazon.com)
Planet Earth II 4K (BBC)
Sure to be a reference disc for years to come, Planet Earth II continues Sir David Attenborough's quest to document the beauty and wonder of the world around us. It includes such a variety of achievements, so many amazing firsts, as different teams were dispatched around the globe, sometimes seizing the opportunity to capture sights that weren't even on the menu. From the ever-elusive snow leopards (now less so) to a brave yet oh-so-adorable "penguin commute," abundant spectacles await. Even Terra-hating climate change-deniers cannot help but be awestruck.
The series was painstakingly created specifically with 4K/HDR exhibition in mind, and the precision of the format is a boon to both the majestic long shots and unglamorous closeups, further enriched by a wide color gamut that imbues the desired "you are there" mood of the best nature programs. Surprisingly for a work of non-fiction, the sound design is quite engrossing as well. A high-definition Blu-ray disc with a roughly one-hour behind-the-scenes program is bundled inside as well.
Blake Edwards' The Pink Panther Film Collection Starring Peter Sellers (Shout! Factory/Shout Select)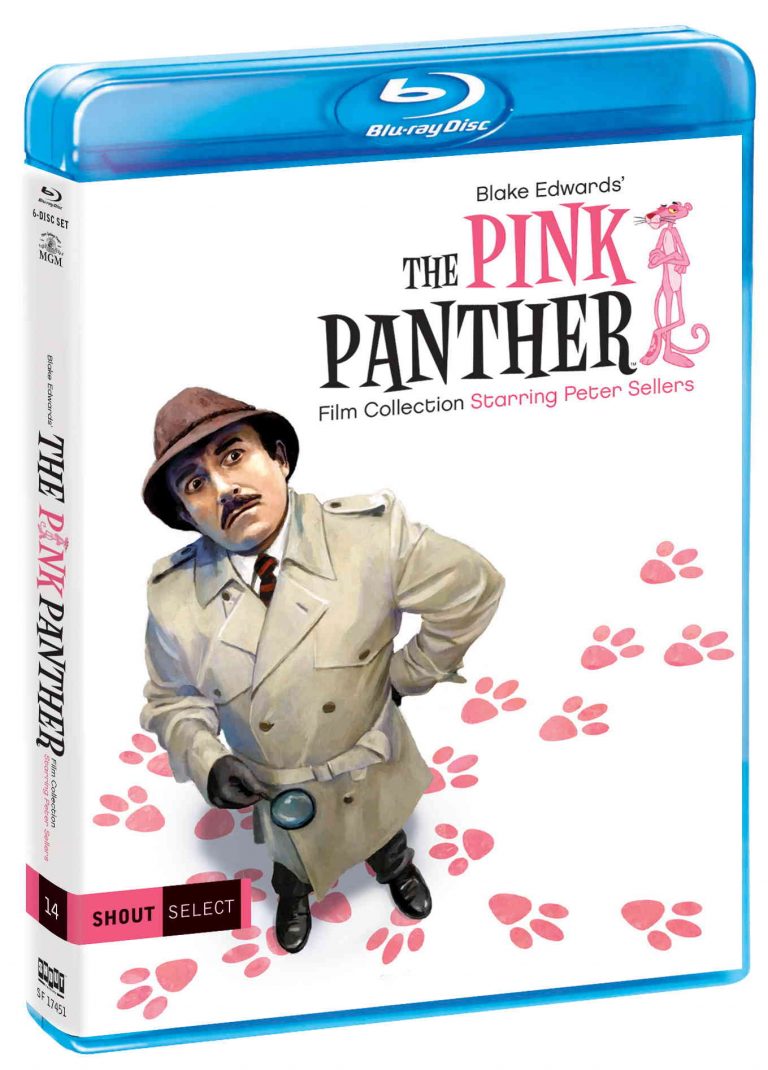 A mouthful certainly but worth asking for, this six-disc Blu-ray set marks the first time that all the incomparable Peter Sellers' outings as Inspector Clouseau are together in a single collection. (A sticky rights situation with The Return of the Pink Panther—the most caper-y of the bunch and one of my all-time favorites—always seemed to set it apart from the previous MGM/UA releases.) It all began with a stolen diamond in The Pink Panther (1964), then A Shot in the Dark (1964), Return (1975), The Pink Panther Strikes Again (1976) and Revenge of the Pink Panther (1978), plus the bizarre hodgepodge of footage known as Trail of the Pink Panther (1982, more than two years after Sellers' passing). Most have never been available on Blu-ray before, while two—A Shot in the Dark and Strikes Again—received new 4K scans of their interpositives for this occasion, and the upgrade shows.
Sprinkled across the sextet of discs are new interviews with co-stars Claudia Cardinale, Catherine Schell and Lesley-Anne Down (triple sigh…) among others, plus still galleries for each title and a total of five new expert audio commentaries. Vintage "making of" shorts are supplied as well as ported DVD featurettes and an archival commentary on the original Pink Panther by the man himself, Mr. Blake Edwards.
Sgt. Pepper's Lonely Hearts Club Band Special Collector's Anniversary Edition (Universal Music)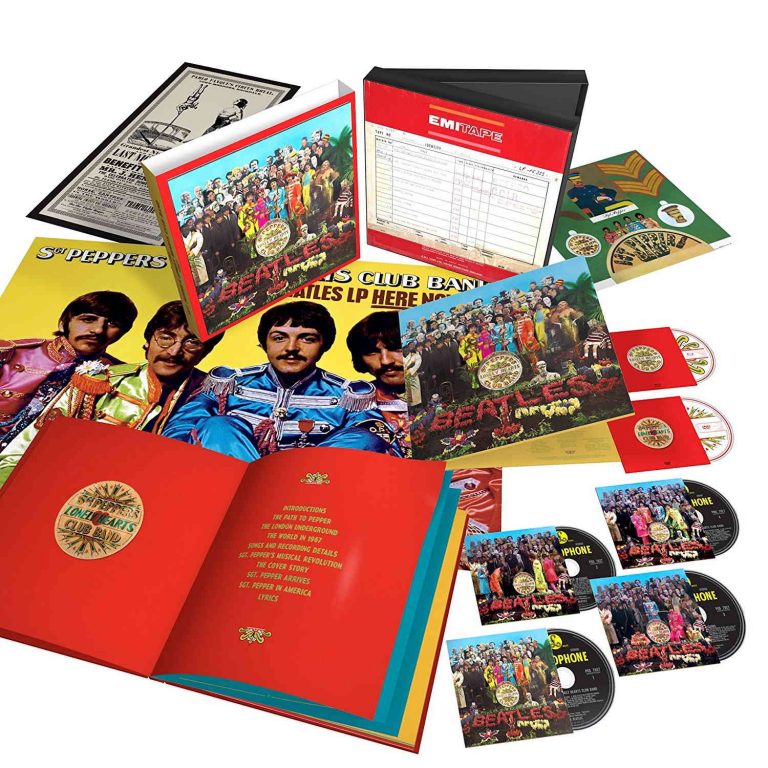 Through the kind indulgence of TheaterByte editor Brandon DuHamel, I've learned the thrill and enjoyment of multi-disc boxed sets dedicated to a single seminal album. But what if the album in question is (debatably) the most cherished and influential of all time? We now know the answer because Universal Music's much-touted golden anniversary Sgt. Pepper's Lonely Hearts Club Band is here, and it's every byte as spectacular as we could hope for. This super-deluxe six-disc set contains four CDs, a DVD and a Blu-ray (as of press time, this box is the only way to get the Blu-ray), highlighted by the phenomenal new stereo mix of the classic album by Giles Martin. With the Blu-ray's new 96kHz/24-bit Dolby True HD 5.1, DTS-HD Master Audio 5.1 plus Linear PCM stereo remixes, we are offered a new appreciation made possible by the latest technological innovation both in its creation and playback. It's faithful, and certainly respectful, but with a newfound depth and clarity that creeps up on the listener.
The Beatles' preferred mono mix is also here on compact disc, along with two entire CDs of outtakes—alternate attempts and precious chatter from the boys—many of them never before heard, each captivating in its own way. Music videos plus a restored presentation of the 1992 documentary "The Making of Sgt. Pepper" are included in both standard and high definition. The packaging impresses too, a hefty box capped by that iconic cover artwork, now as a very '60s 3D lenticular interpretation. Inside are two fab posters, a reproduction of the original cardboard cutouts, plus a sumptuous book with a new introduction by Sir Paul McCartney.
[envira-album id="101684″]