–
The Films
[Rating:4.5/5]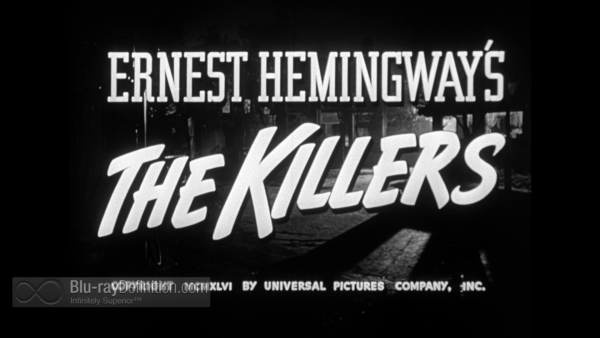 The Killers (1946), based on the short story by Ernest Hemingway, was first written and published in 1927. The first film adaptation was from director Robert Siodmak and starred Burt Lancaster and Ava Gardner. This also marked Lancaster's feature film debut. The man was built like a tank and stood like statue. Ava was as sultry as ever and played it for all it was worth. The movie starts off with a pair of hitmen visiting a small town to handle some business, and by business, I mean that they're there to kill someone.
I mentioned Burt Lancaster being in the film, and he is, and he plays Ole "Swede" Anderson. A washed up former boxer that got in way over his head with booze, dames, and money. The tale is quite enveloping as it quietly navigates through a colorful cast of characters before coming to a devastating conclusion. The irony in this version of The Killers is that the killers themselves are not even the main part of the film. They have a major part to play in the beginning, setting up the story, before disappearing, and coming back towards the end. I would say that some of the more subdued charters are the ones that have a bigger part to play in story. There are a couple of red herrings thrown in for good measure, too.
Fast-forward 18 years to 1964 and the studios wanted to remake the film as long as it did not resemble that plot. Don Siegel (Dirty Harry) was brought in to craft this new version for television that would star Lee Marvin and Clu Gulager as the hitmen, with John Cassavetes in the "Swede" role. Yes, the names and storyline have all been changes, so as to not resemble the 1946 version.
I mentioned that Lee Marvin starred in this version of the film, so that weans that subtly would be thrown out the window Marvin an Gulager tear it up all over the country looking for their target and to finally come to a resolution. What they didn't count on was femme fatale Angie Dickinson and former President of the United States of America Ronald Reagan getting involved in the twisted tale of betrayal, money, booze, crime, women, and money. It's always about money isn't it.
The 1964 version of The Killers does a great job with the resources allotted – it was originally going to be the first made-for-television movie but was deemed to violent for television audiences. It was action packed and dramatic and from what I was reading and from what Gulager said in the special features — Ronald Reagan HATED the film and his role in it. It would be his final feature film role before he rounded out his career with television roles then moving into politics thereafter.
The Criterion Collection has done an outstanding job in gathering both of these classics into one package. Keep reading to see how the technical specifications stack up along with the special features.

Video Quality
[Rating:4.5/5]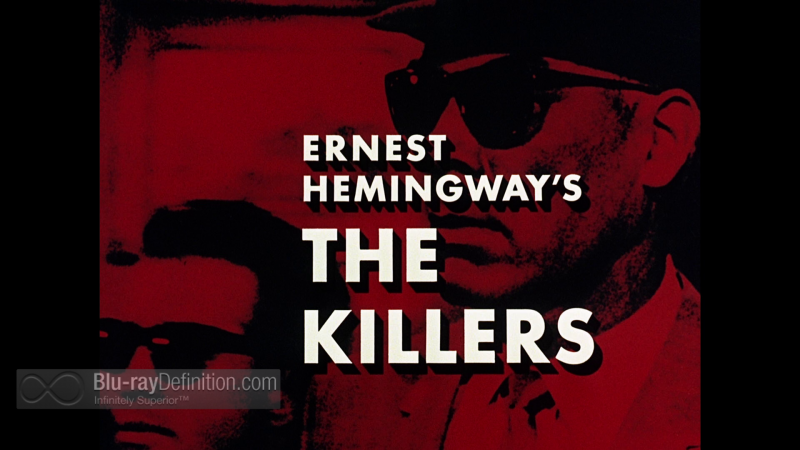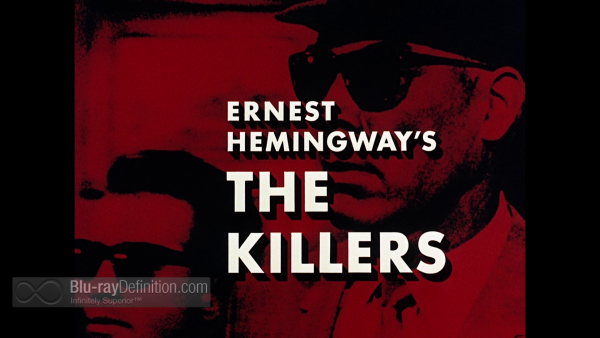 The Killers (1946) is presented in 1.33:1. It's the epitome of a great black and white film noir. The grain levels are pristine, as are the contrast and sharpness levels. I did not notice any intrusive artifacts, dirt, debris, hairs, etc. Criterion really gave this Blu-ray release some major TLC. Flesh tones look natural and have texture – DNR was not used to just blanket the film canvas at all. No one looked waxy whatsoever. The gray scale also looked great and I did not see any crush or compression creep in. Not bad for a 70-year old flick!
The Killers (1964) looks like a watercolor or pastel painting come to life. It was made in the mid-60s, but has a very 1950s color palette going for it. The colors are big, bold, and extremely vivid, without going rainbow-brite on us. Textures and pores are very revealing especially in Lee Marvin's scowl, which is a testament to the transfer. The man has a very detailed face. The film is also presented in 1.33:1 and looks great for a 50-year old film. Grain is intact and contrast and sharpness levels hold on strong even during scenes that use some very obvious rear projection. This film transfer transcends all of that.

Audio Quality
[Rating:4.5/5]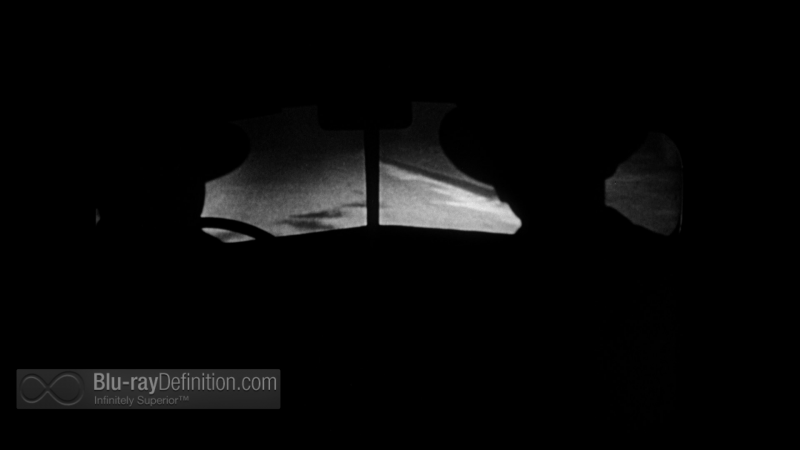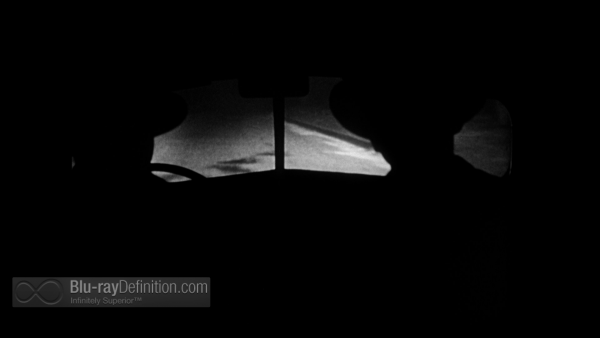 The Killers (1946) is presented in LPCM 1.0. Fear not, this 1.0 soundtrack handles dialogue, action, and ambience extremely well. The center channel never felt like it was too crammed with data. There were no audible clips, hisses, or echoes during playback. It's not the most action packed film in this genre but when things got intense the 1.0 change did its duty without complaints and without fail.
The Killers (1964) is also presented in LPCM 1.0 and like its counterpart sounds equally as excellent even if the Don Siegel version has more traditional action. The scope of the film is larger and better traveled and the soundtrack takes advantage of those things without sacrificing quality. Dialogue, music, and effects all came through nicely without having that boxed in limited range I'm used to hearing on weak 1.0 mixes. Granted, consider the source.

Supplemental Materials
[Rating:3.5/5]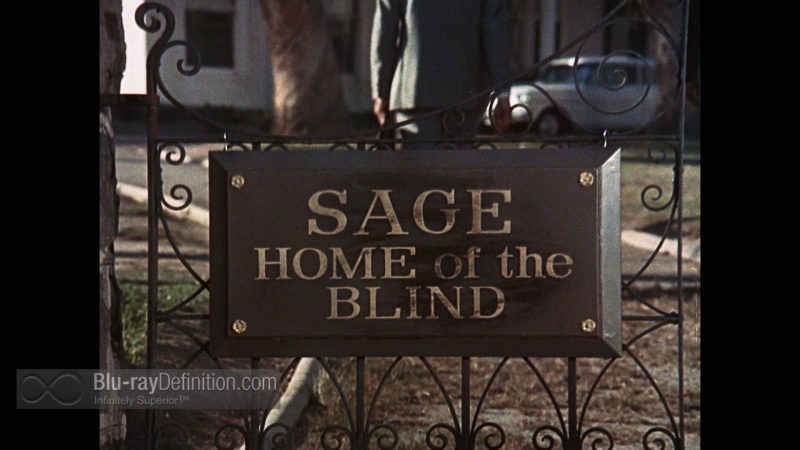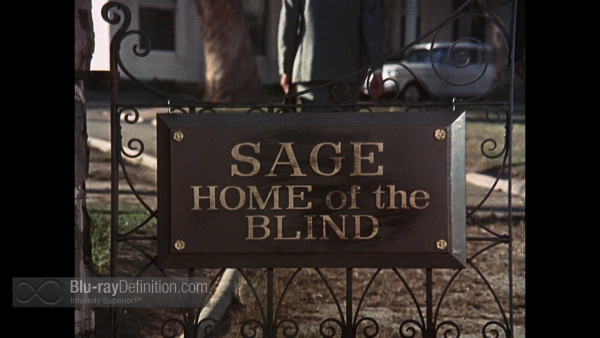 The special features are loaded up pretty nicely on this Blu-ray release. Since both features are on one disc you will have to navigate through the menu on the appropriate special features for each film. Everything involving live action footage is presented in high definition. Some of the audio readings do not contain subtitles; so please keep that in mind if you're hearing impaired.
Andrei Tarkovsky's short film adaptation of Ernest Hemingway's The Killers, made when he was a student in 1956
Interview from 2002 with writer Stuart M. Kaminsky about both films
Audio recording from 2002 of actor Stacy Keach reading Hemingway's short story
Screen Director's Playhouse radio adaptation from 1949 of the 1946 film, starring Burt Lancaster and Shelley Winters
Interview from 2002 with actor Clu Gulager
Audio excerpt from director Don Siegel's autobiography, A Siegel Film, read by a actor and director Hampton Fancher
Trailers
TWO individual booklets containing essays by novelist Jonathan Lethem and critic Geoffrey O'Brien

The Definitive Word
Overall:
[Rating:4.5/5]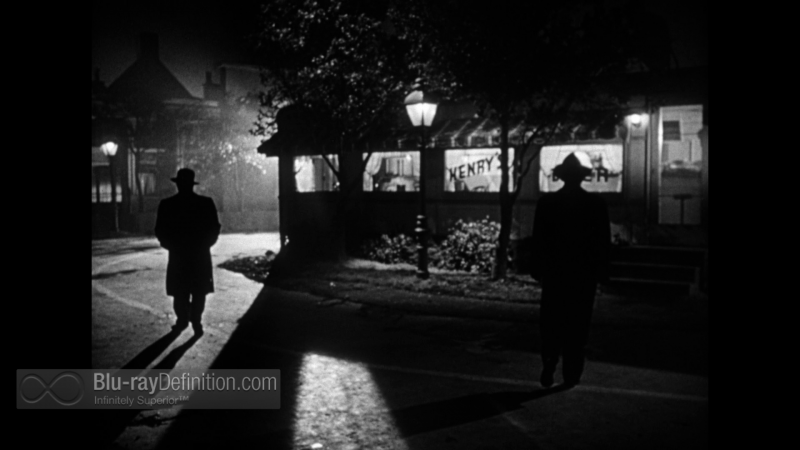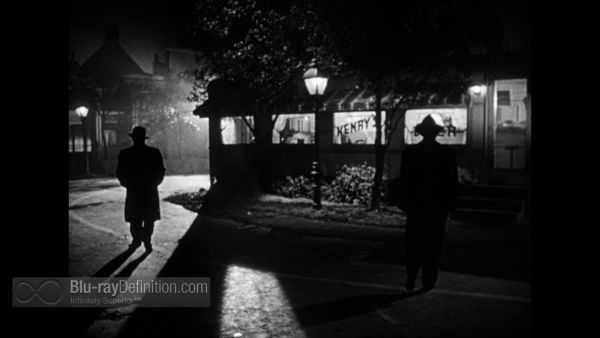 No matter how you slice it BOTH versions of The Killers on Blu-ray are excellent. You've got standard film noir showcased in the 1946 version and a violent and gritty take in the 1964 version, so what's not to like? The performances are great all around and the Blu-ray from Criterion is stellar in terms of technical specifications and supplemental materials. The Killers is highly recommended!

Additional Screen Captures