Aspect Ratio: 2.35:1

Video Codec: AVC/MPEG-4

Resolution: 1080p/24
Audio Codec: English DTS-HD Master Audio 5.1, French DTS 5.1, German DTS 5.1, Italian DTS 5.1, Portuguese Dolby Digital 5.1, Spanish (Castilian) Dolby Digital 5.1, Spanish (Latin American) Dolby Digital 5.1

Subtitles:  English, English Commentary, Danish, Dutch, Dutch Commentary, Finnish, French, French Commentary, German, Italian, Italian Commentary, Norwegian, Spanish (Castilian), Spanish (Latin American), Swedish

Region: A

Rating: R

Discs: 1
Studio: 20th Century Fox

Blu-ray Release Date: February 2, 2010
List Price: $29.99[amazon-product align="right"]B002WN8IQG[/amazon-product]
Purchase The Last King of Scotland on Blu-ray at CD Universe
Shop for more Blu-ray titles at Amazon.com
Overall
[Rating:3/5]
The Film
[Rating:4/5]
Video Quality
[Rating:4/5]
Audio Quality
[Rating:3.5/5]
Supplemental Materials
[Rating:2/5]
Click thumbnails for high-resolution 1920X1080p screen captures
More Screen Captures (15 Total)
(Screen captures are lightly compressed with lossy JPEG  thus are meant as a general representation of the content and do not fully reveal the capabilities of the Blu-ray format)
The Film
[Rating:4/5]
I recall growing up hearing about Idi Amin, but only vaguely. I was very young when Amin was in power, and by the time I was old enough to hear and be told all the gruesome details, all I knew was that he was a cruel and ruthless dictator who'd killed thousands of his people in a bloody reign of terror. I heard the rumors and tales of his practices — the cannibalism, the women, the torture — but all of these things were naturally coming from the Western world that has a long history of vilifying third world leaders they no longer have any use for.
So, how does one go about making a film about a man with so much baggage and history attached to him? For director Kevin Macdonald, the answer was in the Giles Foden novel, The Last King of Scotland. The novel, and the film, which shares the same name, base their story of Amin around a fictional Scottish doctor, Nicholas Garrigan (James McAvoy) who travels to Uganda from Scotland after graduating from university and ends up in the employ of Idi Amin (Forest Whitaker) as his personal physician, becoming his closest advisor.
The Last King of Scotland does not concern itself with the tales of Amin's wild behavior, saving most of the references to his brutality for passing references that happen mostly off screen. Instead, the film tries to show a more personal side of Amin through his dealings with Garrigan and his other advisors. Whitaker does an excellent job portraying Amin's manic character. He is convincingly power hungry, intimidating, and at the same time insecure and paranoid.
Where The Last King of Scotland fails, is in the fact that it almost completely ignores the toil of the Ugandan people during this time period. During Amin's reign, it is estimated that Amin killed nearly 300,000 people, and many of the stories of his tortures and other things cannot all have been false. The idea that a film, nearly three-hours long about Amin could only mention these things in passing is almost an atrocity.
Still, the riveting performance by Whitaker and the support from McAvoy make The last King of Scotland well worth watching.
Video Quality
[Rating:4/5]
The Last King of Scotland's 2.35:1 AVC/MPEG-4 transfer varies between blown out contrasts, crushed blacks, de-saturated scenes and scenes with over-saturated colors. Black levels vary as do grain levels. These things are not necessarily a byproduct of the encoding, which looks free from artifacts, but more a product of original production choices that keep The Last King of Scotland from looking great in high definition. On the positive side, the transfer retains a film-like quality and has not been ruined with any post-processing such as DNR or edge enhancement.
Audio Quality
[Rating:3.5/5]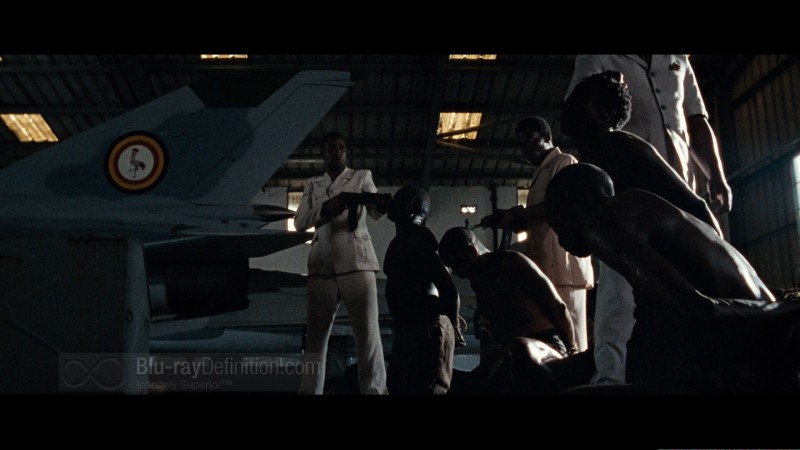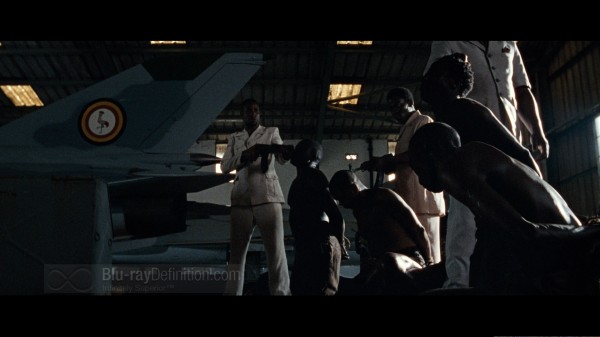 The DTS-HD Master Audio 5.1 soundtrack offers up clean dialogue and low-level atmospheric sound effects in the surround channels with the occasional discrete foley effect panned through the surrounds as well. The musical soundtrack, populated with Africa-influenced rhythms and 70's funk and r&b offers ample opportunity for the soundstage to open up and the LFE to be put to good use.
Supplemental Materials
[Rating:2/5]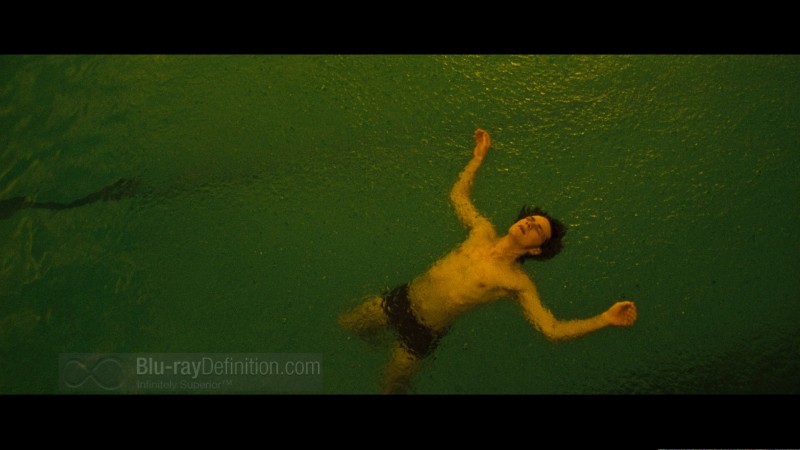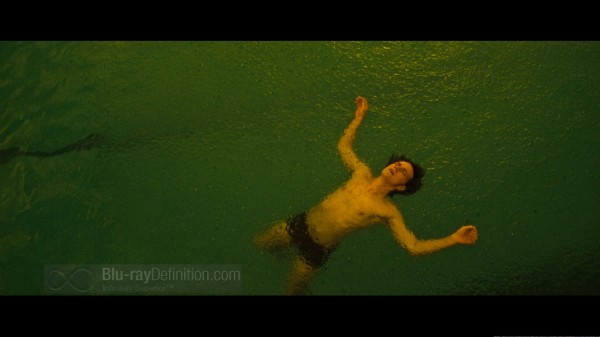 The bulk of the supplements on this release deal with actor Forest Whitaker's challenge portraying Idi Amin onscreen. Most of them will require no more than one viewing,
The supplements provided on this release are:
Commentary by Director Kevin MacDonald
Deleted Scenes w/ Optional Commentary by Director Kevin MacDonald (1.33:1; 480i/60) — 7 deleted scenes.
Capturing Idi Amin (1.78:1; 480i/60; 0:29.04)
Forest Whitaker "Idi Amin" (1.33:1; 480i/60; 0:05.59) — Actor Forest Whitaker talks about the challenge of portraying Idi Amin.
Fox Movie Channel Presents: Casting Session — The Last King of Scotland (1.33:1; 480i/60; 0:08.36) — The filmmakers discuss the importance of fighting the right person to fill the role of Idi Amin.
Theatrical Trailer (1.33:1; 480i/60)
The Definitive Word
Overall:
[Rating:3/5]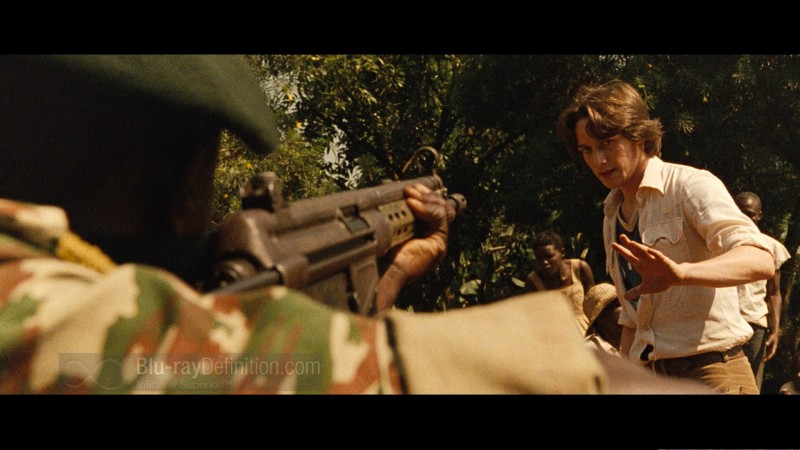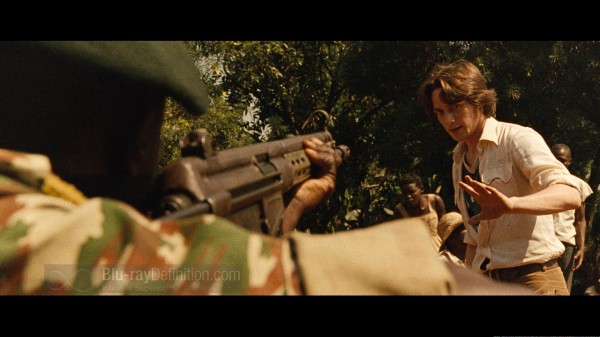 The Last King of Scotland is most notable for the engaging performance by Forest Whitaker. A more historically accurate film that spoke more to the tragedies the Ugandan people had to endure under the Amin regime would have been more preferable, but The Last King of Scotland is a start in the right direction. It's also a strong enough Blu-ray release to warrant a recommendation.

Purchase The Last King of Scotland on Blu-ray at CD Universe
Shop for more Blu-ray titles at Amazon.com