The death of George Martin at the age of 90 represents the end of the career of an individual who is rightfully regarded as being one of the best music producers of all time. This was a man who was affectionately known as 'the fifth Beatle' due to the way he took a band that was being rejected and turned down by all-comers and turned them into the biggest band that the world has ever seen.
However, the story of Sir George Martin is more complex than that and there was more to the man than just this one group. Instead, this was a man who was at the top of his industry from decades with countless awards who helped to really change the face of music not only within the UK, but around the world.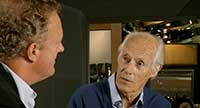 Born in London in 1926, Sir George Martin came from relatively humble beginnings which was in direct contrast to the way he was portrayed during his time as the producer for the Beatles. He was a pupil at the Guildford School of Music and Drama between 1947 and 1950 where he studied both the piano and oboe. After his graduation, he then began working for the BBC classical music department before moving rather quickly to the record company, EMI. Ultimately, this would be a move that would shape his entire career although he did get off to a rather inauspicious start.
At first, he appeared to forge a name for himself as a producer of what could only be described as novelty records thanks to his working relationship with a several burgeoning British comedians in the early 50's which included the likes of Spike Milligan and Peter Sellers.
By 1955, Martin succeeded his boss, Oscar Preuss, who had retired with this meaning that he was now the head of EMI Parlaphone, a move that would then go on to shape music as we know it.
Throughout the remainder of the 1950s, Martin continued to build his reputation as the producer of comedy albums with an ever-increasing band of UK comedians deciding to work with him in a niche that was becoming ever more popular. Indeed, it was working with these comedians that led to him really having his major breakthrough with the Beyond the Fringe album featuring various comedians and it is noted that his work in the late 50's and early 60's largely transformed the way the record company was viewed with it now becoming a business that was profitable.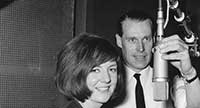 However, it was of course thanks to The Beatles that Martin really managed to transform his entire career. A number of things have been written about this time of his life and the way he was responsible for their success, but the remarkable thing was that he had previously only had rather limited success with pop music as it was certainly not his area of expertise. We can easily go into great detail about his time with the Fab Four, but there was so much more to the career of Martin that it is worthwhile to look elsewhere.
Indeed, the list of artists that he worked with during his career is remarkable. It was clear that he was extremely busy during the '60s in particular with him working alongside artists that included the likes of Cilla Black, Gerry & The Pacemakers, Jeff Beck, Matt Monroe, and even after the '60s it included artists such as Elton John, Celine Dion, Kenny Rogers, Ultravox — and that does not even include a list of artists whereby he was just involved in the arrangement instead of the actual production side of things.
As you can see, George Martin was able to turn his hand to a number of musical styles from comedy to pop, to classical, and country; the list is very impressive and what is even more impressive is the number of awards that he was then able to collect during his career.
With the awards then we are talking about an Academy Award in 1964 due to his involvement in the lead song for the movie from The Beatles, A Hard Day's Night. Furthermore, we are talking about six Grammy Awards during his career, and it has to be mentioned that they were decades apart and not just in a highlight of his career. He won Brit Awards. He was inducted into the Rock and Roll Hall of Fame due to his involvement in music. He was also inducted into the British equivalent to the Rock and Roll Hall of Fame and then a number of degrees were bestowed upon him in recognition of his time in the music industry.
We cannot even go into details of the various songs that he was involved in, but we are talking about him having links to songs and albums that sold millions upon millions around the world. Martin had a habit and a skill of being able to take a small song and turn it into a hit due to his ability to identify something that he knew would be absolute gold and which would be loved by the public. It is no surprise that so many stars wanted to have his hand on their songs due to the way he could make a difference in next to no time.
Sir George Martin made such a huge impact in the world of music that it is interesting to consider what it would have been like as an industry if he had not become involved in it. He transformed the way Parlaphone Records were viewed, he brought us The Beatles after they had previously been rejected by other record companies, and he was responsible for bringing a number of huge hits in different genres. Also, we cannot forget his involvement in music for films and even TV shows so his impact was felt in a number of media formats.
His death represents a great loss to the world of music with him continuing to be involved until close to his death. A producer who was extraordinary and one who will be missed by so many within the industry.