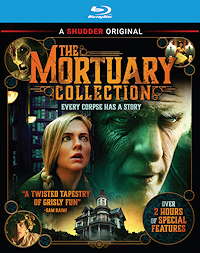 This Gothic horror anthology film, The Mortuary Collection, started its life as a short film and Kickstarted campaign. Directed by directed by Ryan Spindell ("50 States of Fright," The Babysitter Murders), and starring Clancy Brown (The Shawshank Redemption, Thor: Ragnarok), Caitlin Custer ("Teen Wolf," "Swingtown"), Christine Kilmer ("Hollywood," "Shameless"), and Jacob Elordi (The Kissing Booth franchise, "Euphoria"), the film is a gory and atmospheric collection of spine-tingling shorts.
Set in the creepy town of Raven's End, a young woman wanders in to the dark and foreboding old town mortuary where she meets the mortician Montgomery Dark (Clancy Brown). Dark gives her tour of the mortuary while revealing to her the ghoulish secrets and strange deaths he has seen in his years of experience and that the genteel exterior of the town keeps hidden away.
One can sit back and indulge in an often-anachronistic blend of '50s, '60s, and '70s set B-grade horror with nauseating practical effects, an almost atmospheric, haunted house gloom, and strange, out of left field twists. A frat guy has unprotected sex with the wrong girl and ends up with the worst kind of morning after regrets, a man's pledge of 'till death do us part' becomes more literal than he ever imagined, or a glamourous con-woman gets her due behind a strange medicine cabinet, and much, much more.
If you love these sorts of camp, horror anthologies, along the lines of Creepshow, just as an example, then you will love this delicious entry into the genre.

The Mortuary Collection (2019)
The Video
The Mortuary Collection comes to Blu-ray in an AVC 1080p encodement framed at 2.39:1. The image looks almost perfect. There was one scene where I saw some blooming in the dark shadows where there was a light source against a black background that had to have been an in-camera issue as this is not any sort of issue with any OLED display, which is what I use for my reference. Apart from that, I had no problems with this transfer or the look of the film. It was crisp in detail, rich in colors, and had generally good contrast and shadow detail.
The Audio
An atmospheric English DTS-HD Master Audio 5.1 mix is the sole track included on this disc, but it hits the spot. It's not the best mix I have ever heard, but the atmosphere evoked by the mix, the clarity of sound, effective placement of sounds in the surrounds, airiness of the eerie score, and sufficient low-end extension work very well with this genre.
The Supplements
RLJE Has packed this release with over 2-hours of bonus features, the bulk of which are behind-the-scenes 'making of' segments that cover just about every aspect of the production.
Director Commentary
14 Extensive Behind-the-Scenes Segments (1080p):

Amalgamated Dynamics, Inc. (00:13:51)
Kickstarter (00:01:21)
Director (00:09:53)
Actors (00:17:23)
Camera (00:06:54)
Costumes (00:04:56)
Art Department (00:22:25)
Locations (00:07:47)
Props (00:04:41)
Hair & Make-Up (00:04:10)
Special Effects (00:03:09)
Sound (00:08:23)
Stunts (00:01:22)
Visual Effects (00:06:11)

Deleted Scenes (1080p; 00:05:57)
Photo Gallery (1080p)
The Final Assessment
Genre fans will find much to enjoy in this anthology of the strange, Gothic, paranormal, and bone chilling. The Blu-ray looks and sounds great as well so give it a try. Recommended.
---
If you found this article useful please consider clicking the button below and donating to help keep TheaterByte funded, which will allow us to continue posting great content.
---
The Mortuary Collection is out on Blu-ray April 20, 2021 from RLJE
Studios & Distributors: AMP International | Trapdoor Pictures | Shudder | RLJE
Director: Ryan Spindell
Written By: Ryan Spindell
Run Time: 111 Mins.
Original MSRP: $28.96
Street Date: 20 April 2021
Aspect Ratio: 2.39:1
Video Format: AVC 1080p
Primary Audio: English DTS-HD MA 5.1
Subtitles: English SDH | French | Spanish