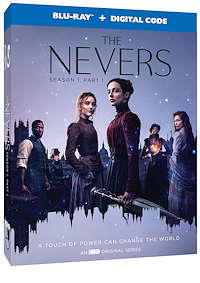 I would like to call The Nevers epic, but it sounds too cliché so instead let me simply call this steampunk sci-fi fantasy from HBO a series you need to watch. Set in Victorian London, it follows a group of mostly women known as "The Touched" who have gained superhuman abilities after a strange supernatural occurrence. For instance, Amalia True (Laura Donnelly) has gained super strength, an uncanny ability to fight, and premonitions. Her friend Penance Adair (Ann Skelly) has become a super-genius who can invent gadgets that are way ahead of their time.
These women who have gained these powers upset the status quo, and the Upper-Class men, led by Lord Massen (Pip Torrens) want them criminalized, shut down, and annihilated. Under the shelter of Amalia True, many of these women band together and find themselves not only fighting against the system, but also investigating what it is that caused their abnormal abilities and the truth could hold major consequences for the world.
This series was created by Joss Whedon and sparked a major bidding war between the likes of HBO and Netflix. Obviously, HBO won out. In any case, this is yet another series from HBO with a large world, lots of layers, and incredible characters to carry the story forward. Laura Donnelly is captivating and believably brutal as Amalia True while Skelly has the right amount of charm and wit to balance her as the genius inventor. Also playing their role brilliantly is Pip Torrens as the nefarious Lord Massen.
The visual designs, costumes, and artwork of the series and the heavy steampunk influence make this a joyful indulgence for genre fans as well as the series skips along through Gothic, fantasy, anime, steampunk and multiple genres and subgenres. HBO have another winner.

The Video
The Nevers was shot digitally on the Arri Alexa Mini and Arri Alexa SXT and comes to Blu-ray in an AVC 1080p encodement framed at 1.78:1. This is another exceptional transfer from Warner Bros. that continues the trend for their releases of HBO series on disc. Like Mare of Easttown and His Dark Materials, we get a clean and detailed presentation of this series free from artifacts like banding or compression noise. The shadow detail, which is very important for this series, is fantastic as well. Check out the opening of episode six to see just how good this series looks in the darkest scenes.
The Audio
The Nevers comes with an English DTS-HD Master Audio 5.1 mix that puts us in the center of the action for this Victorian epic with plenty of solid sound effects panned into the surrounds, great depth in the lower frequencies and crystal-clear dialogue.
The Supplements
Warner Bros. have loaded this release up with over 2 hours of bonus features touching on nearly every aspect of the series' production and the characters.
Digital Copy Code
Introducing The Nevers (1080p; 00:03:11)
A New Age of Power (1080p; 00:05:17)
A Touch of Power: The Themes Behind The Nevers (1080p; 00:17:04)
Character Portrait: Amalia True (1080p; 00:03:35)
Character Portrait: Penance Adair (1080p; 00:03:09)
Character Portrait: Mary Brighton (1080p; 00:02:58)
Character Portrait: Bonfire Annie (1080p; 00:03:09)
Creating The Nevers: A Night at the Opera (1080p; 00:07:11)
Creating The Nevers: A Charitable Event (1080p; 00:07:18)
Creating The Nevers: Walking on Water (1080p; 00:07:47)
Accustomed to the Impossible: The Making of The Nevers (1080p; 00:11:54)
Character Portrait: Detective Frank Mundi (1080p; 00:03:45)
Character Portrait: Augie Bidlow & Hugo Swann (1080p; 00:03:45)
Villains of The Nevers (1080p; 00:07:37)
Creating The Nevers: Confrontation and Translation (1080p; 00:07:59)
Creating The Nevers: Shock and Awe (1080p; 00:07:21)
Creating The Nevers: Telling Time (1080p; 00:07:48)
The Craft: Editor, Lisa Lassek (1080p; 00:02:25)
The Craft: VFX Supervisor, Johnny Han (1080p; 00:02:34)
The Craft: Director, Zetna Fuentes (1080p; 00:02:23)
The Final Assessment
A reference quality Blu-ray set for the six episodes in Part 1 of this brilliant steampunk fantasy series from HBO. Highly recommended.
The Nevers: Season 1, Part 1 is out on Blu-ray October 5, 2021 from Warner Bros.
---
Rating Certificate: TV-MA
Studios & Distributors: Mutant Enemy Productions | HBO | Warner Bros. Home Entertainment
Run Time: 360 Mins.
Street Date: 5 October 2021
Aspect Ratio: 1.78:1
Video Format: AVC 1080p
Primary Audio: English DTS-HD MA 5.1
Secondary Audio: French DD 5.1
Subtitles: English SDH | French | Dutch | Danish | Finnish | Norwegian | Swedish