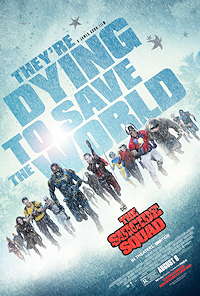 James Gunn (Guardians of the Galaxy, Guardians of the Galaxy 2) has returned with a revamped edition of The Suicide Squad. This new sorry sack of a team is now comprised of Bloodsport (Idris Elba), Harley Quinn (Margot Robbie), Peacemaker (John Cena), King Shark (Sylvester Stallone), Rat Catcher 2 (Daniela Melchior), Polka-Dot Man (David Dastmalchian), and Rick Flag (Joel Kinnaman). Amanda Waller (Viola Davis) is back and in command. She has sent the team into a top-secret mission to the island of Corto Maltese.
The team has to infiltrate a secret laboratory and destroy "Project Starfish." The Suicide Squad is certainly a "by-the-numbers" tale, but this being The Suicide Squad, things are not always what they seem. I will admit, I sort of hated the beginning of the film due to the misdirection during the first mission. It was irritating. Once the WB opening credits began to roll, I sat back and enjoyed myself.
I was with actually with the team all the way through their outrageous mission that time flew by. It also helps that the film is over two hours. Gunn packs it up and packs it in with twists, turns, and many servings of some brutal ultra-violence. The way the team got along with each other was great and they really gelled. When we finally get to the final act, Starro was an obvious Kaiju/Lovecraftian entity, which was somewhat underwhelming.
Giant starfish notwithstanding, as I mentioned before, the crux of this story is how the main characters interact and work with each other. There are so many instances that showcase warmth and heart that I had to do a double take at what I was watching. These are the bad guys and I care about them? How does that work? That's a testament to James Gunn understanding the source material (he went for John Ostrander's 1980's versions of the team).
It has been five years since the first Suicide Squad film, which was not critically acclaimed, but still made a lot of money. Whether James Gunn's The Suicide Squad does the same is still yet to be seen. The world is a different place than it was five years ago, so there are many variables as to why this new iteration may sink or swim. Personally, I hope it does well. I was entertained and I also saw it via HBO MAX. Whether its availability on HBO MAX helps or hurts its overall box office, it will not be known for a few more days (you can still catch it in theaters and IMAX). It also helps that James Gunn's The Suicide Squad is not dependent on having watched the 2016 film. It acts as its own/pseudo-sequel of sorts. There is no explicit mention of anything prior to this film and seems to exist in its own world. Maybe it's better that way. The Suicide Squad is recommended!
The Suicide Squad is in theaters and on HBO Max. Streaming through Sept. 5
---
Rating Certificate: R (for strong violence and gore, language throughout, some sexual references, drug use and brief graphic nudity)
Studios & Distributors: Atlas Entertainment | DC Comics | DC Entertainment | The Safran Company | Warner Bros.
Country: USA
Language: English
Run Time: 132 Mins.
Aspect Ratio: 1.90:1
Director: James Gunn
Written By: James Gunn
Release Date: 6 August 2021