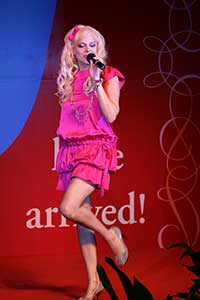 TheaterByte got international singing star Heather Schmid to take a few minutes out of her busy schedule and visit with us.  Heather's performing career has not only taken her far and wide but has made her a musical ambassador to the world.
TheaterByte: Having heard some of your songs and seen your music video, it is obvious that you have had classical music training. So tell us a bit about your journey as a vocal artist.
Heather Schmid: Mildred Coleman,  my first voice teacher at the HART School of Music, taught me how powerful and strong a voice could be. Growing up in middle Connecticut, I learned from Mrs. Coleman  that opera was adventure and opportunity. She prepared me for vocal competitions, talent pageants and auditions and helped me earn a scholarship to Boston University, opening opportunities that included touring Europe and becoming Miss Commonwealth and Miss Millennium.
After I graduated from opera school, I went to Las Vegas and won the Miss Millennium pageant. What should have been a wonderful whirlwind of live shows and mall shows was anything but fun. After that year, I started performing more internationally, primarily in China, and those proved to be hard but amazing times. I discovered that once you earn your independence you can never return to being told what to do or whom to be or where to go.
[envira-album id="94612″]
TB:  What have been your professional goals and best achievements?
HS: In 2006, I performed in Pakistan for the first time and my career path changed from wanting to become a famous pop star to becoming  a musical diplomat. I was determined to get a TV show in China ("The Ambassador"), to produce music that benefited local charities, and to collaborate with amazing producers, musicians and artists. Through my authentic yet alternative path, I made it to the GRAMMY Awards for the first time, had commercial collaborations and performed my own music throughout China, Pakistan and parts of India .
TB: Let's focus on Heather Schmid the composer. When did you start writing your own songs?
HS: I started writing incredibly bad songs in high school, but after some life experience my music became more interesting. The Las Vegas experience led me to find my own voice and  some significant collaborators.
TB: What songwriter/singers inspired you and is songwriting going to continue to be a major part of your career?
HS: Jacob Collier, an English jazz composer, inspires me because I consider him to be our new Mozart. I am also in awe of Sia (Australian songwriter/singer Sia Kate Isobelle Furler) who writes prolifically for all audiences. Other important influences are Pink for her empowerment lyrics and Bruno Mars for his incredible work ethic. Songwriting enables you to take charge of all aspects of your own career and maintain your own vocal perspective.
TB: Your career has been largely on the international music circuit. What led you to follow some distant and less traveled roads?
HS: Curiosity, fascination and wanderlust led me to international performances. Live shows in China are unbelievable! Show dates may change at the last minute due to astrologic predictions. Audience reactions can range from dead silence to utter pandemonium and people might join you on stage and sing along. The ongoing Unity Project in Pakistan has been the hardest, occasionally dangerous, and most rewarding project of my career. Being able to perform with music legends, travel and meet so many kind, smart, engaged and hopeful young people in Pakistan has been epic.
TB: You have been extremely involved in philanthropic work. Tell me what inspired your involvement with this aspect of your career.
HS: Every show in China was intended to benefit a local charity. The first well-organized shows there aided the local orphanages and got the local hotel brands, and event organizers more engaged. If more artists insisted on this kind of collaboration,  we could make intensely meaningful change.
TB: I am intrigued by "The Goddess" concept. Where did that come from and how has that informed your music?
HS: My first instincts came from a place of self-empowerment. I was working in a  pop music world dominated by men in which A&R, management, and particularly the label took over young female artists' music careers, made all the decisions and got most of the money. Goddess became my pathway to regaining my strength and  power. I now own every single bit of my music, productions and live shows that I create. Whether it is awful or great, these are my own decisions.
TB: What is next for the Heather Schmid music tour and what is the one song that makes the best introduction to her music world?
HS: Transformations is a live show based in Maui, Hawaii that features aerialists, actors,  dancers, a huge band and  a mini orchestra. It is also a music tour of which I am particularly proud. The new music is about irreversible changes stemming from my adventures and misadventures in Pakistan and incorporates lyrics by Pakistani legend Anwaar Magsood and melodies by Ashaad Mehmood. Phelay Hum Pakistani Hay fused American pop rhythms with Pakistani regional instruments and local melodies. I would recommend that listeners coming to my music for the first time, start with "Dance with Spirit" from the Transformations album.
TB: Thank you Heather Schmid for your time and candid answers to our questions. We wish you continued success and are looking forward to your next adventures!
[youtube httpss://www.youtube.com/watch?v=2VOkPlnndyc&w=640&h=360]
Transformations can be found on iTunes and Soundcloud.