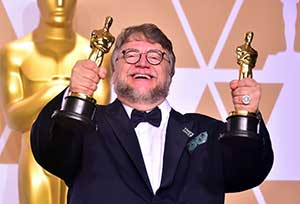 Sunday, March 4, 2018. ABC televised its coverage of the 2018 Oscars once again hosted by late-night television personality Jimmy Kimmel. While it has become commonplace to poke fun at some of the participants, there is also a matter of taste to consider, particularly when dealing with more sensitive issues like those raised by the plethora of sexual harassment allegations. At the beginning it was the announced that there would be "short versions" of all acceptance speeches with a Jet-Ski and trip to Lake Havasu resort going to the awardee who delivered the most succinct thank you. By the way, it was Mark Bridges, costume designer for Phantom Thread, who got a free ride with the still gorgeous Helen Mirren. Forget about keeping to a timetable, as later in the broadcast there was a completely gratuitous (and pointless) side trip to a neighboring theater where an audience was enjoying "A Wrinkle In Time." This was a real shame since subsequent Oscar winners of some of the most anticipated awards had their thank-you moments even further truncated.
Breathing a collective sigh of relief, political commentary was relatively limited, a good thing, considering the length of the show. Not surprisingly, #MeToo got its moment in the spotlight with statements by Ashley Judd, Annabella Sciorra, and Selma Hayek. Okay, we get it, Harvey Weinstein and his ilk are monsters. The recognition of military-themed films should have been a true magic moment for some much-needed patriotism but was given an all too brief send up. Outside of Kimmel's movie theater escapade, there was little else out of the ordinary in this year's fiesta for Hollywood's mutual admiration society.
So here are my takes on some of the results from the 2018 Oscars:
Biggest Surprise: Best Original Screenplay for Get Out, in my opinion, not in the same league as most of its competitors.
Biggest Disappointment: The snubbing of Laurie Metcalf, Leslie Manville and Octavia Spencer as Best Supporting Actress in favor of Allison Janney.
Best Acceptance Speech: Gary Oldman's ramble that eschewed the Jet-Ski and reached deep into his life, soul, and career.
Worst Acceptance Speech: Frances McDormand's bizarre cackling for more than a minute and then grandstanding those assembled to call out the other women nominees, many of whom had already received the spotlight.
Wait Until Next Year: Timothée Chalamet is a name to be reckoned with and exhibited the talent that could take him quite far in this business. Likewise, British actress Sally Hawkins showed audiences that you do not need the power of speech to become a powerful character.
Overall Assessment: In spite of the highly anticipated social demonstrations, MeTooisms, NeverAgains, and Emma Stone's nominee call out to "four directors and Greta Gerwig", this annual extravaganza should have been an unqualified tribute to the best that films can offer instead of the ho-hum affair that it actually was. I occasionally hanker for the good old days when it was all about nominations and awards and there was your evening all done in two hours. By the way, viewership for the 2018 Oscars was reported to be the lowest since such figures have been kept. ABC, are you listening? Boring host Jimmy Kimmel has clearly reached his sell by date and maybe it is time to call on someone who is in the film business like Tom Hanks or Meryl Streep or Denzel  Washington to add some real substance to the proceedings and keep the true believers glued to their screens for the three and one-half hours running time.
What were your thoughts on the 2018 Oscars?