We've searched far and wide for collections, special editions, TV seasons and otherwise exceptional discs, from '70s classics to imports to the continuing rollout of 4K. Give 'em, get 'em, just don't miss 'em!
Game of Thrones The Complete Fifth and Sixth Season Steelbooks (HBO)
Currently a Best Buy exclusive, these two new tins work well alongside the Season 1-4 reissues undertaken by HBO, which upgraded the audio to a new Dolby Atmos mix while also presenting the discs and all the substantial, previously released extras in compact and oh-so-snazzy metal cases. Topping it off is a season-appropriate magnet for each: Meereen on Season 5 and Braavos on Season 6. Five was an important year for many of the characters, not the least which was Jon Snow and the denizens of the north, while a religious push in Westeros yielded unexpected consequences. Six, which is primarily new material not culled from a specific source book, was outstanding, with twists and suspense particularly late in the year that were as good or better than anything we've seen thus far. The series, these seasons and these editions are highly recommended.
Ip Man Trilogy The Complete Collection (Well Go USA Entertainment)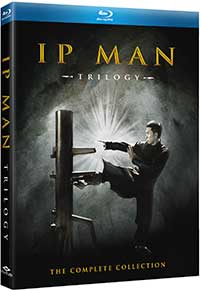 A real-life master of Wing Chun, Yip Man was a true artist who–although it would become a cliché in the genre–chose to avoid violence whenever possible. A teacher and by all accounts a very good guy, "Ip Man" is done justice by the amazing Donnie Yen (Rogue One) in an epic 2008-2015 three-movie saga that showcases spectacular fight choreography set against backdrops ranging from drama to melodrama to "What is Mike Tyson doing here?" Ip Man and Ip Man 2: Legend of the Grand Master pack DTS-HD Master Audio 5.1 tracks in Mandarin, Cantonese and English, while Ip Man 3–quite surprisingly–sports DTS:X/DTS-HD Master Audio 7.1, among other options. Each of the discs packs its own title-specific bonus content including "making of," deleted scenes and interviews, in addition to new disc artwork for this reissue release. There's also a fourth disc–a DVD–with two more hours of exclusive content.
Gregory Peck Centennial Collection (Universal Pictures Home Entertainment)
Handsome, elegant and understated, like the man himself, this two-disc set honors what would have been Mr. Peck's 100th birthday with the two best-known titles from his Universal canon, in glorious black-and-white: the timeless To Kill a Mockingbird and the original Cape Fear. There are ample on-disc extras, notably for Mockingbird: director/producer commentary, archival footage and more. Inside are also a handful of cards reproducing behind-the-scenes photos as well as the vintage movie poster artwork. A unique printed code for an UltraViolet/iTunes Digital Copy is also supplied. All in all a fine celebration of a true movie star, and at a remarkably reasonable price, too.
Prince Movie Collection (Warner)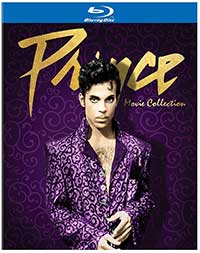 April's passing of The Purple One stunned fans around the world, but Warner has paid respectful tribute with this three-title set comprised of the Prince-directed Graffiti Bridge and Under the Cherry Moon, and of course Albert Magnoli's seminal Purple Rain. All three have been given new 1080p presentations for this release, with modestly enhanced audio as well. The cinematography for all has been set free here, each with a very distinctive character worth revisiting. An eclectic assortment of extras is ported over from discs past, mostly for Rain: audio commentary, "making of," a look at the First Avenue nightclub and even the original MTV premiere party. The eight (!) Purple Rain-specific music videos are carried over here, sadly those for Bridge and Cherry Moon are not. Neither is a Digital Copy, a pity since Warner supports UltraViolet. But for fans of one, two or the whole bunch, this affordable threesome will be a welcome sight, especially when tucked into a purple stocking.
Adventure Time The Complete Sixth Season
The Venture Bros. Season Six (Cartoon Network/Warner)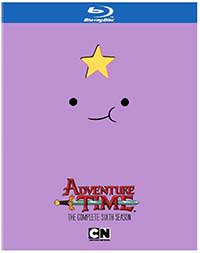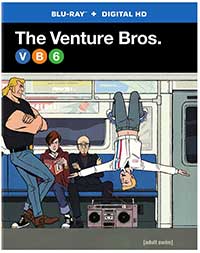 The sixth seasons of CN's ratings smashes Venture and Adventure could not be more different, but neither should be overlooked on Blu-ray. This might well have been the season when Adventure Time grew up, appropriately enough, as Finn finally meets his dad (voiced by the always-wonderful Stephen Root), and the reunion is far from sentimental. The animation remains top-notch, and even broke new ground with the episode "Food Chain," helmed by guest animator Masaaki Yuasa. All 43 roughly-eleven-minute installments are joined in this two-disc set by a modest smattering of extras. Venture Bros. meanwhile continues to cast an ever-widening net upon genres to poke fun at in their own "we're-so-over-it" way, rewarding pop culture nerds with giddy glee as we catch each reference. A single disc carries eight half-hour episodes, enriched by the seasons-bridging "All This and Gargantua-2" special, deleted scenes and commentary from creators Jackson Publick and Doc Hammer.
MAD MAX High-Octane Collection (Warner)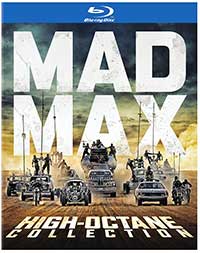 Warner hereby tenders a saga so wild, it takes four different media to hold it all. The quartet of films–Mad Max, Mad Max 2 (better known here in The States as The Road Warrior), Mad Max Beyond Thunderdome and Mad Max: Fury Road–are delivered here on Blu-ray, the final film also on 4K Ultra HD disc and Digital HD. There's also the stark reimagining Mad Max: Fury Road: Black & Chrome, the movie presented in black-and-white, per creator George Miller's original vision, on Blu-ray. And then there's a DVD of Gary McFeat & Tim Ridge's epic documentary, The Madness of Max, that goes deep on the low-budget action flick that started it all. This slim yet sprawling eight-disc set is without a doubt the most comprehensive single menagerie of all things Rockatansky.
Child's Play Deluxe Limited Edition (Shout! Factory)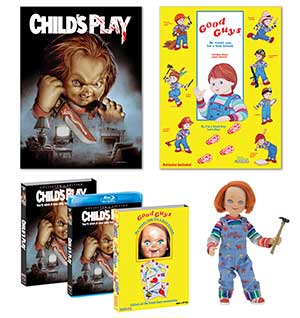 Okay, the six-movie horror franchise it grew into is a bit much, but Child's Play taken by itself is a potently disturbing exploration of what happens when a remorseless killer possesses the season's hot new toy. As is their wont, Shout! has done a new 2K scan that significantly upgrades this old-school 1988 production. They've also ported content from 2008's 20th anniversary DVD, including a pair of actor/producer/screenwriter/Chuck-designer audio commentaries, alongside a new track from director Tom Holland. An entire second disc of extras presents new and old featurettes that cover a range of topics, the Chucky effects in particular. And about that cherub-faced doll, folks who order directly from ShoutFactory.com have access to exclusive bonus items highlighted by a scaled reproduction of the "Good Guy" himself before he gets set to evil, with a detailed cloth outfit, "real" hair et. al.
Lone Wolf and Cub (Criterion Collection)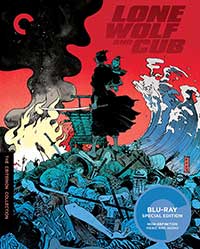 This Samurai cinema six-pack is based on the bestselling manga, Kozure Ōkami, created by Kazuo Koike and Goseki Kojima, yielding the films Sword of Vengeance, Baby Cart at the River Styx, Baby Cart to Hades, Baby Cart in Peril, Baby Cart in the Land of Demons and White Heaven in Hell. Tomisaburo Wakayama stars as Itto Ogami, the most badass single dad ever, following his wife's murder. Once the Shogun's executioner, he is now searching the Japanese countryside for redemption, joined by his infant son who cruises in a weaponized baby carriage that would make 007's Q jealous. These unlikely heroes for hire find all manner of adventure, with plenty of artfully flashing swords and other stylized violence. The films are spread across three discs, their original Japanese mono delivered in uncompressed LPCM 1.0, and looking quite good at 2.4:1 thanks to new 2K restorations. An English-dubbed re-edit of the first two outings; retitled Shogun Assassin, created for the grindhouse market; is preserved here as well, in addition several new creator/expert interviews, a 2005 special about the making of the series, and a 1937 documentary about how samurai swords are made, just because.
Taxi Driver 40th Anniversary Edition (Sony)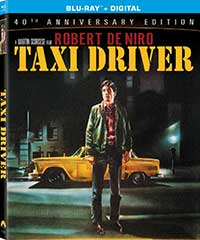 A brilliantly directed mélange of loneliness, rage and dubious "heroics," Taxi Driver met with some controversy upon its mid-'70s release for its portrayal of teen prostitution and vigilante justice, and later for its influential portrayal of an assassination attempt. The ensuing four decades have put Martin Scorsese's bold achievement into perspective, and the many extras adorning this anniversary assemblage offer disparate takes on the artistry and the hubbub. The 1986 Scorsese/Paul Schrader commentary pulled from the Criterion Collection laserdisc is a standout, and a second platter was needed to hold it all, with a new 40-minute Q&A populated by Marty and most of his topline collaborators. It's the same great 2011 4K restoration, now with a Digital HD copy.
Disney 3D "Collector's Edition" Re-Dos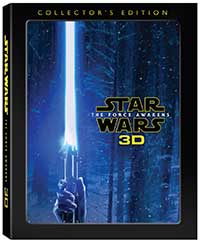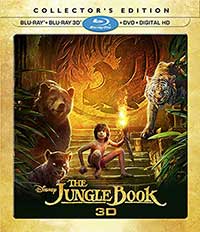 Sometimes you just get a sense that another, more special edition will follow a hit movie's initial Blu-ray release. Star Wars: The Force Awakens felt a little light in the bonus content this past spring, while Jon Favreau's wildly successful live-action Jungle Book owed much of its popularity to the theatrical 3D experience, absent from its August combo pack. And now here we are. The Force Awakens is a conversion from 2D, although the digital effects are easy enough to render in true 3D, and this disc looks amazing, regardless. With his newly added commentary, J.J. Abrams is the star of this expanded Collector's Edition. It's a fantastic track, and I've listened to my share. I particularly enjoyed the two new sound-centric featurettes too, and the three deleted scenes joining the previous six are certainly another fine carrot in this four-platter box. The Jungle Book was created in native 3D and it looks spectacular in the home theater, highly recommended if you're so equipped. Extras-wise there are a few new tids and bits, with more revelations about the special effects, Bill Murray, and the late, great songwriter Richard Sherman.
STAR TREK: The Original Series – The Roddenberry Vault (Paramount/CBS Home Entertainment)
Built around the unearthed film "trims" from the Roddenberry family archive, this three-disc set boldly goes where no Blu-ray has gone before, providing thrilling new behind-the-scenes insight into the most beloved science fiction series of all time. This collection of outtakes from the original production presents for the first time an assortment of deleted and alternate moments from 12 episodes–rough quality, some quite brief but nonetheless riveting–that are like manna from heaven for the fans. In celebration of this revelation, all of the relevant episodes are supplied in this set with DTS-HD Master Audio 7.1-channel soundtracks as well as newly restored original mono. All but one ("City on the Edge of Forever," Gene's and my favorite) have isolated music scores too, while there are even new audio commentaries for three. To put the profundity of it all into proper context we should definitely watch the three hours of new documentaries, which feature a generous sampling of fresh interviews from the likes of William Shatner and beyond. Although I'm left scratching my head as to why this priceless material was left out of CBS/Paramount's recent big-ticket 50th Anniversary TV and Movie Collection, it is without a doubt a can't-miss gift for any longtime Star Trek enthusiast.
4K!
Have you noticed that when a new format drops, there a tendency for studios to distribute whatever's next in the new-release pipeline and hope for the best? Without naming names, some of the recent theatrical titles leave much to be desired and are not the best examples of what 4K can do. I for one appreciate when they reach back into the catalog, even if it's just a year or two. Here are a few examples.
Jennifer Lawrence Trilogies* in 4K
*See, Suzanne Collin's bestselling Hunger Games Trilogy was, y'know, three books, but somebody got a little greedy and split the last one, Mockingjay, into two parts for the big screen. Part 2, not bad. Part 1, not so good. A pity because taken as a whole they present a compelling, prescient view of a dystopian future where the have-nots are growing increasingly resentful of the oppressive, abusive haves, with the stalwart Katniss Everdeen (Lawrence) as the heroine for the underdogs' cause. Available as four separate combo packs; with 4K Ultra HD, Blu-ray and Digital HD; each serves up a wealth of accumulated bonus content, although not 100% of what's out there, owing to retailer exclusives. They are fresh enough and sufficiently sophisticated to look damned good at 2160p, all mixed here for Dolby Atmos with a Dolby TrueHD 7.1 core. The final two are reference-quality.
And when she wasn't working the bow and arrow, Ms. L donned the blue makeup as Mystique in the X-Men "Beginnings" Trilogy, all prequels to the first X-Men film from 2000, set in 1962 (First Class), 1973 (Days of Future Past) and 1983 (Apocalypse), each based upon a specific storyline from the comics. Although directors Matthew Vaughn and Bryan Singer display different styles, all three are a treat for the eyes, while the audio evolved from DTS-HD Master Audio 5.1 to 7.1 to Dolby Atmos. Worth noting before you pull the trigger, Singer's native-3D Days and Apocalypse are not included here on Blu-ray 3D, nor are most of the extras from Days' "The Rogue Cut" redux edition.
Crouching Tiger, Hidden Dragon Supreme Cinema Series – 4K Ultra HD (Sony)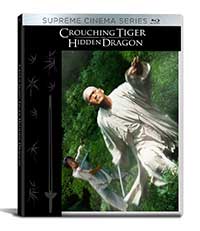 An Oscar winner for its cinematography, in addition to a statue for the art direction/set decoration, Tiger is one of the most beautiful-looking movies of the new millennium… as well as one of the only movies ever made with the word "Crouching" in its name. Not content to re-release it merely with a breathtaking 4K restoration, Sony has also gone and added a slew of new bonus material, most impressive being the eight minutes of newly liberated deleted scenes, also in 4K. But wait: This is also the first Ultra HD title in Sony's sparsely-populated "Supreme Cinema Series" introduced last year, and this uber-deluxe package arrives with an exquisitely produced hardbound book, protected by a clear slipcase. (The 4K Ultra HD Supreme Cinema Series edition is presently and Amazon exclusive.)
BOURNE: The Ultimate Collection (Universal Pictures Home Entertainment)
Another Best Buy exclusive, this handsome box brings together the individual combo packs (4K Ultra HD plus Blu-ray and Digital HD copy) for the five Bourne movies: The Bourne Identity (2002), The Bourne Supremacy (2004), The Bourne Ultimatum (2007), the Matt Damon-less Bourne Legacy (2012) and now Jason Bourne. In celebration of Damon's return to one of his most-visited characters, and perhaps subtly acknowledging that 2016 likely saw his last turn as Bourne (née David Webb), this anthology pulls together the extensive extras that had been released along the way with an unavoidable sense of both nostalgia and finality. The recent Jason is surprisingly light on bonus content, although multiple featurettes explore his signature fighting style. For a new generation of home theaters, all have received video upgrades to 4K, some looking better than others of course as the saga spans more than a decade and quite a few different film/digital media. All also offer most-immersive-ever DTS:X audio (built upon either 5.1 or 7.1 channels) as well as DTS Headphone:X. For those of us who can't get enough of inspired modern action cinema (for the most part) and trained killers with hearts of gold, this set is a solid value.
(Editor's Note: This article was updated on December 21, 2016 to add mention of the Star Trek: The Original Series — The Roddenberry Vault & Bourne: The Ultimate Collection (Best Buy Exclusive) titles and to make minor changes to some of the artwork included.)
TheaterByte's Blu-ray Holiday Gift Guide for 2016 Gallery
[envira-album id="94821″]