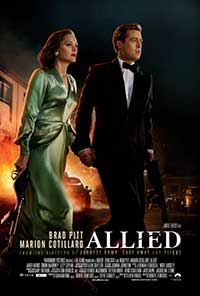 A dashing World War II hero meets a gorgeous French spy during a covert operation in Casablanca. What if they completed a very dangerous mission, fell in love, married and had a child? Sounds like a great start, right? Well, short of its major plot twist, Allied could have been over in thirty minutes rather than in its two-hour running time.
Allied is director Robert Zemeckis' (Flight) attempt to create a retro-style WW II flick a la Casablanca. Aided by excellent period costumes from Joanna Johnston (War Horse) and Raffaella Giovanetti's (To Rome with Love) authentic sets, viewers are immediately immersed in this love story's place and time . Brad Pitt (Fury), no stranger to war films, is Canadian intelligence officer Max Vatan, whose love interest becomes French operative Marianne Beausejour, Oscar-winner Marion Cotillard (Rust and Bone).  The couple pulls off the assassination of the German ambassador to Morocco (Anton Blake) without a hitch, and, not surprisingly, they become lovers. Max returns to the Special Operations Executive office in London and reports to British Major Frank Heslop (Jared Harris, The Man from U.N.C.L.E.).  Marianne eventually joins Max, they marry, and a year later, baby Anna is born during a German air raid.
When Max is called to a late night intelligence meeting, he is assigned a surprising and unthinkable secret mission: a high-ranking S.O.E. official (Simon McBurney, The Theory of Everything) orders him to expose Marianne as a German spy and then eliminate her or face execution himself. Vatan leaves with his head spinning in disbelief as he returns to his beautiful wife and the mother of his child. Is this a test of his loyalty to prepare him for promotion or is this the real deal? The rest of this love-in-a-time-of-war film follows Max's frantic efforts that include risking his own life to prove the S.O.E completely wrong and to exonerate Marianne.
Given the star power in the line-up of this epic romance film, the Thanksgiving holiday release of Allied was highly anticipated by the movie-going public and film critics alike. Throw into the mix director Zemeckis and film writer Steven Knight (Peaky Blinders) and it seemed that Allied had everything going for it. The best news is that cinematographer Don Burgess's (Contact) camera crew provides stunning location shots in the Canary Islands and London while the Redcode RAW (6K and 8K) source, mastered in a 4K digital intermediate, delivers exquisite images of the two extremely photogenic leads. More good news is an atmospheric score by Alan Silvestri (The Walk) interspersed with 1940s popular songs. But I think that you can see where this is heading. A significant let down is the deliberate and, dare I say, often torpid pace of a screenplay that, for most of the film's second half, was only intermittently jazzed up with air raids, explosions and shootouts with the Germans. The sexual chemistry between Pitt and Cotillard that began with a "quickie" in their car during a haboob (sandstorm) soon fades as they became a plain old married couple with a newborn infant. Viewers will not find the tense interplay that Pitt exhibited with Angelina Jolie in Mr. and Mrs. Smith here. Any semblance of recreating the kind of memorable dialogue that fueled Casablanca also rapidly evaporates: Max: "Heard a lot about you, saying you were beautiful… and good." Marianne: "Being good at this kind of work is not very beautiful." Allied is by no means a bad film,  just one that ultimately disappoints because it had the potential to be so much better.
Allied (TheaterByte Movie Review)
GK Films | Huahua Media | Paramount Pictures
Studios & Distributors
R (violence, some sexuality/nudity, brief strong language and drug use)
Rating Certificate
Summary
A much-anticipated World War II romantic film that, while good enough, failed to realize the potential to be much better than it was.
What people say... Login to rate
Be the first to leave a review.
Show more