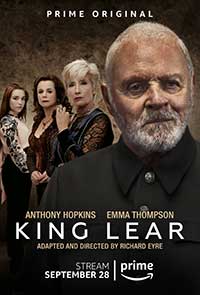 William Shakespeare's King Lear, based on the story of a legendary Celtic King of England, has received numerous stage, film, and television adaptations but this updated (and abridged) BBC/Amazon Prime collaboration, starring Sir Anthony Hopkins as the titular monarch, clearly places the drama in a dystopian 21st century England governed by harsh martial law.
Elderly King Lear (Hopkins) has assembled his three daughters—Goneril (Emma Thompson), Regan (Emily Watson), and Cordelia (Florence Pugh)—as he prepares to give up his throne. Lear will divide his kingdom into three equal parts, one for each daughter, in hopes of preventing an internecine civil war. The two older daughters shower their father with lavish praise, but Cordelia's blunt speech costs her a share of the kingdom. When the Earl of Kent (Jim Carter) takes Cordelia's side, he is banished from the court.  A dowry-less Cordelia will soon wed the King of France (Chukwudi Iwuji) and move to her new homeland.
The Earl of Gloucester (Jim Broadbent) has two sons: the bastard and Army officer  Edmund (John Macmillan) and his legitimate but bookish offspring Edgar (Andrew Scott). Edmund deceives Gloucester into believing that  Edgar is after his fortune and the latter takes flight to avoid retribution. Lear and his large retinue wear out their welcome with Goneril and he takes off with  Kent (now disguised as a servant), his Fool (Karl Johnson) in an armed convoy. Lear's plans to stay with Regan and her husband the Duke of Cornwall (Tobias Menzies) are also thwarted. Gloucester pledges his support to the old King but is betrayed by Edmund's letter to Cornwall that labels him as a traitor who supports a French invasion to restore Lear to the throne. As punishment, Cornwall and Regan gouge out the old man's eyes.
Cordelia and the King of France have landed in Dover to wage war against her sisters and their husbands. Lear arrives at the French encampment but it is clear that he is easily confused.  When the French forces are defeated, the British imprison Lear and Cordelia. The body count begins to mount, and by final curtain, Lear has keeled over, Regan is poisoned by Goneril who then commits suicide, Cordelia is hung in prison, and Edgar slays Edmund in a trial by combat.
The location shots of the white cliffs of Dover and Dover Castle (Lear's home) enhance Ben Smithard's stunning cinematography, while close-ups of the lines in Anthony Hopkins's deeply etched visage are as much a part of his character as the lines given to him by the Bard of Avon. Whether Lear truly goes mad or is simply a confused old man becomes irrelevant to the powerhouse performance rendered by one of England's most decorated actors.  As is nearly always the case with BBC productions, the proverbial deck is stacked when it comes to the supporting cast. Although their parts are much smaller, Emma Thompson and Emily Watson are convincing as the nasty sisters that we love to hate. John McMillan does a splendid job as the supercilious black-hearted Edmund who nearly claws his way to the top. Additional kudos go to the two Jims, Broadbent and Carter, who act as singular voices of reason in a world rapidly becoming unhinged.
Writer/director Richard Eyre boldly excised about one hour from the original stage play to sustain sufficient dramatic tension for modern audiences that might find the length and static nature of Shakespeare's histories somewhat daunting. For the most part, this works well as the essence of the story and some of its most memorable lines are still maintained. This new version of King Lear in all of its modern cinematic treatment is another Amazon Prime success that is well worth watching. Highly recommended.
King Lear is available for viewing on the Amazon Prime Network
Playground Entertainment | BBC Two | Amazon Studios
Studios & Distributors
Richard Eyre | William Shakespeare
Writer
28 Sept. 2018
Release Date
Summary
A tactfully abridged film version of Shakespeare's classic drama of an aging king that benefits from a strong cast and direction and brilliant cinematography
What people say... Login to rate
Be the first to leave a review.
Show more