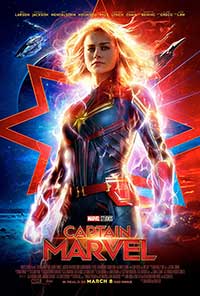 The superhero flicks keep on coming and Marvel Studios seems to have an endless supply of them. Captain Marvel is not the story of the popular DC Universe superhero Billy Batson who "shazamed" his way into his alter ego but rather a role's gender reversal as Oscar winner Brie Larson becomes the Marvel version of a woman with extraordinary powers.
The film opens in 1995 on the planet Hala, headquarters for the Kree, a very human-appearing civilization, that has subdued most of the galaxy with the shape-shifting Skrulls as the remaining holdouts. Vers (Larson) is a member of the Kree Starforce, led by Yon-Rogg (Jude Law) who trains her to be a skilled fighter but keeps her awesome power in check. The Krees are ruled by the Supreme Intelligence (Annette Bening), an Artificial Intelligence entity that can appear in any form familiar to those who seek her out.
Vers has been on a mission to rescue a Kree operative but instead she is captured by Skrull commander Talos (Ben Mendelsohn). She escapes only to crash to Earth through the roof of a Los Angeles Blockbuster video store.  Her entrance does not go unnoticed as S.H.I.E.L.D. agent Nick Fury (Samuel L. Jackson) encounters her outside of the damaged storefront. Following pursuit of a Skrull infiltrator, Vers and Fury join forces and she finds that her real identity is that of Carol Danvers, an Air Force pilot who "died" during the test flight of a high-speed plane whose awesome energy source was invented by Dr. Wendy Lawson (Bening), in actuality, the Kree Mar-Vel.
The pair make their way to Louisiana where they find the house shared by Carol's best friend and fellow test pilot Maria Rambeau (Lashana Lynch). Now-retired, Rambeau lives with her young daughter Monica (Akira Akbar). Talos also finds the house and tells Danvers the truth about the Krees who have terrorized the Skrulls for years. He next shares the black box recording recovered from her plane crash. It reveals that Carol absorbed the lion's share of the plane engine's energy-core, erasing all of her previous memories that are only just now returning. Her final mission is to recover the Tesseract, a cube with the original core of her energy source that is also being sought by the Krees. Before all is said and done, Danvers, Fury, and the adorable cat "Goose" (a reference to Top Gun perhaps?) must find a new home for the Skrulls while keeping the Krees at bay.
Today's moviegoers will recognize that we are living in a CGI-era and there are plenty of those special effects in a sci-fi saga that features numerous cataclysmic explosions as well as a lead character that exudes orange-filled energy rays once her transformation to superhero is complete. The 8K negative transfer is absolutely stunning and the Dolby Atmos soundtrack will make viewers occasionally duck for cover. While Captain Marvel is like most of the comic book fare that gets translated for the big screen and the big money, Larson is a breath of fresh air who does not take herself too seriously, unlike most of the other cartoon-based characters that seemed to have little or no option. Okay, the storyline is a bit convoluted and the backstory of the title character does not get revealed until well past the halfway mark with way too much to-do over how she got her Kree name. The Skrulls look like generic aliens taken directly out of Joel Edgerton's Orcan makeup room in Bright and Samuel L. Jackson gets the rather thankless role as an agent that frequently takes a licking but keeps on ticking. All of that aside, this is an entertaining watch that makes for the kind of fun big screen experience that keeps folks returning to their local theaters, week after week.  During the end credits, a teaser-trailer for Marvel's Avengers: Endgame rolled, featuring anybody who is anybody in this studio's universe. If it is anywhere nearly as good as Captain Marvel was, then just sign me up coach, I'm in.
Captain America is in wide release in theaters March 8, 2019 (USA)
---
Walt Disney Pictures | Marvel Studios | Warner Brothers | Walt Disney Studios Motion Pictures
Studios & Distributors
PG-13 (sequences of sci-fi violence and action brief suggestive language)
Rating Certificate
Anna Boden | Ryan Fleck
Director
Anna Boden | Ryan Fleck
Writer
Summary
Marvel Studios unleashes its namesake heroine, Captain Marvel as realized by the versatile Brie Larson who makes the superhero not only credible but expressly human. A strong supporting cast and stunning visuals make this one a thrilling big screen experience and certain to be another Marvel box-office winner.
What people say... Login to rate
Be the first to leave a review.
Show more