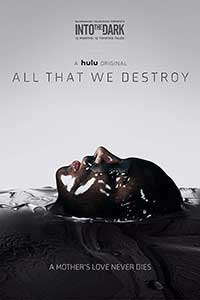 The latest installment of Hulu's holiday-themed anthology horror film series Into the Dark is All that We Destroy. Ashley Prime (Aurora Perrineau) gradually emerges from a mud bath and wakes up in the room of troubled young artist Spencer Harris (Israel Broussard). In short order, Spencer beats her brains out and dumps her corpse in a large metal container just before his mother Dr. Victoria Harris (Samantha Mathis) returns home. Dr. Harris is a geneticist whose successful biotech company "clones" vital organs and, in her secret basement laboratory, she creates a series of Ashleys to help determine if her son is becoming a serial killer. "Vic" shares her concerns about Spencer to her virtual colleague Parker (Frank Whaley) who just happens to be his biological father. Parker suggests that Spencer be secretly recorded so that Vic can learn how to modify her son's abnormal behavior that started in his troubled childhood after he pushed a schoolmate off a jungle gym to her death.
Spencer meets sexy Marissa Cornell (Dora Madison) who has just moved into her parents' house for the summer. As the Harris's only neighbor, Marissa tries to ingratiate herself with mother and son but unwittingly becomes a wild card in the daily routine of the Harris household.  As the relationship between Spencer and Marissa progresses, he gives her a fanciful sketch of her face but withholds the fact that he always draws the faces of the Ashley clones before killing them.  The pair starts spending more time together, and, as Marissa draws out the inner Spencer, his mother tries to introduce him to a "new" version of Ashley who is now living in their house. A serious problem emerges when the latest Ashley begins having dreams about her previous lives and unexpectedly finds Spencer's sketchbook filled with her likenesses.
While this is the Mother's Day "celebration" in the holiday-themed Into The Dark film franchise, it quite quickly goes over to the dark side, as the Mom in question is just shy of being a truly mad scientist whose human clones are burdened with the flaws of their progenitor.  The creative team of Sean Keller and Jim Agnew has produced the best script of this series so far and one that questions some existential notions of what passes for humanity in the not-so-distant future. The cast is first-rate with Samantha Mathis playing an overprotective mother to her disturbed son Israel Broussard, and receives luminous performances from the two young women, pensive Aurora Perrineau and bubbly Dora Madison.  For filmgoers with long memories, the movie's central theme will recall that of the horror-thriller classic The Bad Seed that also focused on the unthinkable—a parent coming to grips with a homicidal child. After a truly forgettable April Fool's installment, I'm Just F**king with You, the Hulu/Blumhouse collaboration is clearly back on track.
Hulu Original Into The Dark: All That We Destroy is streaming now on Hulu
---
Divide/Conquer | Blumhouse Television | Hulu Original
Studios & Distributors
Sean Keller | Jim Agnew
Writer
Summary
Fearing her son may be a serial killer, a geneticist creates clones of him trying to cure his violent behavior. A considerably improved installment in the Into The Dark film anthology series that poses some questions about what makes us human in the not-so-distant future.
What people say... Login to rate
Be the first to leave a review.
Show more