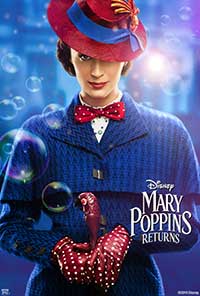 How would you like to feel like a kid again sitting in a movie theater with a bunch of older adults who also would welcome a return to a kinder and more civil era? If you answer yes, then Mary Poppins Returns, the long overdue sequel to Walt Disney's huge 1964 Hollywood musical hit, will surely fill your bill.
Since the original film concluded, thirty years have passed and we are now in a Depression-era London where a grown-up Michael Banks (Ben Wishaw) is trying to cope with his wife Kate's death and to raise three young children—Annabel (Pixie Davies), John (Nathaniel Saleh), and Georgie (Joel Dawson). The Banks's family home has just received a foreclosure notice from the Fidelity Fiduciary Bank's lawyers, Hamilton Gooding (Jeremy Swift) and Frye (Kobna Holdbrook-Smith). Michael is  a lowly bank teller at Fidelity and his spinster sister Jane (Emily Mortimer) must find some way out of their financial problems by week's end or their childhood home will revert to the bank.  To make matters even worse, the older Banks siblings believed that their father owned enough bank shares to pay off the loan that Michael had taken out on his home, but the pair cannot locate the official bank stock certificates.
At Fidelity Bank, Michael and the kids meet the new bank president William "Weatheral" Wilkins Jr. (Colin Firth), who has taken over the reins from the elderly Mr. Dawes, Jr.  Wilkins reassures the Bankses about their home ownership but once they leave, it is clear that he is more interested in acquiring another property than in helping out this needy family. Everything changes when Mary Poppins (Emily Blunt) wafts her way back to the Maison Banks.  She immediately takes the children on fantastical adventures in their bathtub, a concert at the Royal Doulton Musical Hall, and a trip to eccentric Cousin Topsy  (Meryl Streep) to repair a chipped soup tureen that belonged to Kate. Cartoon characters mirror some of the real characters: Colin Firth voices the sleazy wolf that kidnaps Georgie  while his accomplices weasel and badger are  Swift and Holdbrook-Smith.
In true fairy-tale fashion, we watch the magic that this extraordinary nanny weaves with her umbrella and talking cane as the Banks family fortunes are literally saved in the "nick of time," and the return of Mary Poppins is a complete success.
Mary Poppins Returns benefits from the presence of the multi-talented Lin-Manuel Miranda as Jack the lamplighter whose singing and dancing skills totally eclipse those of Dick Van Dyke's chimney sweep Bert. Ditto for Rob Marshall's choreography of the bicycle-riding lamplighters versus their sweeps' counterparts. The collaboration of writer David Magee and director Rob Marshall, coupled with Don Beebe's extraordinary cinematography will definitely appeal to today's filmgoers. Marc Shaiman's new songs, written with "advice" from the original score composer Richard Sherman), may not be earworm hits like "Supercalifragilisticexpialidocious" or "Chim-chim-cheree" but they are good enough to keep the Poppins vibe alive for the two-hours running time.
To the credit of the production team, this film will entertain and delight audiences of all ages. Rather than go into the numerous differences between the two films, if you are a Mary Poppins devotee, then this sequel is at least as good, or, perhaps, even better considering the heightened production values and masterful CGI visuals. Emily Blunt offers a very creditable alternative to Julie Andrews' portrayal of our heroine while the cameos rendered by veteran actors Meryl Streep, Dick Van Dyke, Angela Lansbury (Balloon Lady), and David Warner (Admiral Boom) alone are worth the price of admission.  The three kids are absolutely adorable, Emily Mortimer is a very sympathetic sibling, and Colin Firth, a boo-worthy villain. The only weak link in the cast is Ben Wishaw's ineffectual Michael Banks whose wispy voice is quite dismissible. This one reservation aside, Mary Poppins Returns is a film that I would definitely see again and, one that will provide a nice diversion for those seeking a brief escape from today's troubled times. Highest recommendation for a movie that has already won the American Film Institute's Picture of the Year.
Mary Poppins Returns is in wide release in theaters December 19, 2018 (USA)
---
Lucamar Productions | Marc Platt Productions | Walt Disney Pictures
Studios & Distributors
PG (for some mild thematic elements and brief action)
Rating Certificate
David Magee | Rob Marshall, John DeLuca
Writer
Summary
A long-overdue sequel to Disney's 1964 monster hit musical film, Mary Poppins Returns is a feast for the eyes, a treat for the ears, and a generally well-directed and acted story of how the magical title nanny saves the next generation of the Banks family.
What people say... Login to rate
Be the first to leave a review.
Show more