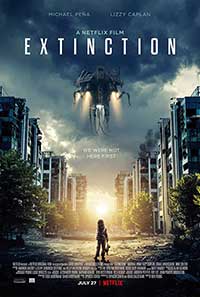 In the latest high profile Netflix Original film, Extinction, Peter (Michael Peña) is an electronic maintenance man working at a high-tech government factory building in the near future. He has a beautiful wife, Alice (Lizzy Caplan), an urban planner, and adorable young daughters, Hannah (Amelia Couch) and Lucy (Erica Tremblay). Peter's idyllic family life is becoming disrupted at home and at work by hyperreal nightmares of an alien invasion. He decides to visit a free mental health clinic but when he encounters Chris (Tom Riley), a man who is having the same troubling visions, he leaves without being seen.
At a party celebrating Alice's recent promotion, Peter and friend Ray (Lex Shrapnel) go out on the balcony and start to see flashing lights while hearing loud explosions that also get the attention of their wives. Strange alien spacecraft suddenly attack the entire building as the families try to hide in Peter's apartment. One of the aliens breaks in and gets bashed in the head by Alice but there are others in the building that are systematically going door to door, communicating to each other in "clicks," while killing the residents.
Peter decides that their best hope for survival is to somehow make it to the safety of the factory through the neighborhood's underground tunnel system but they are attacked again and Alice is seriously wounded. Meanwhile, the alien that they thought Alice had killed has found them but after Peter beats the crap out of it, the creature removes its helmet and reveals a very human looking face and his name, Miles (Israel Broussard). Miles is recruited to help carry the wounded Alice to safety as the city is being destroyed.
They make it to the factory where Peter encounters his boss David (Mike Colter) and a group of heavily armed men. As everyone tries to leave the factory basement ahead of the enemy troops, Miles slices open the abdomen of the dying Alice and reveals the real identities of Peter and all of the others that are under siege.
Extinction is a clever sci-fi film that unabashedly borrows from such screen classics as War of the Worlds and Inception but injects a major plot twist bearing a message that will give its viewers plenty of food for thought.  Michael Peña has carved out a successful film career over the past two decades and he delivers a compelling performance as the resourceful head of a family that is in constant danger after the opening few minutes until the slam-bang ending. Lizzy Caplan is an able colleague and the two kids convey the understandable terror of being confronted by their life-threatening circumstances. Special effects are used judiciously but effectively to create apocalyptic events that threaten to wipe out everyone on the planet. Extinction might not be the most original sci-fi thriller but it is well crafted and certainly worth a watch. If you don't figure out the plot twist too early, this is a film that will keep you off-balance at least for the first two acts.  An entertaining hour and a half thrill ride and one that is recommended.
Extinction is streaming now on Netflix
Universal Pictures | Good Universe | Mandeville Films | Netflix
Studios & Distributors
Spenser Cohen | Eric Heisserer | Brad Kane
Writer
Summary
A maintenance man (Michael Peña) at a high tech factory has recurring visions of his family coming under attack that become a reality when the planet is invaded by a destructive invaders bent on wiping everyone out. Extinction is a derivative but still entertaining end-of-the-world sci-fi thriller that turns its tables on the audience in the third act. Decent special effects contribute to the suspense of the outcome.
What people say... Login to rate
Be the first to leave a review.
Show more