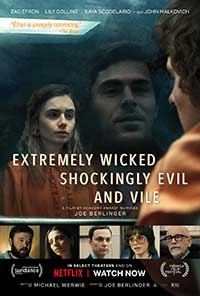 During the 1970s, serial killer Ted Bundy set off a wave of terror in the Pacific Northwest, as a string of young women were abducted, assaulted, and brutally murdered. Extremely Wicked, Shockingly Evil and Vile picks up this story as some-time University of Utah law student Theodore Bundy (Zac Efron) has moved in with medical records secretary Liz Kendall (Lily Collins). Bundy appears to be a handsome, caring and intelligent young man who adores Liz and her little daughter Molly (Ava Inman) but as the film's title suggests (taken verbatim from Bundy's death sentence delivered by the judge at his final murder trial), there is already much more to this tale than meets the eye.
Over the next few years, Ted gets convicted of the attempted kidnapping and assault of young Carol Daronch (Grace Victoria Cox) and is sent to a Utah prison. But this is only the start, as he gets transferred to a Colorado penitentiary to be tried for the murder of another young woman. The resourceful killer escapes and goes on his final killing spree at a Tallahassee sorority house. After his arrest, County Sheriff Ken Katsaris (Kevin McClatchy) puts Ted on public display and vows to "fry" him. The subsequent Bundy trial in the courtroom of Judge Edward D. Cowart (John Malkovich) sets a precedent by having a television camera present, as Prosecutor Larry Simpson (Jim Parsons) locks legal horns with Ted's public defender Dan Dowd (Brian Geraghty). The carnival atmosphere in the courtroom is stoked by numerous young women who were enthralled by this good-looking, articulate defendant who is now acting as his own lawyer.
The end credits include film clips of some of the real protagonists speaking lines that were used in this movie, and, to the credit of Neely Eisenstein's casting, the principal actors bear striking resemblances to their real-life counterparts. The principal reason to watch this dark docudrama is Zac Efron's masterly portrayal of a charismatic killer, exuding the utter confidence of a psychopath who truly believes that he is above the laws that govern society. Lily Collins and Kaya Scodelario are quite credible as the naive young women who fall under Bundy's spell while veteran character actor John Malkovich gives viewers a folksy jurist who refuses to let this defendant get away with his courtroom shenanigans. Haley Joel Osment has gotten a lot chubbier since his Sixth Sense days and here is Collins's sympathetic co-worker Jerry Thompson who shields her from Bundy's incessant phone calls from the slammer. Documentarian Joe Berlinger directs Michael Werwie's screen adaptation of Elizabeth Kendall's memoir and gradually builds the inevitable tension leading up to Bundy's eventual electrocution. While Extremely Wicked was never intended to be an easy watch, viewers are mercifully spared from seeing nearly all of the grisly details of Bundy's multiple murder victims. The production crew effectively recreates that era's television audience's moth-to-the-flame fascination with an evildoer who became a media darling. Highly recommended.
Extremely Wicked, Shockingly Evil and Vile is streaming now on Netflix

---
COTA Films | Ninjas Runnin' Wild Productions | Voltage Pictures | Netflix
Studios & Distributors
R (disturbing violent content, some sexuality, nudity and language)
Rating Certificate
Summary
A dark docudrama that features Zac Efron's stunning portrait of psychopathic serial killer Ted Bundy who comes across as a handsome, charismatic, and charming monster that preys on vulnerable women.
What people say... Login to rate
Be the first to leave a review.
Show more