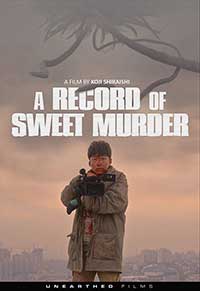 A Record of Sweet Murder is a "found footage" horror/thriller film from Japanese director Shiraishi Kôji (Occult, Noroi: The Curse). Set in South Korea, a South Korean journalist, Songyeon (Kim Kkobbi), and a Japanese cameraman, Tashiro (Shiraishi Kôji), are invited to an abandoned apartment building by a man they know to be wanted for murder, Songyeon's childhood friend Sangjoon (Yeon Je-wook). Sangjoon confesses to having killed 25 people and claims that he has been hearing the voice of God who has instructed him to kill all of those people and to kill 27 specific people in total in order to bring back to life another childhood friend of theirs who was tragically killed when a car run her over as their group of friends was playing in the streets. Sangjoon also claims that, not only has the voice of God led him to this apartment to kill the final two people through a code in an article written by Songyeon, but that once the task is completed, all the people he killed would come back to life as well as their friend being saved.
What starts out as a slow and strange film slowly escalates into a brutal, desperate, and visceral horror film that is horror not in a supernatural sense, but true human horror.  The film takes place almost entirely in a single, spartan room lit by light shining through a dusty window and a warm yellowing chandelier. Shiraishi manages to keep A Record of Sweet Murder from stagnating or feeling claustrophobic in this tiny one room setting, by steadily increasing the pacing and effectively using the "found footage" style of filmmaking to infuse a kinetic energy as the film reaches its denouement.
[envira-album id="117948″]
When we come to the end of A Record of Sweet Murder is when the film breaks down, losing its sense of tension and even drifting away from the realistic and brutal style it had developed over the three acts for something more fantastical. Telling more about what does happen would give the entire film away, but it feels like Shiraishi wanted to make sure that all loose ends were tied up even if things felt forced or rushed to come to a particular conclusion.
The film is still rescued by the resonant performances of Yeon Je-wook and Yonemura Ryôtarô as his antagonist Ryota. The two square off violently and at times even wittily in some incredibly shocking or even WTF moments. Japanese AV Idol Tsukasa Aoi also appears.
A Record of Sweet Murder is out May 28, 2019 on Blu-ray and DVD from Unearthed Films
[amazon_link asins='B07MGJ6K3C,B07MCW4ZZ1′ template='ProductCarousel' store='theaterbyte-20′ marketplace='US' link_id='f37cd50b-d95b-4346-80cd-2e793ee743f7′]
---