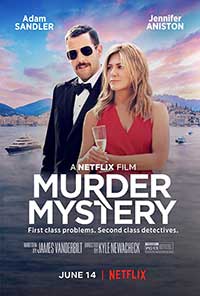 Adam Sandler and Jennifer Aniston last performed together on the big screen in the run-of-the-mill 2011 rom-com Just Go With It. Now back by popular (?) demand, this pair stars in Murder Mystery, a spoof on the numerous Agatha Christie whodunits, that turns out to be just another paycheck film for its two leads.
The Spitzes, Nick (Sandler) and Audrey (Aniston) are embarking on a trip to Europe that the NYPD officer husband gets shamed into giving his hairdresser wife for their 15th wedding anniversary. Their overseas adventure, make that misadventure, kicks off on the transatlantic flight when Audrey meets dapper Viscount Charles Cavendish (Luke Evans).  Charles invites the couple to join him on the family yacht bound for Monaco where a lavish party will celebrate the impending nuptials of his uncle, billionaire Malcolm Quince (Terence Stamp), with Charles's much younger ex-fianceé Suzi Nakamura (Shiori Kutsuna). This generous offer certainly beats the pants off the overcrowded bus tour that Audrey and Nick had originally planned to take.
All of the other guests on the yacht have connections to Malcolm: his gay son Tobias (David Walliams), famous screen actress Grace Ballard (Gemma Arterton), Grand Prix driver Juan Carlos Rivera (Luis Gerardo Mendez), Maharajah Vikram Govindan (Adeel Akhtar), one-eyed Colonel Ulenga (John Kani), and hulking bodyguard Sergei Radjenko (Olafur Darri Olafsson). The first murder occurs during the cocktail hour when Malcolm gets fatally stabbed during a sudden blackout situation in the lounge. Later, Tobias is found slumped at a desk with an apparent self-inflicted gunshot wound and a typed "suicide" note.  Although each of the other guests onboard had motives for Uncle Malcolm's slaying, after the yacht arrives at Monaco, French Detective Laurent Delacroix (Dany Boon) makes Nick and Audrey his prime suspects.
What follows in Murder Mystery is a typical cat-and-mouse storyline, as Nick and Audrey try to avoid capture by the French police while the body count continues to rise. In a lame sidebar, Audrey discovers that Nick had shamefully hidden his most recent failure on a retake of the detective examination. The Spitzes' hope for exoneration rests on their own murder investigation to find the real killer  while Delacroix prepares to line Audrey and Nick up with Quince's surviving party guests for a final suspect elimination round.
On a positive note, the on-location glamour shots of Monaco and Italy's Lake Como district in Murder Mystery are stunning and provide a brief travelogue of these picturesque destinations. Okay, that is about as good as it gets. Screenwriter James Vanderbilt (yes, he is related to the late Gloria's family) gives director Kyle Newacheck a pretty vapid script reminiscent of The Spy Who Dumped Me–occasional chuckles interspersed  among some overworked "thrills and spills" that we have all seen more times than is probably good for us. The chemistry between Sandler and Aniston feels clearly contrived, sucking much of the fun out of their endless series of predictable predicaments.
After wading through this film's mercifully brief hour and a half, I was left wondering whether the audience for such tired romantic comedies still exists.  Jennifer Aniston is still a foxy lady (she turned 50 this year!) and worth looking at while a clearly middle-aged, paunchy Adam Sandler is lightyears removed from his earlier comedic successes in Happy Gilmore, The Wedding Singer, and The Waterboy. Netflix Original films have adopted the strategy of casting many lines into the water to see if any hooks the big one. Occasionally, this approach works but, in the case of this film, sorry, the big one totally got away.
Murder Mystery is streaming now on Netflix
---
Vinson Films | Endgame Entertainment | Happy Madison Productions | Tower Hill Entertainment | Netflix
Studios & Distributors
PG-13 (Violence/bloody images, crude sexual content, language)
Rating Certificate
Summary
A New York cop (Adam Sandler) takes his wife (Jennifer Aniston) on a surprise European vacation for their anniversary and end up embroiled in a murder mystery involving a billionaire and his eccentric family and friends. A rather lame "we've seen all this before" reunites Jennifer Aniston and Adam Sandler in a brainless mystery-comedy that would make Agatha Christie roll over in her grave as the pair goes on a European misadventure that is mercifully brief.
What people say... Login to rate
Be the first to leave a review.
Show more