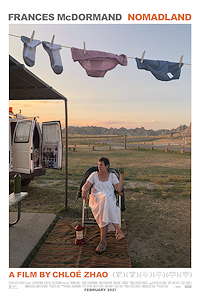 Writer-director Chloé Zhao has previously given her audiences two low-budget cinematic masterpieces, Songs My Brothers Taught Me and The Rider. In Nomadland, she now takes on the main subject of a book by American journalist Jessica Bruder that focuses on a number of older Americans who had lost their jobs and had taken to the open road in recreational vehicles in search of seasonal work. Recently widowed Fern (Frances McDormand), like most of her fellow townspeople in Empire, Nevada, became jobless when the local US Gypsum mine closed in 2011. She sells off most of her personal possessions and buys a jury-rigged van. Later, as she tells a former student that she tutored, she is now "houseless but not homeless."
Fern finds a holiday season job working at an Amazon warehouse where she meets Linda (Linda May) who invites her to an RVers rendezvous in Arizona's Sonoran Desert.  Once there, Fern begins learning how to adapt to her new lifestyle. She meets the motivational speaker Bob Wells, and another nomad, the androgynous Swankie (Charlene Swankie) who lends her a hand when her van blows a tire. Swankie has terminal brain cancer and confides in Fern that she has abandoned all treatment and, having lived a full life, is preparing for the end.
Fern next gets hired as an RV camp host. She reconnects with David (David Straitharn) who become attracted to her at a dance held during the rendezvous.  After David survives a close call with diverticulitis, his estranged son visits and invites him to come home and see his new grandson.  David gets Fern to go with him but after a few days in the guest house, she again takes to the road when it is clear that David is going to stay with his son. She returns to her Amazon job and later to another Arizona RV rendezvous where she finds out that Swankie had died. As Nomadland motors its way toward the end, we see a self-reliant Fern who has completed her adjustment to the lifestyle of a nomad.
Putting it succinctly, Nomadland is another brilliant docudrama adapted and directed by Chloé Zhao. Using a cast of real people playing themselves makes this film an authentic portrayal of 21st century American nomads and how they cope with their unconventional way of life. There is a wealth of personal stories among these folks and, while Zhao only taps into a few of them, you know that there were many more that could have been told.  There are two very telling visual moments in this film. The first shows Swankie's beloved starlings leaving their nests in the Sonoran Desert and taking to the sky directly over Fern's head. The second is a wordless picture of a naked Fern floating down a river, totally unencumbered by any other material objects that once were part of her life, a stunning portrait of her newly found freedom. The atmospheric score by new-age composer Ludovico Einaudi and the camerawork by Zhao's real-life partner Joshua James Richards recreate the sense of the huge empty spaces that make up the American West, leaving viewers with impactful sounds and sights.
Of the many films in which I have seen Frances McDormand perform, this one in particular shows off her consummate acting skills as she deals with the actual situations of the real people surrounding her and readily convinces me that she is truly one of them. Some might consider Nomadland a difficult watch, but I saw it as a tribute to the resilience of human spirits that could have been easily crushed by the Great Recession of 2008. It is rare that a film will enlighten its audience as much as this one does, and it will surely bear repeated viewings. I am not going out on a limb when I predict that Nomadland will be a strong contender for multiple Academy Award Nominations in 2021.  Highest recommendation.
---
If you found this review useful please consider clicking the button below and donating to help keep TheaterByte funded and to allow us to continue posting great content.
---
Nomadland is now streaming exclusively on Hulu
---
Rating Certificate: R (some full nudity)
Studios & Distributors: Highwayman Films | Hear/Say Productions | Cor Cordium Productions | Searchlight Pictures | Hulu
Country: USA
Language: English
Run Time: 107 Mins.
Aspect Ratio: 2.39:1
Director: Chloé Zhao
Written By: Chloé Zhao
Release Date: 19 February 2021