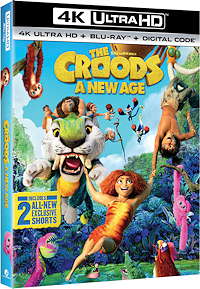 The Croods: A New Age, the sequel to the mildly amusing and somewhat successful original animated film, finds the family of prehistoric cave people, having survived the destruction of the only world they've ever known heading out to find a new place to live with the help of teenager Guy (Ryan Reynolds) who is growing every closer to the Croods' teenage daughter Eep (Emma Stone). Sure enough, the pack find a place, a walled-off garden paradise with all the food they can eat and seemingly safe from all the dangers of the predators of outside world. The problem is, this garden is already occupied by the Betterman family, a couple of modern humans, Hope (Leslie Mann) Phil (Peter Dinklage) and their daughter Dawn (Kelly Marie Tran). It turns out that Guy grew up with Hope and Phil who were friends of his parents before they died, and he was out on his own. The Bettermans have built this garden haven with new tools, an elevator, water irrigation, farming techniques, and, well, they don't necessarily want cave people around, but they do want Guy to get together with their daughter Dawn. And, well, just don't eat the bananas, that's the one big rule!
The Croods: A New Age is a pleasant film and funny enough. You're not going to get a life changing, philosophical experience with this like the best of what Pixar offers, such as Soul, for example. This is purely for the fun and the visual spectacle, the tongue-in-cheek humor, the poking fun of contemporary identity. It's not too hard to see the Bettermans as an obvious commentary on the self-obsessed, no it all, hipsters that they obviously are.
Director Joel Crawford keeps the film buzzing along and mostly holds it together until the third act where the screenplay really does become very chaotic and almost insanely over-the-top, trying more to top itself with nearly maniacal amusement park action and slapstick comedy of "punch monkey" speak.
Even though it does burst at the seams, The Croods: A New Age is always at its core a family film that is about keeping the family together, loyalty, friendship, and love. These are the things that ultimately keep the film together and make it a satisfying film.


The Croods: A New Age (2020)
The Video
The Croods: A New Age arrives on 4K Ultra HD Blu-ray framed at 2.35:1 in a HEVC 2160p (4K UHD) transfer with Dolby Vision HDR. This is pure reference material that looks stunning, I mean, absolutely magnificent. Sure, it's not live action and won't be everyone's cup of tea so to speak, but if you want to show off your display, this should be in the top tier. Detail is superb. The minute details standout like the single strands of hair on Eep's head, as an example. Then there is the color, which 'pops' tremendously. Given this is animated, there is much more leeway for there to be push beyond what is 'lifelike' and it works in the bounds of this animated world. The Betterman garden, for instance, really comes alive with almost neon colors and the Dolby Vision adds a lot of 'pop' to the highlights, such as the glister of water or sparkle of flames and the nuanced contrast between bright portions of the image and the shadows.
The Audio
The Croods: A New Age comes with a lovely, balanced, and dynamic English Dolby Atmos audio mix that sounds very natural, has airy high frequencies, punchy midrange and lows that extend down just enough to give good "oomph!" to the very numerous action sequences, but won't shake your house of its foundations. There's definitely some height awareness, but I wouldn't say it's a mix that utilizes a lot of solid, discrete effects in the Atmos channels.
The Supplements
This release of The Croods: A New Age is packed with special features and two all-new exclusive shorts. There are also three family activity featurettes included that kids should love.
Blu-ray with Feature Film and Extras
Digital Code
Feature Commentary with director Joel Crawford, producer Mark Swift, head of story Januel Mercado, and editor Jim Ryan
NEW SHORT: Dear Diary: World's First Pranks (4K SDR; 00:02:54)
NEW SHORT: Family Movie Night: Little Red Bronana Bread (4K SDR; 00:03:38)
Gag Reel (4K SDR; 00:01:51)
To: Gerard (4K SDR; 00:07:31)
Deleted Scenes w/ intros by director Joel Crawford (4K SDR; 00:23:06)
The Croods' Family Album (4K SDR; 00:08:23)
The Evolution Of… (4K SDR; 00:10:16)
How to Draw: Caveman Style (4K SDR; 00:29:05)
Famileaf Album (4K SDR; 00:02:58)
Stone Age Snack Attack (4K SDR; 00:05:52)
The Final Assessment
A somewhat effective follow-up to the original film this sequel provides good fun and great audio and video on 4K Ultra HD.
---
If you found this review useful please consider clicking the button below and donating to help keep TheaterByte funded and to allow us to continue posting great content.
---
The Croods: A New Age is out on 4K Ultra HD Combo February 23, 2021 from Universal Pictures Home Entertainment


---
Rating Certificate: PG (for peril, action and rude humor)
Studios & Distributors: Dentsu | DreamWorks Animation | Universal Pictures Home Entertainment
Director: Joel Crawford
Written By: Kevin Hageman (screenplay by) | Dan Hageman (screenplay by) | Paul Fisher (screenplay by) | Bob Logan (screenplay by) | Kirk DeMicco (story by) | Chris Sanders (story by)
Run Time: 96 Mins.
Street Date: 23 February 2021
Aspect Ratio: 2.35:1
Video Format: HEVC 2160p (4K UHD)
HDR Format: Dolby Vision (Compatible w/HDR10)
Primary Audio: English Dolby Atmos (Compatible w/Dolby TrueHD 7.1)
Secondary Audio: Spanish DD 7.1 | French DD 5.1
Subtitles: English SDH | Spanish | French