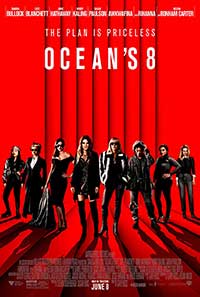 Move over "Rat Pack," here comes the "Cat Pack" that provides the title's characters in the over-the-top heist flick Ocean's 8 as it trades in Sin City for a far tonier location in the Big Apple. In the nearly six decades separating the original Ocean's Eleven from this quasi-remake, we will see that much has changed in the world of high stakes thievery.
The late, lamented Danny Ocean (a photo of George Clooney, the lead in Steven Soderbergh's Ocean's Trilogy, is briefly shown) had a little sister, Debbie (Sandra Bullock) who has been doing time for grand theft thanks to her "ex," art-dealer Claude Becker (Richard Armitage). After cooling her heels in stir for more than five years, Debbie gets paroled and begins to recruit her "dream team" for the biggest jewelry caper in history: to relieve the house of Cartier of its legendary and seldom seen Toussaint necklace. Her partners in crime are bar owner Lou (Cate Blanchett), jewelry maker Amita (Mindy Kaling), suburban housewife and black market entrepreneur Tammy (Sarah Paulson), Constance (Awkwafina) a slick-fingered street thief, and Nine Ball (Rihanna) a computer hacker and tech wizard extraordinaire.
Debbie gathers her gang together at Lou's warehouse/bar and details her plan to steal the necklace, valued at a $150 million, during the most highly publicized fashion event of the year, the Metropolitan Museum of Art Gala. To fill in the blanks, Debbie recruits struggling haute couture designer Rose Weil (Helena Bonham Carter) to create an evening gown for the "famous for being famous" personality Daphne Kluger (Anne Hathway) that requires the Toussaint to be its pièce de résistance. As the plans for the heist coalesce, the Cartier folks unwittingly go along for the ride, and with a "you can't make this one up" storyline, Ocean and her girl power team are poised to pull off a crime caper for the ages.
The backdrop of the Met Gala lets viewers of Ocean's 8 a sneak peaks at many of the rich and famous guests (a long list of the attendees is included in the end credits) and brief cameos for formerly famous seniors Marlo Thomas, Dana Ivey, Mary Louise Wilson, and Elizabeth Ashley. Late, Late Show host and funny man James Corden gets a tasty small role as insurance inspector John Frazier.
Movie audiences seem to have an endless attraction to grand larceny films and, I am pleased to report, Ocean's 8, will not let them down. Writer/director Gary Ross might have a small body of work, but he has received numerous Oscar nominations for his screenplays and efforts behind the camera. He wisely chooses to depart from the previous films and assembles an all-female cast that is strong enough to carry out his thrill ride of a script. There are some nice plot twists that I did not see coming and that make Ocean's 8 as entertaining yet still distinct from its predecessors.  The overarching humor in this film will make many men in the audience squirm in their seats when they see how the "weaker" sex continually outfoxes its male screen counterparts. Shot with ARRI Alexa cameras and Zeiss Master Prime Lenses and graced with a Dolby Atmos soundtrack, Ocean's 8 is also a feast for eyes and ears. With the backdrop of my favorite art museum, this film is a visit to some of the priciest real estate in America for the mere price of a movie theater ticket and a lot less expensive than a trip to Cartier's jewelry emporium; trust me, I have been there and have the receipts to prove it. Ocean's 8 is Highly recommended.
Ocean's 8 is in theaters June 8, 2018
Warner Bros. Pictures
Studios & Distributors
PG-13 (for language, drug use, and some suggestive content)
Rating Certificate
Gary Ross | Olivia Milch
Writer
Summary
In this all-female reboot of the Ocean's franchise, the late Danny Ocean's estranged sister Debbie (Sandra Bullock) assembles an all-female crew to attempt what seems like an impossible task -- a high-stakes heist at the annual Met Gala. Ocean's 8 is a fast-paced heist film with an all-star female cast showing men that anything they can do, women can do better.
What people say... Login to rate
Be the first to leave a review.
Show more