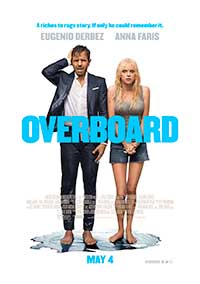 For those with short memories, this Rob Greenberg-Bob Fisher collaboration is a 2018 dredging up of a 30 year-old rom-com that featured real-life couple, Goldie Hawn and Kurt Russell. The new Overboard features a role reversal as the one who goes over the ship's railing is millionaire playboy Leonardo Montenegro (Eugenio Derbez) as he is carousing on his massive yacht, the "Birthday Present."
The initial "meet cute" moment finds widow Kate Sullivan (Anna Faris) vacuuming up the yacht's party room, one of her numerous part-time gigs that include working as a pizza delivery girl, while she struggles to pay the bills and get a nursing degree.  Kate finishes the cleaning job but when she balks at Leonardo's request to bring him a drink, he refuses to pay and pitches her and the vacuum cleaner into the harbor. Lamenting the huge bill that the "We Care" cleaning company handed her for the lost vacuum cleaner,  Kate is consoled by her friends, pizza parlor owner Theresa (Eva Longoria), and hulking husband Bobby Diaz (Mel Rodriguez) who runs a successful construction business.
After Leonardo plunges overboard later that evening, he wakes up in a skimpy bathrobe on the beach of Elk Cove, Oregon where the original film was also located. He is suffering from total amnesia and has been admitted to the local hospital. Leonardo's bitchy sister Magda (Cecilia Suarez) wants Leonardo out of the way so that she can take overl her ailing Papi's (Fernando Lujan) huge concrete empire. Magda visits the hospital and claims not to recognize Leonardo, since she is planning to fake his death for Papi's benefit and spread Leonardo's "ashes" at sea. Kate also winds up in Leonardo's hospital room and brews up a fiendish payback plan. With the Diaz's help, Kate will convince "Leo Sullivan" that she has been his wife for the past 15 years and they have no sons but three daughters: Emily (Hannah Nordberg), Olivia (Alviya Alyn Lind), and adorable little Molly (Payton Lepinski). Theresa gets Kate some fake marriage documents and  Bobby offers "Leo" a backbreaking construction job, as they intend to pull the wool over the playboy's eyes for the next month. Spoiler alert: the contrived happy ending is even hokier than the one concocted for the original version.
This slideshow requires JavaScript.
The dramatic device of making the "over-boarder" a man of different ethnicity might be good for a few chuckles; however, the heartiest ho-hos were delivered by Bobby's irreverent Mexican construction crew, Vito "Corleone" (Jesus Ochoa), Burro (Omar Chaparro), and nephew Burrito (Adrian Uribe). But this is ultimately the Anna Faris show and the casting directors must have surely noticed her passing resemblance to Goldie Hawn. After starring in The House Bunny, a decade ago, Faris has appeared in a bunch of lowbrow comedies as forgettable as the trope of Leo's amnesia. The sole saving grace of the original Overboard was the obvious chemistry between Hawn and Russell. There is little of that happening here, as the personal makeover of a middle-aged hedonist is no more convincing than the film's improbable romance. If you have seen the 1987 version, you can stop right there and save yourself a couple of hours on a clearly inferior remake of what was a mediocre romantic comedy in the first place.
Overboard is in theaters May 4, 2018
Overboard (TheaterByte Movie Review)
Pantelion Films | Metro-Goldwyn-Mayer | 3Pas Studios
Studios & Distributors
PG-13 (for suggestive material, partial nudity and some language)
Rating Certificate
English | Spanish
Language
Bob Fisher | Rob Greenberg
Writer
Summary
In this unnecessary remake of the 1980s rom-com originally starring Goldie Hawn and Kurt Russell, the roles of spoiled rich yacht owner and mistreated employee are reversed with Anna Faris now the employee and Eugenio Derbez now the one who goes overboard, with little else but worn out ethnic comedy to distinguish it from its superior original. Overboard is a why-did-they-do-it remake of a mediocre 1980s rom-com that sinks beneath the waves of the Oregonian coastline.
What people say... Login to rate
Be the first to leave a review.
Show more